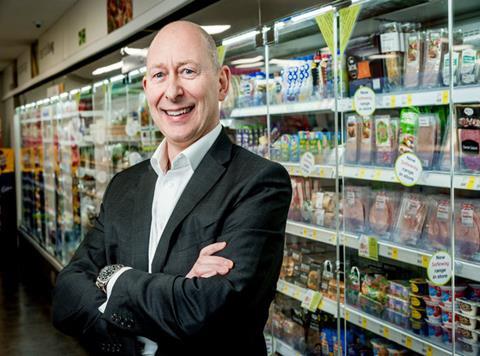 Quietly spoken and understated, Jonathan Miller is not one to seek the limelight. But he's played a key role in the events of the past year. His call to serve notice on joint suppliers Nisa and Palmer & Harvey was surely pivotal in Nisa's decision to sell. And while Costcutter delivered the coup de grace to P&H, that same decision was also instrumental in its ultimate implosion in late November, as its second biggest customer.

Then there's his role in the Co-op's eventful journey. Having done a deal with the Co-op in 2016 to acquire 298 of its stores, the society must have hoped a 25-store supply trial in 2017 would persuade Miller to give the Co-op the business instead. But he chose Morrisons, a decision not without risk, given its total lack of experience in the wholesale convenience sector.

But perhaps we should not be surprised after all, because Miller has been doing deals - and controversial ones too - throughout his career. After joining the vending machines arm of tobacco giant Gallaher, Miller worked with McColl's founder James Lancaster to buy eight divisions, including the vending machines and, crucially, a chain of newsagents known as Forbuoys.
Snapshot
Name: Jonathan Miller
Age: 54
Family: Married to Rachel, four children between the two of us
Potted cv: I trained as an accountant at Deloitte before joining McColl's in 1991, working initially as FD of vending ops. I became FD of group retail business in 1998, CFO in 2004, and CEO in April 2016
Career peak: So far my proudest moment was our IPO in 2014. It was monumentally hard work, but provided the springboard for McColl's to accelerate its growth and development
Biggest regret: Right now, supporting Sunderland AFC! It's been tough the last few seasons
Business ethos: Have a clear, long-term vision and never lose sight of it
Business idol: All of our store managers are the real heroes
Best advice you've received/would share with others: When I moved from CFO to CEO someone told me to "let go of the numbers but don't lose sight of them"
Hobbies: Spending time with the family, travel, and live music
Favourite book: For a great adventure story The Lord of the Rings
Album: Three Imaginary Boys by The Cure was pivotal to me
Film: Anything by Coen Brothers or Tarantino
"People told us we were mad to be looking at small shops," he reflects. "At the time everyone was saying that in the future we would all be shopping in massive supermarkets at the edge of town filling multiple trolleys, and now it looks as if we are coming full circle on that. So I'm glad we stuck to our guns."

Not that there haven't been tweaks to the model: from a small portfolio of newsagents, countless acquisitions have been made to transition McColls into a neighbourhood convenience player, boasting some 1,600 c-stores. The most dramatic landed on his lap on his first day as CEO, on 1 April 2016, when those 300 Co-op stores were offered via Rothschild.

He didn't hesitate. "If you look at the track record of the business, we've done many acquisitions over the years. People talked about the integration risk but myself and [COO] Dave Thomas have been in the business a long time and bedded in many acquisitions, so it was just a case of dusting off the old manuals and getting on with it.

The £117m deal would never have been possible without its earlier IPO in 2014, Miller admits, which cleared large amounts of expensive debt, and from which Miller reportedly made £22m). And it's been transformational, in terms of scale and in helping to develop the retailer's fresh and chilled capabilities, and its share price has been on an upward curve ever since. "The stores were well invested," says Miller. "We had to spend a bit of money to 'McColl them' but they were profitable when we bought them and are trading well now in terms of our business plan. We always said these stores would add 30% to our turnover and 40% to our profits. We began converting them in January last year and finished in July. It is a massive increase in scale: our average takings through the till now will be over £1bn."

Scale is a key word in convenience right now, and as much as Miller has been an agent of wider change, there's no doubt it's Tesco's £3.7bn takeover of Booker that has been the biggest gamechanger. Yet Miller maintains the prospect of a supercharged Booker is not something he is unduly afraid of. "I've always had the view there is oversupply in delivered wholesale in the UK and there needed to be consolidation. What is different now is who is coming in to do that consolidation when you look at Tesco, Sainsbury's looking at Nisa, then the Co-op buying it and of course ourselves with Morrisons.

"All of these deals will help improve the convenience sector as a whole, which is ultimately good for the customer. We were caught a bit by surprise by Tesco-Booker but I can see the strategic reasons for both parties and am sure they will make a success of it. But I'm no more concerned as a result - competition is good - it keeps you on your toes."
"We were caught a bit by surprise by Tesco-Booker but I can see the strategic reasons for both parties and am sure they will make a success of it"
For McColl's the move to Morrisons is crucial to improving the offer for customers, not only in terms of price (the margin savings are rumoured to be double digit) but through the returning Safeway brand, says Miller. He is keen not to upset Nisa, particularly as it has stepped in to help in the wake of the P&H collapse, and still has the contract to supply the 300 former Co-op stores until 2020. However McColl's clearly views Safeway as a step up from Heritage.

"It's a very strong range and looks powerful on the shelf," says Miller. "It also means we can start talking to customers about provenance, such as British beef and chicken, free-range eggs and responsibly sourced fish. It is supermarket quality and will make a big difference to our fresh and chilled sales.

He also dismisses suggestions that the Safeway brand is dated or will confuse shoppers. "Morrisons has done a lot of research on this and it does still resonate very well. Around two-thirds see it as a brand with strong fresh and quality credentials and it is still pretty well known among the younger generation as well."

At this stage it is still not fully clear how Morrisons plans to make the brand more widely available in the independent channel next year but Miller insists he won't "be precious about trying to hang on to it for ourselves. We want Morrisons to have a successful wholesale business. The more customers they have the more efficient they can be with their processes. We knew we were going to have it for a year and we are delighted to have it and will aim to make the most of it."

Miller also wants McColl's to remain a force for consolidation rather than a target. He scotches rumours that Klarus Capital, the retail investors former chairman James Lancaster sold his stake to in October, could be looking for a total buyout. Klarus, which has widespread retail interests in eastern and central Europe, now holds more than an 11% stake in the business. "I've spoken to them. They are experienced retail investors and in this for the long haul."

McColl's will buy around 20 c-stores this year, he adds, and hopes to double that next year. He is confident "there are still 35,000 independently owned c-stores out there and there are still some small groups".

So for now McColl's seems set fair on a steady growth path, while bedding in its new supply arrangement, with the Safeway brand at the heart of it. But as the events of the past year - and Miller's own record proves - don't rule out a big deal either.