The Institute of Export & International Trade head on navigating one of the most challenging periods for global trade in living memory
For someone who's been battered by gale-force headwinds since taking the top role at the 90-year-old Institute of Export & International Trade in 2020, Marco Forgione seems remarkably calm.
As he sits in his office a short walk from Westminster and Downing Street, the director general's cheerful demeanour is at odds with the obstacles he lists over the past three years.
Three prime ministers and countless Cabinet ministers, Brexit, a global pandemic, and a cost of living crisis that completely reshaped supply chains – "it's been one heck of a rollercoaster," the former CEO of the British Antique Dealers' Association concedes. "But the other option would be to just bury your head in the sand and hope it goes away" – which he makes clear he is not interested in.
"It has been one heck of a rollercoaster"
Timing has meant Forgione has steered the ship for British exporting businesses through one of the most challenging periods for global trade in living memory. After the initial impact of Brexit hit in 2021, as exports of food and live animals to the bloc slumped by 63.3% in the first month [ONS], Forgione was keen to help British traders build back relationships with their EU counterparts, while also looking at the potential trade opportunities Brexit offered with other countries such as Australia, China and the US.
But the universe had other plans, including a war in Europe which further strained international food and drink markets. The latest FDF quarterly trade snapshot showed a hefty decline in exports of key British goods including beef, pork, whisky and gin.
Name: Marco Forgione
Potted CV: Parliament, travelling in India, furniture removal in US, landscape architect, FE college, creative industries, fine art and antiques, international trade.
What I'm currently reading & listening to: Speeches that Changed the World (Quercus), The Infinite Monkey Cage podcast.
Most embarrassing professional moment: Soon after I stood up to speak at a business dinner I started to feel lightheaded – I came round, looking up from the floor at my very concerned host.
Death row meal: Scallops with pancetta and samphire, arrosticini with a side of pera d'abruzzo tomatoes, a selection of raw and pasteurised soft cheeses. A bottle of my grandfather's homemade Montepulciano, round it all off with a schooner of Aalborg Taffel Akvavit.
My happy place: Not a place as such, just being surrounded by the noise and chaos of our family get-togethers.
Much of it is down to macroeconomic factors that are outside Forgione's control. But he is keenly aware of the worries of businesses that rely on the institute's business and lobbying prowess, to both advise them and protect their interests during policymaking.
"Whatever's been done to this point hasn't really been working," he admits, as the number of UK businesses trading abroad continues to decline. "And that's as much on me as it is on our government."
Admittedly, it's difficult to make the voices of businesses heard in the upper echelons of government when No 10 itself has resembled a game of musical chairs in recent years. "Of course having to go brief new ministers can be a bit irksome, but that's my job," he says. "However, we do have a really well-informed civil service, so a lot of the suggestions we're making around regulatory reform and legal adjustments is done in partnership with civil servants who are very open-minded and want to hear fact-based discussions and negotiations."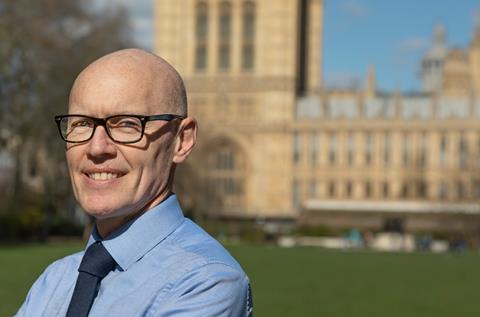 Over 20 major policy changes are rolling in
But the institute's goal is for businesses to be heard "earlier in the process" of policymaking. And with a barrage of regulation coming their way – over 20 major policy changes are rolling out in the span of a few months, the IOE&IT warned in a new report – this role is more vital than ever.
New laws will include border checks on EU imports under the government's flagship post-Brexit trade strategy – the Border Target Operating Model (TOM) – and costly labelling changes under Northern Ireland's Windsor Framework, as well as extra documentation required for goods heading into the EU from March.
TOM is the key piece of Brexit legislation the institute has been involved with the most. After being delayed five times over the past three years, border checks on all EU goods entering Britain are now due to roll out in January 2024. It was supposed to go live this October, but Rishi Sunak pushed it back again after months of warnings from the food industry that the added red tape was set to drive prices even higher. UK producers staunchly oppose the repetitive delays, claiming it gives European counterparts a competitive edge, seeing as their goods can simply waltz in.
"A lot of our suggestions are done in partnership with civil servants who are very open-minded"
Forgione understands why the government delayed it, but recognises there is an urgent need to get TOM going, as constantly shifting the goalposts "creates an atmosphere of distrust" in the industry.
There are also rumours Sunak's government will continue to delay the border strategy so it eventually becomes Labour's problem, in the event Keir Starmer wins the next general election.
"It's not for me to get involved in the politics," says Forgione – who always emphasises the "agnostic, apolitical" stance of the institute – but he thinks "a decision to further delay would have significant implications on businesses here and overseas. So, I would very strongly urge that we don't slip from what is being proposed."
There is also hope that trade with the EU could become less burdensome under a Starmer leadership, as he has pledged to renegotiate a veterinary deal with the EU that would reduce the need for SPS checks. The prospect of an easier London-Brussels dynamic is one many food and drink manufacturers across the continent also hope for, Forgione says. "They are pressing for much less strict interpretation of the requirements." Ultimately, he hopes "both sides can reach an accommodation whereby we are realistic about the fact that we do still rely heavily on each other".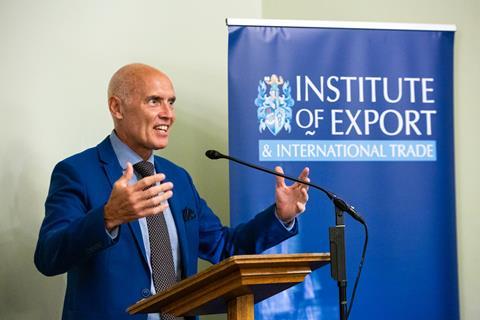 Opening new doors with new FTA
Looking forward, the institute wants to focus on fostering relationships with other countries beyond Europe. In addition to the free trade deals already signed with Australia and New Zealand, Britain is in the final stages of joining an FTA with trans-pacific nations including Canada, Chile, Japan, Malaysia, Mexico, Peru, and Singapore. According to the government and AHDB, these will open the doors to exporters of British fine goods such as cheese, meat and alcohol.
Current negotiations with India could also see the phased removal of a 150% tariff on scotch whisky, which the Scottish Whisky Association predicted could lead to a bump in exports from £282m in 2022 to £1bn in just five years. Forgione has also been leading conversations between the UK and different US state departments, a trade dynamic he thinks offers great potential.
This is not to say it will all be smooth sailing. China and the US's conscious uncoupling could wildly affect global trade, and we could see rising Asian and African nations take centre stage and shift the way supply chains are now set up – including who gets what first.
Britain's role on the international trade stage has arguably weakened since Brexit, which was highlighted earlier this year when UK supermarkets struggled with fruit and veg shortages, while French and Belgian grocers remained fully stocked. But Forgione refuses to "admit defeat or give in".
"I don't exist in a world of absolutes. I believe we can forge a better relationship with the EU in terms of trade. At the same time, we need to be looking at alternative routes for supply – there are a whole raft of nations who are very keen to sell their products into the UK."
Trade is a constantly moving puzzle. Luckily, Forgione says with a smile, "I enjoy problem solving".