Under Benchmark Drinks, Paul Schaafsma has forged tie-ups with the likes of Kylie Minogue and Graham Norton. Now he's looking to expand further
Behind every major celebrity wine brand – Kylie Minogue, Gary Barlow, Graham Norton – there is one man. That man is Paul Schaafsma. Under his business Benchmark Drinks, set up in 2018, celebrity wine has transformed from a novelty into one of the most exciting areas of the market.
It represents a rebuff to the snobbery associated with wine. "Ninety-three per cent of consumers will never meet a winemaker," he explains. "Their experience of wine is what they see on the shelf and what their friends tell them. The wine industry forgets it's about the consumer, not about the winemaker, not about how many years they've been doing it, or the surface soil.
"That's fine for the high-end market, which makes up about 3% of the population, but the majority of wine sits under £6.50. It's a treat, a beverage and something the can feel comfortable with." Celebrities, he says, simply offer that extra level of reassurance and comfort.
The sales say it all. Minogue's range has grown from £4.3m to £18.9m in the past year – a 338.1% rise, as The Grocer's Britain's Biggest Alcohol Brands report revealed in June. That's the fastest percentage growth of any of the top 150 booze brands in the UK.
That success is down to sheer persistence on the part of former Accolade and McGuigan boss Schaafsma, who was responsible for bringing McGuigan Wines to the UK and the rise of Echo Falls Fruit Fusions. After all, celebrity wines are the kind of thing at which connoisseurs might presumptuously turn their noses up.
But he was determined to make the proposition work. He recalls Graham Norton as the first celeb to join Benchmark's ranks. Having sat as a non-executive on the board of Invivo, the New Zealand winemaker producing the wines, Benchmark picked up the brand following the demise of its previous distributor, Conviviality.
Name: Paul Schaafsma
Age: 49
Married: Yes, with four children
The best business advice I've ever received: Manage your cash.
And the worst: 'Riesling's making a comeback.'
The last great book I read: Stalin's Wine Cellar by John Baker and Nick Place. It's about these guys who were approached to value and sell wines claimed to have belonged to the last tsar of Russia, which were then handed to Stalin.
My death row meal: My grandmother's gnocchi. Every second Sunday we would go to her house – you could smell it down the street, this incredible aroma of sauce that probably had about six cakes' worth of butter in it. But the gnocchi were as light as a feather.
Cricketer Ian Botham followed – though Schaafsma is quick to stress Botham "does not consider himself a celebrity winemaker, because he's been around wineries for 40-odd years".
But it was Minogue that was the game-changer – and the one that convinced Schaafsma he was on to a winning strategy. "She had approached a couple of wineries and it hadn't gone well. We were introduced through a third party, and we went to see her."
Schaafsma admits he was immensely nervous. But "we walked in and she was there with a plate of cheese and crackers – she said her mum had told her if you're tasting wine you should always have cheese and crackers. And it just broke the tension."
It wasn't simply a case of Minogue lending her name to the brand, he says. "She's involved in everything. I'm speaking to her every few days about how to support or tweak things, when vintages are going to change over – it is authentic. She has been to see all the producers."
Gary Barlow and Gordon Ramsay came next. Before he knew it, Schaafsma had become the celeb wine specialist. He says the brands work because they have a personality that attracts shoppers, rather than typical cues like region, vintage and variety.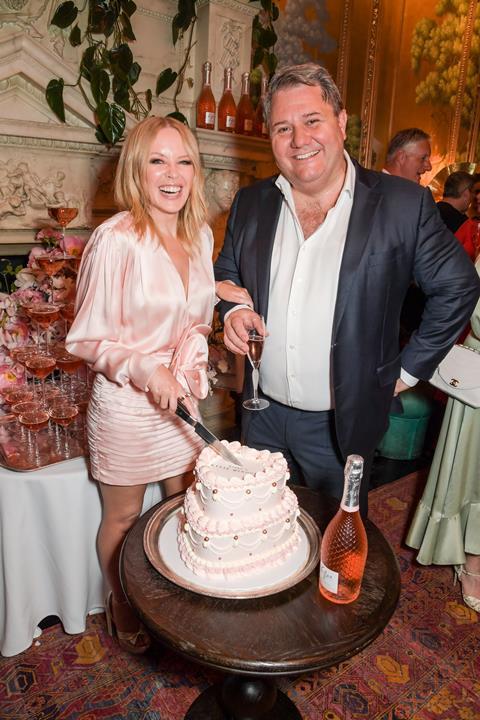 A tight ship
That's not to say the business relies entirely on celebs. Benchmark has also picked up the distribution for more traditional brands such as Mad Fish, which is stocked in Waitrose, Tesco and Morrisons.
Across this diverse portfolio, there is one common factor: a focus on staying trim from an operational point of view. "We don't own anything," says Schaafsma. "We don't own wineries, we don't own packaging facilities, and we don't own trucks."
This is crucial, he says, because it allows Benchmark to sidestep the pressures faced by many other suppliers. "Producers are sometimes forced into doing certain things because of the production capacity they have. If you have a 220,000-tonne winery in the [Australian] Riverland, with perpetual contracts, you will have to sell that wine in some shape or form forever."
Whereas "if you're in our position looking at the market, and you can read where the trends are going, you can go and decide who you want to work with – and that also provides opportunities for producers who don't necessarily have a route to market."
Bottling and logistics is handled by The Park, Accolade Wines' spinoff facility. "We were their first partners," he says, pointing to the environmental benefits. "We co-load with Accolade products on their trucks – as well as others – and we're all selling to Tesco, Sainsbury's, Morrisons, Asda and Co-op."
It all adds up to an efficient business. Still, that's not to say Benchmark is immune to the tidal waves of cost increases battering the global wine sector.
"It is crazy the increases we're seeing," says Schaafsma. "Glass is a real problem, and the cost of transport – the freight companies are just having a field day. In some cases we're seeing a doubling of deep sea freight rates."
Like many others, the business has had no choice but to pass on those increased costs. "We were 100% transparent with our partners about what our costs are," says Schaafsma. "Thankfully a lot of the supermarkets produce their own label products and they can see the cost themselves and can understand."
So what's next for Benchmark? Plans to grow internationally are underway. "We've already appointed a distributor in Australia for Gordon Ramsay, and we're looking at the options in America because he's got five TV shows there – it's a no-brainer."
Closer to home, Schaafsma is hoping to capitalise on the collapse of availability of New Zealand sauvignon blanc with a South African sauvignon under the Gary Barlow brand. "The increases in price for New Zealand wine are leaving people behind – [shoppers] were happy paying £7 but they're not happy paying £9. It's been causing chaos for suppliers and an issue for supermarkets trying to maintain a range."
Rosé will also be a focus. "If you look at packaging and innovation, the excitement has moved from champagne to rosé. Go to Tesco's fixture… it is the most diverse, interesting, eclectic range you'll find. Rosé is really kicking the arse of the wine industry."
The same could be said of Schaafsma himself.