PepsiCo boss Jason Richards has bold plans, and nothing – not a factory shutdown, nor soaring prices nor the HFSS clampdown – is going to stop him
At the Walkers crisp factory in Leicester, at the end of a corridor lined with photos of Gary Lineker, PepsiCo GM Jason Richards is in the midst of a sales pitch for his new raft of products splayed across the table.
"Do you like Doritos?" he asks, sliding a freshly opened bag across the boardroom table. Along the table, another bag of pizza-flavoured crisps catches his eye. "Oh try these as well actually, they're brand new. I'm not sure they're on the market yet," he adds with a smile.
Like any good salesman, Richards' strength lies in his conviction. PepsiCo's UK boss started selling crisp packs "out the back of a car" when he joined the company's graduate scheme almost 30 years ago, and having worked his way through roles in strategy, marketing, and commercial, it's where his heart still lies. "I'm a crisp salesman. That's what's I am."
Selling crisps isn't getting easier. PepsiCo is currently gearing up for the new HFSS rules next month, one of the most significant policy interventions to hit the sector in years and one that will ban many of its bestselling crisps from prominent store locations.
PepsiCo has invested heavily in response, putting up an initial investment of £35m over the next three years as it looks to ensure 50% of sales come from healthier or lower-calorie products by 2025 (30% from non-HFSS, 20% from snacks sold in portions of less than 100 calories). It would be a big achievement, starting from less than 1% when the goal was set at the start of this year.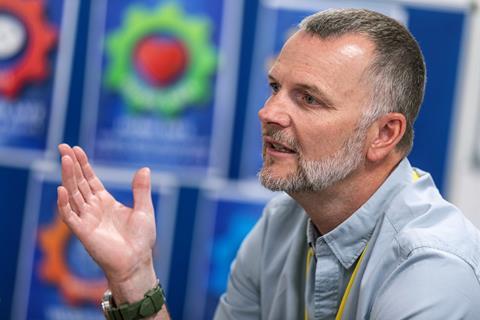 No going back
While the new HFSS laws have caused sleepless nights for many, Richards, it seems, is not among them. He argues PepsiCo has been on a "health journey" since 2005 when it cut its saturated fat content by 70% through a change in oils. Next month's changes are simply a "continuation of that journey". Even Liz Truss's musings about scrapping some of the laws "doesn't make any difference to us," he insists. "As I said, this is not a response. We've tailored it because it's some legislation, but the journey we've been on is one we hope you've been on for 20 years."
It does appear as if the new HFSS rules have accelerated PepsiCo's progress, though, with two-thirds of its new products launched this year HFSS-compliant. Some, like Snack a Jacks, were very close to being compliant already, so the entire brand just needed a small tweak to bring it inside the rules. Others, like Walkers, have seen completely new ranges launched that contain 45% less salt and will sit alongside their original counterparts on the shelf.
"A lot of people have the talk. We're walking the talk. We're doing it"
Then there's changes like Doritos, Richards explains. "If you take a regular Dorito," he says, rummaging into another pack, "and then we take this new Dorito [Dipper]. This is slightly thicker so it's more corn and therefore contains less flavour." As a result of the lighter flavour, the product can fall within the HFSS rules.
Richards has no intention of ever pitching 'healthy' crisps to shoppers. "Why do you eat Doritos? Because they taste great and you enjoy them. So if we say: 'now super healthy Doritos, then people's perception is that it's not going to taste great," he says.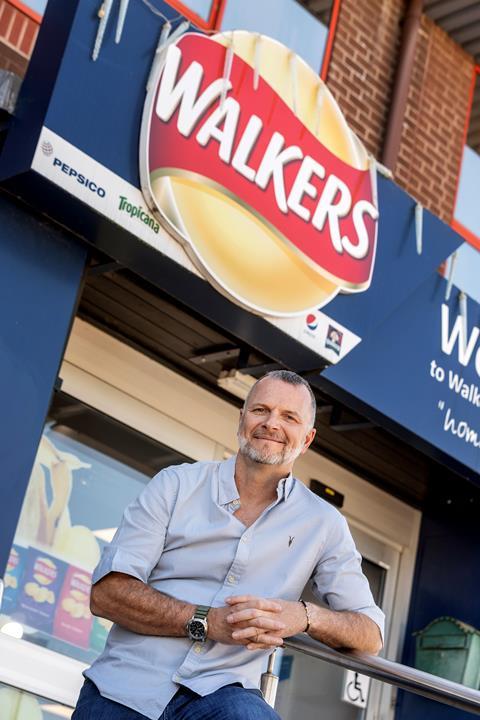 The same is even true for crisps like Walkers Baked, which carry an almost overt health message, he continues. "We don't talk about that. We just say baked not fried and consumers can work it out. We talk about great-tasting crisps."
For anyone hoping the HFSS laws will drive greater consumption of unprocessed foods rather than simply reformulated crisps with less salt, the idea of "super healthy Doritos" may be troublesome. But for Richards, it's all part of a shift in the right direction. After all, he says, it's easier to nudge people towards healthier options within the same category than change their eating patterns altogether. "It's very hard to persuade someone who wants a Mars bar to go eat an apple," he says. "You can nudge people down that spectrum but it's easier if somebody wants a bag of crisps to have one that's under 100 calories versus 150 calories."
Richards is an engaging speaker, peppering his conversation with personal anecdotes usually intended to underscore the cultural value of Walkers crisps in the UK. His wife's daily Snack a Jacks habit, his son's observation that "Quavers are underrated", a woman persuading her husband to eat the new low-salt Walkers rather than the original at a local cricket game.
But his genial manner hides a fiercely competitive streak, particularly when comparing PepsiCo's efforts with the competition. "A lot of people have the talk. We're walking the talk. We're doing it. Others are pushing back and fighting and saying, 'this is hard'. We're getting on and getting things done."
Name: Jason Richards
Potted CV: Joined Walkers as a graduate trainee in sales and worked in several UK and European roles before appointed UK&I General Manager in 2019
Where do you live: South Oxfordshire
Career highlight: After 25 years, getting to lead the PepsiCo UK and Ireland business
Favourite PepsiCo product: Walkers Squares Salt & Vinegar
Biggest challenge facing food: Creating a world where packaging never becomes waste
How do you relax outside work? Mountain biking and fishing
Currently reading/listening/watching: Ben Stokes' autobiography, Stone Roses, Junior Bake Off
Complete shutdown
"Winning is what fuels me," says Richards. But while he is understandably keen to point out many wins in the past year, PepsiCo has had its fair share of losses too. Last October, the Walkers factory currently at full whirr next door to where Richards is now speaking, lay quiet. An attempted SAP upgrade – the company's resource management software – went wrong, placing Walkers in the headlines as a national crisp shortage emerged across the country.
The factory was forced to close down for several days and even once manufacturing was back up and running, it took a number of weeks to get back to 100%. Some retailers were reporting shortages into January.
"One of my visions is a world where food packaging never becomes waste"
The issue cannot be pinned on any single human or system error, Richards says, but was rather a combination of lots of different things going wrong. The main problem was that the issue hit on the manufacturing side while "if we'd had it in finance or accounts payable, you wouldn't have seen the same issue," he explains. "We do three things: we make, move and sell. So if you can't make, you can't do anything else."
Throughout the outage, Richards wrote regularly to supermarket CEOs, updating them on the situation. Although "clearly when you go through something of that scale, you let people down," Richards insists they were all "very sympathetic and supportive of me and our business".
"It felt very big at the time," he adds, "but I see it very much in the past." Others, however, aren't so sure.
"One hundred per cent it hurt their reputation," observes one supply chain insider. "They'll have had to carry more people to do the manual workarounds at added cost. It's opened the door to their competitors. Plus, some supermarkets will also presumably be asking for more margin in return for getting their volumes back too."
Richards denies this is the case, but acknowledges it had a damaging impact on its relationship with the public. "We surveyed consumers and two-thirds of the population were 'agitated' with us. I think 20% were 'angry' with us. Because if you have a bag of Walkers cheese & onion every day with your sandwich at lunchtime, and then suddenly you can't get it… we were upsetting people."
Richards insists Walkers did ultimately find some opportunity in the adversity after realising through the outage that Walkers was carrying "too much complexity and that complexity was slowing us down". This led to the decision to cut 25% of its SKUs as it turned production back on, in many cases simply trimming the number of multipack sizes it was churning out.
Up and up
PepsiCo is now looking for such productivity gains in every corner of the business as it looks to tackle inflationary pressures across the board. Richards points out small changes that have been implemented, such as cutting out four hours of lost time when switching production lines, but even with all these, it can never be enough to counter inflation entirely.
PepsiCo got price rises through to retailers across its range earlier this year, says Richards, with inflation on Walkers currently running at 15% across the major retailers, above the 10.3% average for crisps, The Grocer's analysis of Assosia data shows. It has also absorbed a sizeable chunk of the extra costs itself.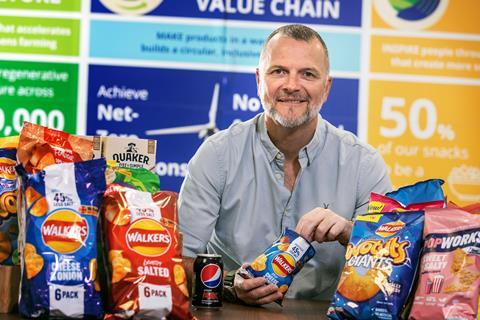 For a business trying to push through as much change as PepsiCo, this could be troublesome, but Richards is confident. Alongside its health changes, Richards has enacted an ambitious environmental agenda, most eye-catchingly with a target to eliminate all virgin fossil-based plastic from its crisp and snacks packets by 2030. He is also pushing to replace plastic with paper on multipacks and expects the first trial to be out "within the next few months, certainly in the next 12 months".
"One of my visions is a world where food packaging never becomes waste," he says, setting out the journey ahead. The next step is to make crisp packets 100% recyclable in October, a switch that will encourage customers to return them to stores. Then comes the work with retailers and the government to scale up the infrastructure that will collect them and get them recycled.
"And then ultimately, we need kerbside collection," Richards concludes. "So all the flexible packaging, you can just put it out and it gets recycled into something valuable. Which is why we need an EPR [extended producer responsibility] scheme to allow us to do that in the next few years."
While Britain's EPR rules, due to come into force from January 2024, have provoked the ire of many as the financial burden falls on business for collecting and recycling waste, Richards says that without it PepsiCo can never move to fully recycled packaging because the volume just won't be available. "EPR is necessary to drive recycling at the high rates we've seen in other markets in the world so I'm absolutely supportive of it."
And despite the problems facing PepsiCo and the rest of the country right now, Richards clearly has no intention of letting his agenda slide. "There's a pandemic, there's high food inflation, there's also been some self-inflicted wounds like SAP," Richard acknowledges (including another IT glitch in July). "But those things are just moments in time because we're playing the long game. We'll get the basics right, grow the business, and then we'll go off and do some good."