Harj Dhasee was the first independent retailer with Morrisons Daily after being left high and dry when Sainsbury's pulled the plug on its wholesale plans
Harj Dhasee was at a loss. It was July 2021 and his convenience store was just days away from switching to SimplyFresh, in a fledging tie-up with Sainsbury's that signified the supermarket's growing ambitions in the wholesale sector.
Dhasee had spent thousands on the switch. £75k on a complete store refurbishment, for starters. Not to mention around £17k in lost sales as he wound down his old Nisa stock to make room for the new Sainsbury's supply.
Yet with just days left until the transition, Dhasee heard the news: Sainsbury's was pulling the plug. Its wholesale arm was to be axed completely. "It was a real kick in the teeth," says Dhasee, speaking nine months later. "I had already handed in my notice with Nisa, and my store was empty because I was bringing down stock."
Yet as bad as it was for Dhasee, he insists it was worse for SimplyFresh. "Kash [Khera, SimplyFresh founder] just sat there in front of me and was drained. The rug had been pulled out from under his feet. I said 'look, I can carry on trading so it's not the end of the world for me. But I can see the pain you're feeling.'"
Today, things are looking up for Dhasee. In February, he reopened as the first independent retailer under the Morrisons Daily banner, in a "soft-opening" that has allowed him to fine-tune the range and layout of his main 1,600 sq ft store in the Cotswolds.
It should be finalised later this month, at which point he'll turn his attention to converting his second store (which he bought three days before the UK's first lockdown) nearby. For now, this continues to trade as a Nisa.
Luckily, the £75k Dhasee spent on refurbishing the store for SimplyFresh hasn't completely gone to waste. "It needed a fresh, new look anyway," he says, and all his new refrigeration units have been able to stay.
"Kash just sat there in front of me and was drained. The rug had been pulled out from under his feet"
Frustratingly though, the store's new shelving, in particular, has proved a problem. During the SimplyFresh refit, Dhasee shortened the width of its bays in a bid to "condense our ranges down to be more convenient". But now for Morrisons, these are too short. It means six months after buying brand-new shelving "I've had to rip it all out and spend another £10,000 to put meter shelving in," Dhasee laments.
It is one of a few minor teething problems Dhasee is encountering with Morrisons. On the store's layout, for example, there have been a few discussions on exactly how it should look. "They have this view – as all head offices do – where they say 'send me a plan and I'll put in a planogram range and tell you where everything is going to go'," he says. "But until you walk into a store you don't know if it's going to be right. You have to feel the atmosphere."
He would welcome more day-to-day support from Morrisons but feels the supermarket giant could be distracted by the ongoing issues at McColl's, the 1,200-strong convenience chain currently locked in talks with its lenders over its future.
McColl's is a vital partner in Morrisons' current wholesale business, having converted almost 200 stores to the Daily fascia since switching supply in 2018 and on track to hit 450 by November. "Not to say I feel under-resourced," says Dhasee, "but there is only so much time one person has."
Snapshot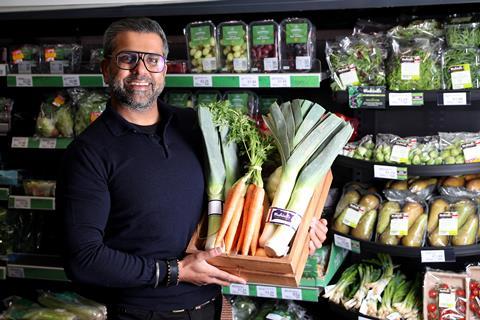 Name: Harj Dhasee
Age: 41
Proudest moment as a retailer: Helping elderly customers who don't have family close by
Most awkward encounter with a customer: Getting asked out on a date
Best way to motivate staff: Work, laugh and cry with them (hugs help)
Least favourite duty: Paperwork
Best advice given during the pandemic: It's OK to not be OK
Hardest part of the pandemic: Not spending time with my family
All-time hero: My mum
Whining children
On the whole though, Dhasee is full of praise for his new partner. "It's the best move I could have made," he says. "I feel they have an appetite to develop the offering for independent retail and I'm part of that change."
Morrisons has given him the flexibility to seek out local supply and make decisions over product listings.
This includes local products such as organic milk, eggs, fruit, veg, cakes and bread, though Dhasee plans to add more local produce once he has a better idea of the amount of space left available. He is also hoping to stock more of the Morrisons Best range, given the area's relative affluence.
Dhasee is pleased that Morrisons head office is still asking questions like "'how can we make it better? What can we do to help you?'" he says. "It's a partnership, not a dictatorship, and I see it going from strength to strength."
It is a welcome change after not only the panic around the Sainsbury's bombshell but also the souring of his relationship with former supplier Nisa. Dhasee was hoping the move would "reignite his passion" after suffering burnout from the pandemic and several tough years with Nisa that had seen his loyalty "fizzle out".
The decline in the relationship began in 2018 when Co-op bought out Nisa for £137.5m in a takeover that he backed at the time. However, Dhasee was disappointed with the way the business changed under the Co-op. Before the deal, Nisa "was a mutual company, working together, bringing good benefits to all of us.
"But with the Co-op takeover, that was gone. There is no relationship any more. The co-operation just totally disappeared. They looked at us like whining children."
Dhasee put up with the new management for a few years before deciding it was time for a change. "SimplyFresh came along and I thought: I like the look of this, I like the feel of this, I want to get involved in this."
The clincher was getting access to Sainsbury's own-label products. He admits access to the higher-quality Co-op own brand lines had been the major plus point of the Nisa buyout and according to Dhasee, has "opened my eyes" to the opportunities for independents to take advantage of the big supermarkets jumping on the wholesale bandwagon.
But crucially, it was the sense that SimplyFresh was a model "built by retailers" that lured Dhasee in. "The Sainsbury's and SimplyFresh tie-up had independent retail insights and really focused on what worked for the retailer," he says. "The stores were still our own stores because there was flexibility in what we could and couldn't do."
The model was already showing signs of success when Dhasee signed up. Steve Bassett, another independent, had seen sales increase by up to 70% in his first month under the SimplyFresh fascia at his Bitterne Park store in Southampton, in conjunction with Sainsbury's.
Luckily for Dhasee, he hadn't got ahead of himself. By deciding only to move over to the supplied-by-Sainsbury's model for his larger store, he managed to limit the financial hit of Sainsbury's shocking and untimely withdrawal.
When the announcement landed, all SimplyFresh operators had the option of maintaining supply from Sainsbury's for a transition period of up to 12 months. However, as Dhasee was still a few days from officially transitioning, he was forced to look at other options.
He had conversations with Spar, Booker and Costcutter, and even a phone call with Nisa to see how a new start with the Co-op owned symbol group might look. Eventually though, Morrisons emerged as the clear choice.
Now, with one store almost completed under the new fascia and the second soon to get underway, Dhasee is in a better place, though his ambitions are laced with characteristic humility. As he so earnestly puts it: "I just want to walk in and feel proud." After several relentless years of change, who can blame him?