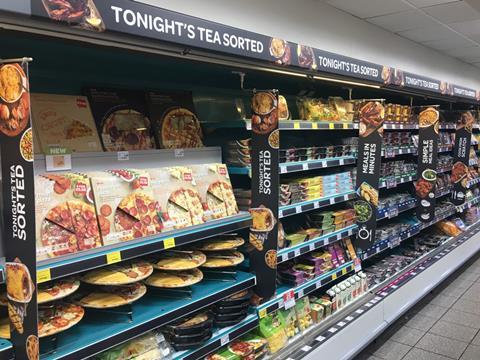 AF Blakemore is rolling out its Tonight's Tea concept after a successful trial that featured a new range developed by fellow Spar wholesaler Hendersons.

Tonight's Tea is a specially branded fixture with a range of ready meals and prepared meat lines along with sides and desserts, together with information on recipes and meal suggestions.

The trial was initially launched in 37 company-owned Blakemore Retail stores in February and is currently being introduced to a further 70 stores, which are a mix of company-owned and independent Spar stores.

The concept was first developed by Hendersons last year, under the name 'Meal Inspirations'. Hender-sons also created an own brand range called 'The Kitchen' for the project. Blakemore is now offering 40 The Kitchen lines across ready meals, sides and desserts in its Tonight's Tea fixture along with around 30 prepared meat lines under its Meat Market brand.

The Kitchen does not feature any Spar branding, with Blakemore citing Him research that found the food quality credentials of its symbol group Spar didn't rank as highly as its competitors.

"We now have a broader range of solutions to fulfil all aspects of the Tonight's Tea shopping mission that enhances our credibility to deliver new and interesting options for our customers and attract new customers to our business," said Blakemore's fresh and foodservice development director Matt Teague.

The Kitchen range features the strapline 'Great Food Made Locally'. It is made by Northern Irish suppliers, but Blakemore said research conducted in the past had found anything produced in the UK was considered to be 'local' by consumers. It added suppliers wouldn't change the packaging for a pilot because of the costs involved.

Since launch, ready meal sales had increased by 131%, fresh meat sales were up by 32%, chilled sales soared by 20% and overall grocery sales rose by 2% year on year in the 37 trial stores.