Fmcg brands became all-out pranksters for 1 April. There aren't just fake products appearing on social media, but spoof news stories too.
Are there any that fooled you? Or any you'd like to see in supermarkets for real?
Carrot milk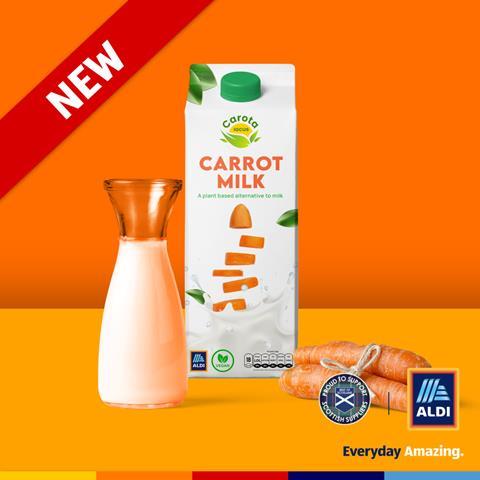 Taking the trend for plant-based milks a step too far is Aldi Scotland, with its carrot milk faux launch. Presumably the product would help you see in the dark, and at a bargain 85p, a great way to get one of your five-a-day in first thing with a drop in your tea or coffee.
Chicken Tango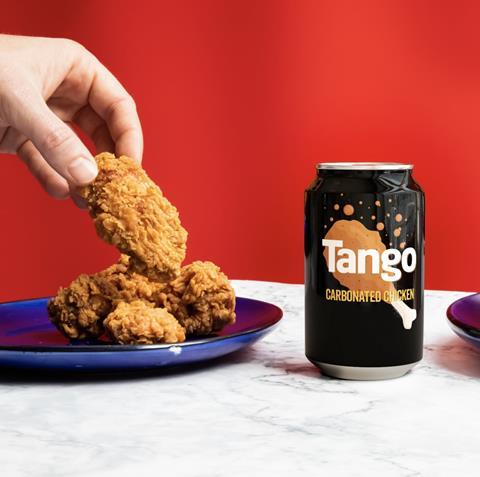 Winner, winner chicken dinner says the saying. Though a Tango is an ideal accompaniment to fried chicken, it should certainly never taste like the stuff. A carbonated chicken-flavour Tango will not be hitting chillers anytime soon, but would you try it if it did?
CBD Hash Brown Fries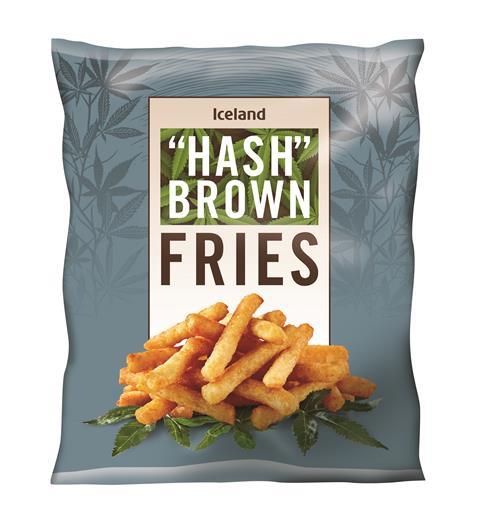 Why wouldn't Iceland build on the success of its hash brown fries by adding the drug hash into the mix? It would surely become a student favourite at a bargain £1 rsp, while Bill Clinton's excuse that he smoked but did not inhale would become moot when he could simply swallow these hash brown fries. Has anyone got the munchies?
Cream ale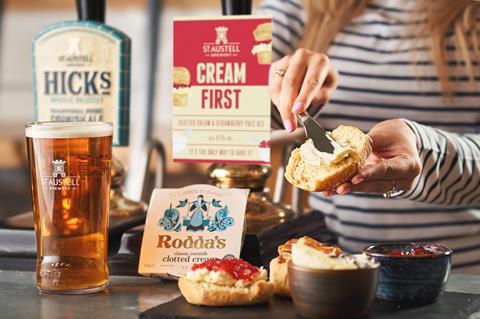 You've heard of cream tea, but what about cream beer? St Austell Brewery is claiming the launch of a clotted cream and strawberry pale ale. The head would be made up of Cornish clotted cream to make the usually foamy head creamy instead.
Sausage roll smoothie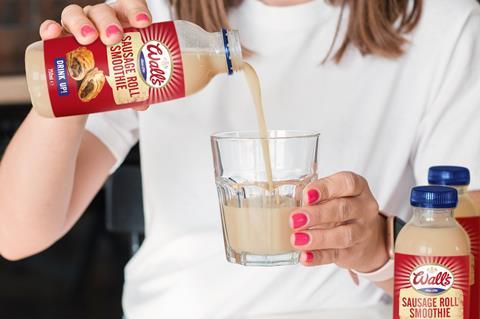 Wall's claimed to be moving into the drinks market with the launch of a smoothie version of its to-go sausage rolls. It says the launch would combine "the well-known taste and texture of the iconic sausage roll with one of the latest food fads".
If the beige liquid isn't enough to put you off your breakfast smoothie, continue scrolling for more weird and wonderful products.
Sunday roast spaghetti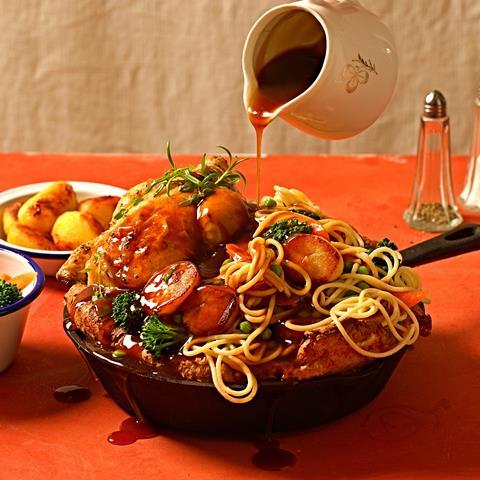 There are undoubtedly plenty of punters out there who would give Pasta Evangelists' roast dinner spaghetti feast a try, because who says there are enough carbs on a roast dinner already?
The meal kit pasta service says its dish contains its signature freshly made spaghetti, a whole roast poussin, a Yorkshire pudding base, roast potatoes, greens and baby carrots, all doused in a hearty dose of gravy which no roast would be complete without.
Apparently two to three people could enjoy this, frankly criminal, British-Italian fusion.
2-in-1 wine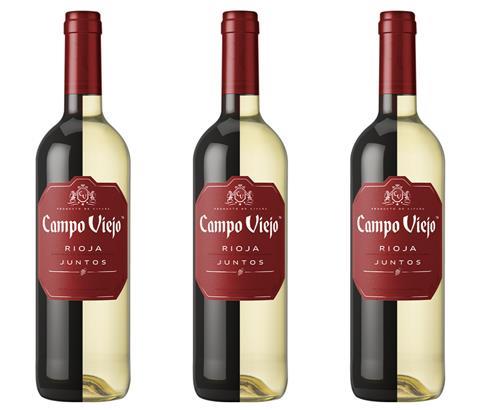 Forget rosé. The perfect middle ground between red and white wine has to be Campo Viejo Juntos, supposedly containing both white and red wine – but not mixed! Juntos, meaning 'together' in Spanish is apparently "ideal for barbecues".
Campo Viejo says the right half of its "wed" (that's white and red, gettit?) wine bottle contains hints of citrus, tropical fruit and floral notes, to be paired perfectly with seafood, fried fish and salads, while the left half has hints of cherry, strawberry, plum and soft toasted notes that make this red a treat to be paired with beef, pasta, chicken, salmon and fresh light cheeses, as well as vegetarian options, such as shakshuka. A detailed set of tasting notes that almost make us thirsty for this odd combo.
That's one way to boost the profile of white rioja.
Walkers bread
The best thing since sliced bread #CrispInpic.twitter.com/oaj9rjunkK

— Walkers Crisps (@walkers_crisps) April 1, 2022
If real, this product would likely cause riots at the supermarket doors as shoppers clamoured to get their hands on it. Imagine Gary Linekar demolishing a salt & vinegar flavoured crips sandwiched between even crispier cheese & onion flavoured crisp bread slices.
Scotch egg custard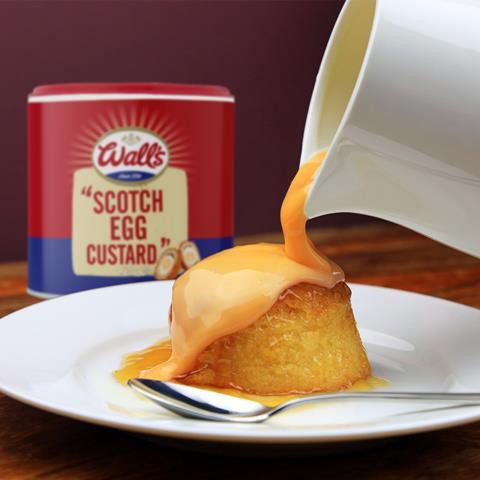 Wall's couldn't settle on just one disgusting sounding idea. Scotch egg custard is part two of its 'Off The Wall' range conveniently set to be released on April Fools' Day. Though it's possible the brand has taken on a wildly experimental development chef, even Heston Blumenthal would concede that while egg belongs in custard, pork does not. However, Heston's biggest issue might be that the porky custard remains powdered.
The product, which Wall's is describing as "the perfect symphony between meat and sweet", could bring about something of a role reversal to the dessert table if poured over an apple crumble, reminiscent of the flavours of roast pork and apple sauce during the main course.
Lemon shortage = Hooch shortage
Hooch steered away from the spoof product launches and went with a true scare tactic instead. Its news-style video circulating on social media depicts scenes that were all too common this time in 2020, with queues outside supermarkets and shelves picked clean of produce. Luckily, this time around the only products disappearing from shelves are lemons, and by extension lemon-flavoured Hooch.
Sundae roast
View this post on Instagram
Not roast dinner spaghetti but a roast dinner dessert. Ocado's Sundae roast is worth it by virtue of the punny name alone.
Dishy tablets
View this post on Instagram
Gym Kitchen's strange launch could make you dishy as well as swole. It claims its protein-packed dishwasher tablets could add 30g of protein to your meal, and I'm sure there are plenty of gym bunnies who would happily stick ceramic in their NutriBullets to get the hit.
Brussels sprout Slimfast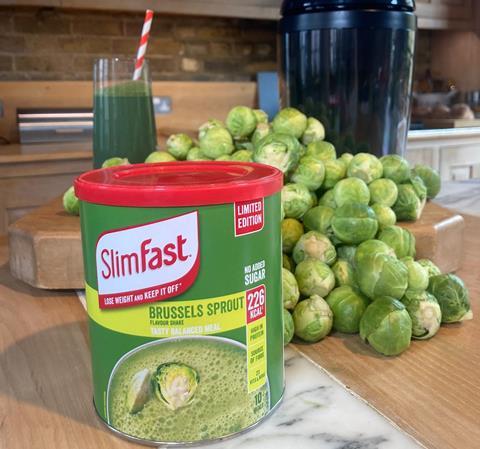 Though Slimfast is supposed to keep you feeling full, sprout haters might go hungry rather than imbibe this bright green shake. Slimfast has taken what is often considered the worst part of Christmas dinner, blitzed it into a powder and not even done us the courtesy of adding sugar to help the medicine go down.
For the Brussels sprout lovers out there, Christmas may well have come early. Only a year or four late to the green juicing trend, the slimming shake is apparently "nothing short of mighty in its vitamin and mineral content" and will be teased today by brand ambassador Kelly Brook.
Giant Perkier bar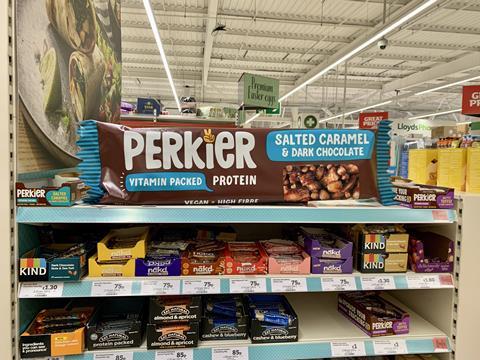 Blowing portion control out of the water or bringing a whole new meaning to sharing-sized? Who knows! Perkier celebrated April Fools' by installing a giant Salted Caramel & Dark Chocolate Perkier Bar weighing in at 6.8kg at a Sainsbury's store. That's the equivalent of 180 regular sized bars, so should it cost 180 times the price too, it would set you back a cool £180.
Maybe the brand is hoping to hijack Snickers' marketing slogan, because getting these nuts would certainly abate any hunger.
Mashed potato Easter egg
Top marks to Mash Direct, which came up with a very timely Easter egg prank. Heritage potatoes from the brand's family farm in Northern Ireland encased in Belgian chocolate – what could go wrong? Unlike most Easter eggs, Mash Direct specifies this one would be chilled, however it doesn't say how one might heat the mash without melting the egg, and is only available for a limited time (small mercies).
The final straw, perhaps, is that Mash Direct set the rsp for this fictional atrocity at £10.
Sausage roll cereal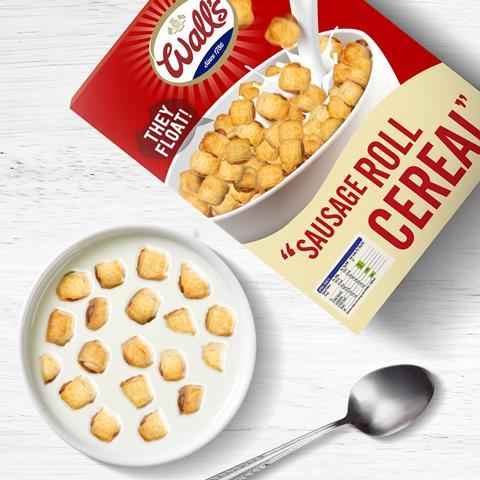 Someone at Wall's was having far too much fun when they came up with not one, not two, but three truly insane products for April Fools'.
The last of the trio is a sausage roll cereal that I would argue looks the most palatable of the three. Provided the miniature pastries maintained their shape when doused in warm milk (surely the correct way to eat cereal), I would consider making the switch to these for the most important meal of the day.
Vegan bacon and chocolate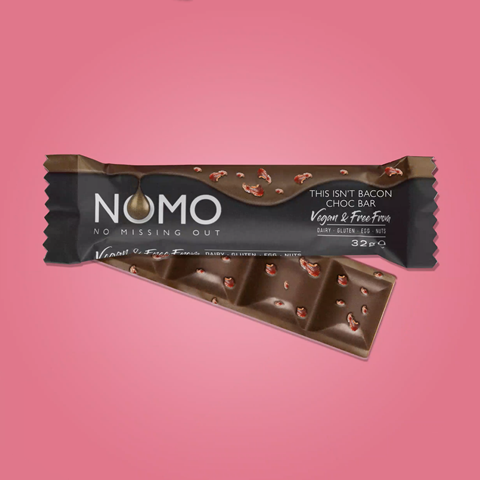 Nomo pretended to team up with This for a vegan chocolate/bacon combo that punters loved the sound of. And what's not to love? Sweet and salty is a long established match made in heaven.
Love Raw spreads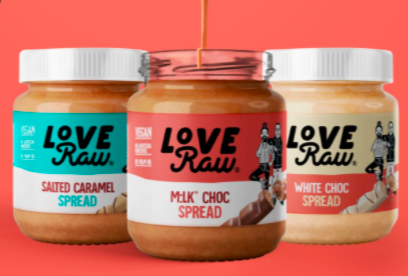 Nothing funny about spreading chocolatey goodness on toast. Healthier and vegan alternatives to Biscoff, Nutella and Duo spreads in the form of these prank white choc, milk choc and caramel spreads would likely be snapped up, not to mention going viral on several vegan food-focused social media pages.
No one at The Grocer HQ is entirely sure why this would be an April Fools' and not a real, eminently sensible and bang-on-trend product launch. Perhaps it's the work of an NPD department lacking confidence and hoping the reaction to this 'fake' launch will create enough demand for them to roll out the trio for real? In which case, you know what to do: email Love Raw relentlessly until they make this happen.
This cops to meat fraud
A hilarious appearance by broadcasting veteran Michael Buerk bringing us the most important story of his career: plantgate. Meat suppliers have been caught selling not horsemeat this time, but plant-based alternatives.
Spinning the semi-regular claims that traces of meat have been found in vegan products (not a laughing matter, as This knows after having been forced to apologise for a stunt it pulled in a previous video) on their head, the brand portrays c-stores and hospitality as having been affected by the issue, following Buerk on a Panorama-style investigation.
Doggy treats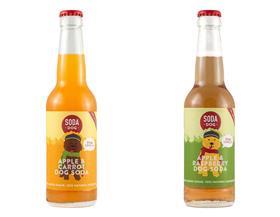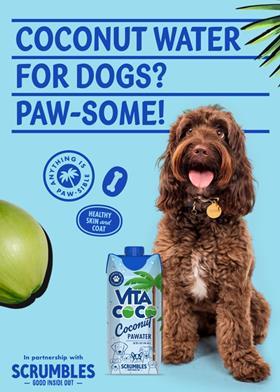 There are of course plenty of launches for dogs, including a new Soda Folk sub brand called Soda Dog and Vita Coco's Coconut Pawater, a coconut water for dogs, and seemingly different from its core product in name only.

Soda Dog (which would surely land up in an ugly court spat with Brewdog were it launched for real), apparently comes in two "human-friendly" flavours, apple & carrot and apple & raspberry. Sign me up.
Meanwhile, meal kit service Gousto couldn't resist pranking us all with the launch of a pet-focused meal planning spin-off, Floofsto.
Who says your pets can't eat at the table? Not us. 🐶 Introducing Gousto's furriest new venture, Floofsto by Gousto 🎉

Set an extra placemat and sniff out bulldog-friendly burgers, roasts for rodents, sumptuous rabbit salads, and more, on the menu right now. pic.twitter.com/Xr2xALqXCp

— Gousto (@goustocooking) April 1, 2022

Wimpy turns Macho
Introducing our nationwide re-brand, as we're out with the old and in with the new, no more Wimpy, we're far more Macho!#WimpyUK#Burger#HomeOfTheHamburger#Tasty#WimpyMoment#ComeOnOverToOurPlace#EnjoyEveryMomentpic.twitter.com/NFwbeGMY3N

— WimpyUK (@WimpyUK) April 1, 2022

The retro diner went with a hilarious name change. Clearly, it's been bullied long enough.
Pizza chocolate
We've got a new range that is going to steal a pizza your heart! 🍕 pic.twitter.com/Ek7ZaDMQwC

— Montezuma's Chocolates (@montezumas) April 1, 2022
Chocolate and savoury combos seem to be a trend this April Fools, with Montezuma's unveiling an entire trio of pizza-inspired chocolate bars for the big day. Aptly, one of the three has been dubbed Weirdough.
Muscle Food fish dish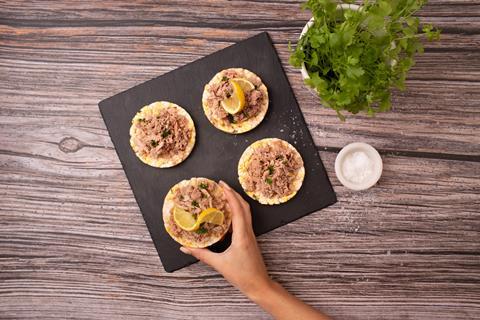 Muscle Food's prank paid homage to a classic gains-related meme with its launch of a fishy meal kit to make a gourmet dish of fish and rice cakes.

Back in 2007, Danny Andrews became one of the UK's earliest meme's as a clip of him from a BBC Three documentary 'Babyfaced Body Builders' went viral. In the famous clip, Danny recalled the diet he was following to get shredded "Eight o'clock in the morning I'll have fish and a rice cake. At 10 o'clock, I'll have fish. At 12 o'clock, I'll have fish and a rice cake. At two o'clock, I'll have fish. At four o'clock - just before I train - I'll have fish and a rice cake. I'll train, I'll have my fish. I'll come home, have some more fish, with a rice cake, and then have some more fish before I go to bed."
And finally, two that seem like they should be April Fools' but are really and truly on sale:
Jam roly poly ale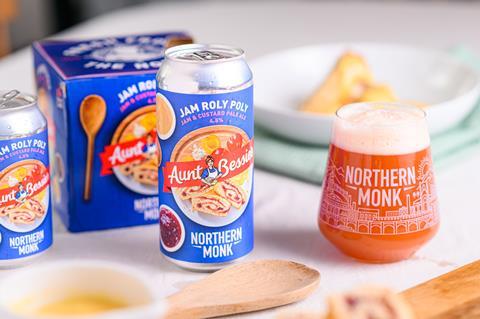 This one isn't new. Leeds-based Northern Monk brewery and Aunt Bessie's joined forced in 2020 for a Jam Roly Poly Pale Ale, which is now back by popular demand.
When the two Yorkshire brands first collaborated, their jam roly poly brewed creation sold out in less than 48 hours.
It rolled out in Morrisons this week (rsp: £6/4x330ml).
Pickle beer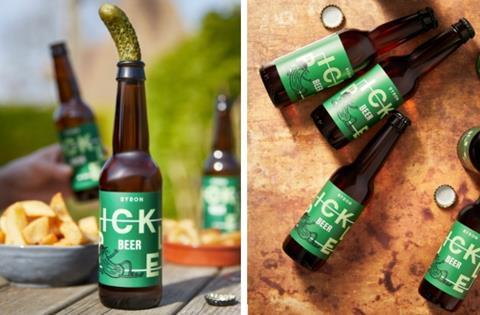 What is it about experimental beers?
Byron hit us with stats for its pickle beer launch announcement, and it almost makes sense. It says it conducted a poll of 2,000 people, in which 50% agreed that pickles add a "great texture and flavour to any dish (that goes for beer too!)", while a third of 18 to 34-year-olds said pickle is the perfect hangover snack, making a pickle beer the ultimate hair of the dog.
The brand is insistent this isn't an April Fools' joke, so check out Deliveroo or its restaurants if you're desperate to try it (rsp: £4.99).