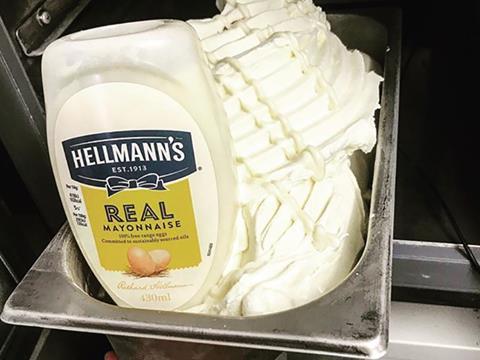 Mayonnaise is enjoying a moment in the sun, overtaking ketchup last year to become Britain's favourite sauce.

Of course, any more than a moment in the sun is bad news for mayo, which is perhaps why eccentric ice cream shop ICE, in Falkirk (the perfect place for such a retailer) has immersed it in ice cream.

The shop is better known for its takes on Strongbow and Monster drinks. Revealing the Hellmann's-laced aberration on Instagram, it asked 'Who knows a mayo addict?' Well… the Belgian market might be worth a shot - with frites in place of the traditional Flake?

Perhaps what's most cruel about the eggy 'treat' is its unremarkable appearance. Falkirkians, trust no one! If you're offered a lick of someone's 99, or even a vanilla scoop, beware! ICE has a mystery 'Trick or Treat' flavour, so it's not above such japes.