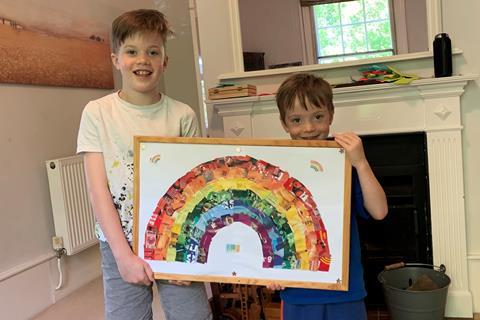 Walk down any given street on your daily exercise outing and you're likely to see pictures of rainbows in people's windows – colourful beacons of hope for a trying time.

Most are made by our nation's children – though this week artistic big-hitter Damien Hirst got involved with two new works. Impressive as they are, Damo, we like this one – made by KPMG's Linda Ellett and her lads Luke and Rhys – better.

We're biased of course – the colourful collage is made from old copies of The Grocer. As Linda correctly points out, The Grocer is "more colourful and fun than most magazines", making it the obvious choice to forge a rainbow.

Luke (eight) and Rhys (five) enjoyed spotting which products in the mag would make for good fragments – Cadbury Creme Egg, Innocent and Whiskas are all in there – while our weekly polling station feature evidently proved useful, too.

We always encourage people to recycle The Grocer when they've read it – and we're delighted to see such an inventive response. Great job.