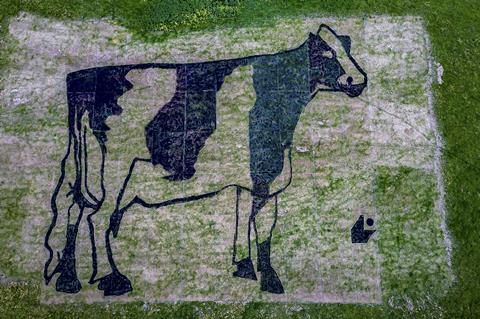 Can you believe Yeo Valley's rapping farmers advert came out as long ago as 2011? It was a mighty publicity coup, almost equalled by the ad's follow-up, which starred a dairy-loving boy band.

The company has been pretty quiet on the TV ad front since then, but eight years on is back in the attention-seeking game with a bold artistic statement: a huge homage to the mighty cow, 70 metres wide on a Somerset hillside, made of… poo.

The not-as-gross-as-it-sounds tableau towers over the village of Blagdon, and comprises some 3,000 buckets of cow manure, artfully arranged by Heather Jane Wallace, Rebecca Barnard and 10 other artists (a "dirty dozen", as Yeo Valley puts it).

The idea is to celebrate the organic business' 25th anniversary and to illustrate how it works with, not against, the natural environment. Its disappearance – it "won't be here for long. Nature will have the last laugh, as ever" according to Yeo Valley's Sarah Mead – is also part of the message. Deep.

"It was very exhausting carrying the poo up the steep hill," Wallace notes, less profoundly. Still, the moo-tiful piece was surely worth the effort.