This article is part of our 2016 Bread & Baked Goods digital feature
Supermarket bread aisles are stale. Rows upon rows of wrapped bread at increasingly low prices. With sales falling rapidly, retailers need to keep consumers engaged with the category.
So, how can they bake up some interest? We've asked retail design agency Sherlock to reinvent the aisles.
Here's what it has come up with…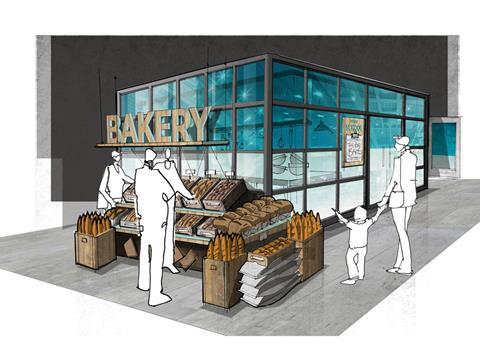 You can practically smell the freshly baked bread from here. Focusing on hero features rather than the entire aisle, Sherlock has created three areas of interest to draw in customers.
"Our design is intended to celebrate the process of bread-making and to both excite and educate the consumer in the art," says Tony Lock, Sherlock MD. "We focused on a few 'halo' areas that retailers could build into the bread/bakery area of store, the idea being that these will draw consumers into the area, from which they can explore the rest of the retailer's bread offering."
Designed for the much larger store, the bakery school offers consumers the chance to get hands-on with bread and learn how to make it, while allowing others to observe at the same time.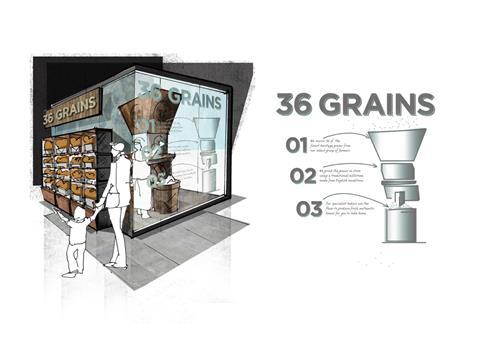 Another education opportunity lies in the 36 Grains concept. "This showcases another part of the bread production process," adds Lock. Showing off the milling process, it taps into the interest in ancient and alternative grains.
There are several benefits to this method, including adding much-needed value to the market. "Retailers can sell the flour to the public and also make artisanal loaves from the flour, to sell to the public as a premium product."
It also allows retailers to change up their offering to take advantage of new trends as and when they arise.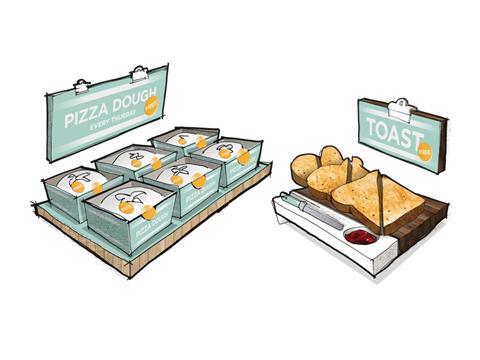 The final hero features are a fresh pizza dough and toast station. "The fresh pizza dough - only available on one designated day of the week - should help build anticipation among shoppers, providing a refreshing antidote to the modern expectation of shopping being available anywhere, anytime," explains Lock.
Meanwhile, the 'toast station' allows consumers to try before they buy and also offers cross-selling opportunities for butters, jams and so on. "Toast is one of the most comforting foods there is," Lock believes. "This may help forge an emotional connection between retailer and consumer."
Lock admits the ideas may not work in all retail environments, but they certainly offer food for thought. "It's probably a bit Whole Foods Market, but these things usually end up trickling down eventually," adds Lock. "But we want to inspire and provoke, rather than deliver a slight variation on the norm."
Previous article: Sweet breads: top global NPD from choc bagels to 'muffish'
Next article: Own label bread gains £40m as brands continue to crumble
In association with:
Sherlock Studio is a retail & graphic design consultancy with an in-depth appreciation of the food & drink retail space, as well as the foodservice environment. Collectively, our team holds decades of experience in strategic design & industry insight. Our holistic approach to client briefs ensures the best possible Return on Investment. http://sherlockstudio.co.uk / @sherlockstudio.