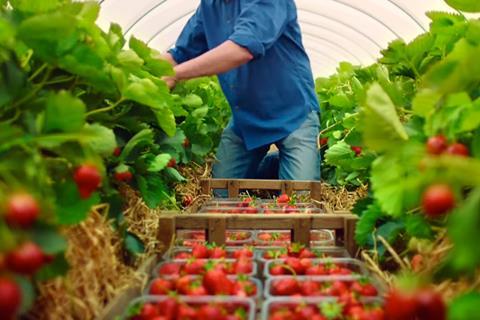 UK self-sufficiency levels for fruit & veg could plummet in 2021 unless the government moves quickly to implement a full seasonal workers scheme when freedom of movement ends, industry bodies have warned.
Some soft fruits growers are already said to have decided to cut back on planting area and production owing to the uncertainty around post-Brexit access to non-UK labour.
Despite Defra secretary George Eustice's recent optimism about the effectiveness of this year's Pick for Britain recruitment scheme, statistics released by the NFU and British Summer Fruits today (28 October) show the UK is still mostly reliant on overseas workers.
According to the NFU's annual Horticulture Seasonal Worker Survey, completed by 244 growers that recruited more than 30,000 people, just 11% of the seasonal workforce was made up of UK-based workers.
Longevity in such roles was also an issue as first-time UK resident workers worked for an average of nine-and-a-half weeks, compared with just over 14 weeks for first-time non-UK workers and 18 weeks for returnee non-UK workers.
Data from British Summer Fruits was even more damning. Out of 24,775 seasonal posts filled, just 1,762 (or 7%) of all driver, picking or packhouse jobs were taken up by first-time UK-resident workers, it said. Of that number, just 398 performed picking roles for six weeks or more.
BSF CEO Nick Marston described the results as "stark" and called on the government to upgrade the Seasonal Agricultural Workers Scheme pilot or face "empty shelves and massive inflation in retail prices" next year.
"[The delay on a decision to extend SAWS] is bound to have an effect on grower confidence for planting and the confidence of seasonal workers to sign up to come here," he said.
"It is grossly unfair of the government to expect farmers to wait until just before they start planting in January, February and early March. It's not how you run a business [and] I can't believe the government would treat manufacturing or financial services in the same way."
Marston added that the uncertainty could see seasonal workers, who would normally begin to be recruited from the beginning of autumn, opt to travel to other countries such as Germany or the Netherlands.
His comments were echoed by NFU VP Tom Bradshaw, who said UK growers were currently at a "critical" stage in their recruitment processes.
"As freedom of movement ends on 31 December, those growers of iconic British daffodils, asparagus, and soft fruits still don't know where they will recruit experienced workers from," he said.
"Workers from outside the UK are absolutely vital to the success of our horticultural sector. But this success story continues to be undermined by a consistent shortfall in workers over the past four years and rising costs. It creates an unsustainable situation for growers and puts the resilience of domestic food at risk."
Bradshaw said it was "frustrating" as the situation could be "easily solved" through extending SAWS, the pilot of which had "already operated successfully for the past two seasons".
Defra said a full review of the pilot scheme would be undertaken before any further decisions were taken regarding the future of the scheme.
"The UK has a highly resilient food supply chain and we are continuing to work hard to ensure our farmers and growers have the support and workforce they need," said a spokesman.
"Now the UK has left the EU, Defra is working closely with the Home Office and other government departments to ensure that there is a long term strategy for the food and farming workforce."