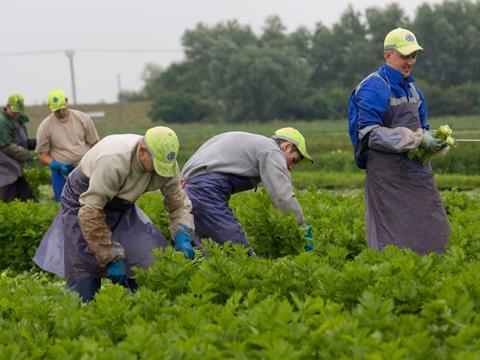 The government's confidence that the food sector "does not have a problem" in retaining and attracting migrant labour in the run up to Brexit is misplaced, according to a new report by the Commons Efra committee.

The committee's report, entitled Feeding the nation: labour constraints, was published today (27 April) and claimed there was a "weight of evidence from a range of agricultural and horticultural businesses" that indicated their sectors were facing "considerable difficulties in recruiting and retaining labour".

The report - based on a committee inquiry into the agriculture and horticulture labour markets, which was curtailed by the upcoming general election - suggested the current problems facing the sector could become a crisis if urgent measures were not taken to fill gaps in the labour supply.

It added that government statistics were "inadequate for measuring agriculture's labour needs, particularly around seasonal migrant workers".

Immigration minister Robert Goodwill and farming minister George Eustice both said there was currently "no evidence" the food sector had faced any difficulties attracting migrant labour when giving evidence to the committee in March.

"Some of these early stories [about labour shortages] were a bit of a scare story," Goodwill said. "We have not seen people being deterred from coming here to work. There is still lots of unemployment in parts of the EU, particularly among young people," he added.
Labour crisis
However, the committee reported it did not "share the confidence of the government that the sector does not have a problem: on the contrary, evidence submitted to this inquiry suggests the current problem is in danger of becoming a crisis if urgent measures are not taken to fill the gaps in labour supply."

Members were "concerned that the industry has such different experiences to those reported by the government", adding it was apparent government statistics were "unable to provide a proper indication of agriculture's labour needs".

The committee recommended the government should review its way of measuring migrant labour statistics before the end of the year. It also warned it "remained concerned" the government would not be able to act quickly enough to reintroduce a seasonal agricultural workers scheme if labour shortages became acute, after Goodwill said it would take five to six months to get a scheme up and running.

"Without sufficient labour, both from the UK and overseas, agricultural and horticultural businesses cannot function," said Efra committee chairman Neil Parish. "For a long time the industry has relied on foreign workers to perform temporary and permanent roles to make good shortages in the availability of UK labour. UK agriculture could not function without foreign labour."

The period since last June's referendum had seen "increased difficulties for businesses recruiting foreign labour and has presented severe challenges for the industry", Parish added.

"Government statistics do not properly measure the problem and should be reviewed so that the sector is confident that post-Brexit immigration policies are based on an accurate assessment of agriculture's demand for, and supply of, foreign labour."
British Growers Association CEO Jack Ward welcomed the report. "At last, we have an accurate and independent reflection on what is actually happening in our industry," he said.
"We have here an acceptance there is a genuine problem that needs to be addressed. The government shouldn't duck this issue and should instead recognise the challenge and work with our sector to seek a resolution."
Responding to the report, a Defra spokeswoman said: "Until exit negotiations are concluded, the UK will remain a member of the EU with all of the rights and obligations that membership entails, and employers in the horticultural and agricultural food processing sectors are free to continue to recruit EU workers to meet their labour needs."