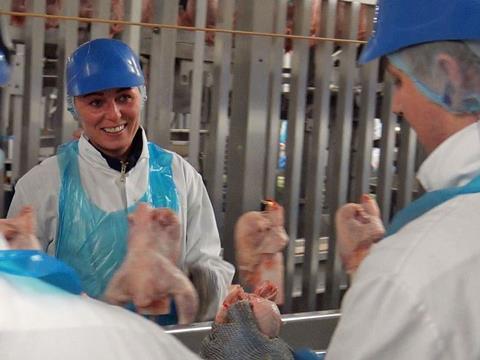 The British Meat Processors Association has backed calls for a merit-based migration policy after a new CBI report recommended scrapping immigration targets after Brexit.

Britain's meat industry would be vulnerable to shortages of workers across all skill levels as uncertainty around future migration policy looms, said the BMPA.

The CBI's new report 'Open and controlled: A new approach to immigration after Brexit' was based on a survey of more than 129,000 businesses across 18 industries. It warned "applying the existing non-EU immigration system to EU workers would damage the UK economy" as it was too complicated for smaller companies to navigate.

Instead, it called for a system measuring the social and economic contributions of migrants, rather than net migration figures.

Such a scheme could avert a "major problem" in the food and drink industry, said BMPA CEO Nick Allen, who suggested the meat industry could find itself short of highly skilled workers for engineering, science and technology posts in addition to lower-skilled labour when the UK departs the EU.

Some 63% of staff in meat processing plants were non-UK EU nationals, according to the NFU's Vision for the Future of Farming report, published last July. That figure rose to 85% among official vets employed to audit UK abattoirs, according to an FSA submission to a Commons Migration Advisory Committee inquiry last Ocotber.

"The BMPA supports the recommendations set out in the CBI's latest report and will be adding its voice to calls for government to heed the warnings coming directly from food businesses up and down the country," said Allen.

"This detailed report presents a clear business case for how future immigration policy should be shaped so that it fosters rather than hinders economic growth once we have left the EU."

The CBI's report also surveyed companies supplying food processors, finding 7% of employment in the agriculture, forestry and fishing sectors came from 2004 entrants to the EU in 2016. Meanwhile, 56% of dairy farmers surveyed said they had employed labour from overseas in the past five years, while 35% to 40% of staff on farms in the egg industry are from the EU.