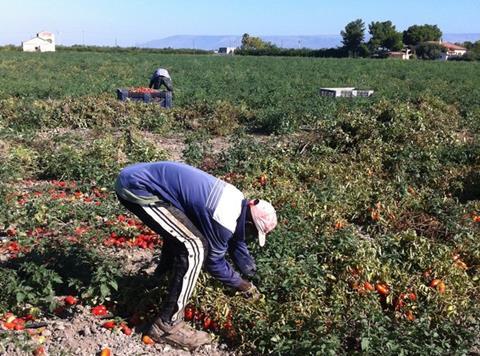 No doubt Brexiteers will seize greedily on the news that migrant workers heading to Britain in the last three months of 2016 buoyed employment figures more than any other group.
Of 303,000 new people in work that quarter, 77% were non-UK nationals, said the ONS today. Proof that fears among employers of some mass exodus by migrant workers were ill-founded scaremongering. Or were they?
Broken down, those same figures show EU migrants working in the UK remained flat, a long-term trend in which the British labour market appears to have lost its shine abroad. Employers at the coalface say that has only worsened since the vote to leave the EU on 23 June.
Only last week asparagus grower Chris Chinn told MPs that lingering uncertainty had left workers in Romania and Bulgaria "fearful" of taking jobs in the UK. And on Monday The Guardian reported that bosses in manufacturing, retail and hospitality had all reported labour and skills shortages since the referendum, with one in four collecting evidence that EU nationals among their workforce were planning to try their luck elsewhere in 2017.
And who can blame them?
Existing EU nationals living and working here may have had verbal assurances from the government that this status won't change (though a lack of any concrete reciprocal agreement with EU member states on this won't be helping them to sleep easy), but Theresa May has kept infuriatingly vague on her plans for future immigration policy.
Ripping us out of the single market in a hard Brexit leaves us with a gaping blank page on which many are worried restrictive immigration policies could be written. Non-EU immigrants must currently secure a job paying at least £35k to be granted a UK visa and this same criteria could be extended to EU migrants, a move that would see growers such as Chris effectively blocked from the source of 90% of their labour.
He wouldn't be the only one either. Migrants are the lifeblood of many companies in food and drink, often relying on EU workers to fill temporary, flexible or low-skilled roles. We can save the debate about why Brits don't fill these jobs for another day because the fact is these firms need an answer on what a future labour market might look like now.
The prime minister may wish to play some cards close to her chest as negotiations unfurl, but with wild speculation and misinformation only fuelling this issue the future of EU migrant workers is one deal Theresa May should look to clear up in plain sight.
● Video: British growers tell MPs why they struggle to find seasonal workers post-Brexit