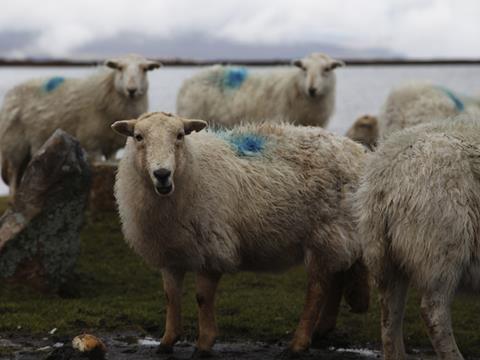 Swathes of England's farming sector faces financial ruin after Brexit, regardless of whether the UK secures a free-trade deal with the EU or is forced to trade with the bloc on WTO terms, new AHDB research has suggested.
Soaring labour costs and an increase in other fixed costs such as feed, fuel, tariffs and trade facilitation charges – not to mention stiffer competition from cheap imports – would all eat into farm business incomes from 2022, according to the AHDB's latest Horizon Brexit impact assessment.
The report, published today (12 April), mapped out two possible post Brexit scenarios: a free-trade agreement between the UK and EU, and a no-deal scenario, where the UK traded with the EU on WTO terms.
In a free-trade agreement scenario, the levy board modelled average farm incomes in England would fall by 24%, from just under £43,000 to £32,500 per year. But the situation was even worse in a no-deal scenario, with average farm incomes expected to fall by 39% to just £26,000.
Losses were most pronounced across the sheep, beef, poultry and pork sectors, with beef and sheep farmers from less favoured areas such as upland farms hit by an average £10,500 drop in income under a WTO scenario. Lowland beef and sheep farmers could expect a near £7,000 drop in income, with pork producers facing a £21,000 fall.
While industries such as the poultry sector could expect an increase in revenues in both scenarios, any upside would be cancelled out by hikes in feed and labour costs, the report suggested.
Overall staffing costs were expected to rise by at least 50% due to the need to replace EU labour with workers from outside the bloc.
In light of the "sober" results from AHDB's modelling, chief strategy officer Tom Hind urged farmers and growers to prepare for life after Brexit now.
"Amid the current uncertainty, a wait-and-see approach might seem logical. But change as a result of Brexit is a certainty and whether it takes place over three or eight years, it will come."
While "unhappy" at the AHDB's findings, the National Sheep Association was "not surprised", said a spokeswoman for the trade body.
"We have been warning about the damage a no-deal WTO Brexit would have on the sheep industry for some time, and these figures reiterate the danger of that scenario."
The research showed that Brexit, in whatever guise it took, was "bad news for the agrifood sector", added British poultry Council CEO Richard Griffiths. "We've got to the point where people are actively encouraging Brexit, despite knowing the harm it will cause to the country. Now is the time to have a good hard think about whether this is still the path we want to go down."