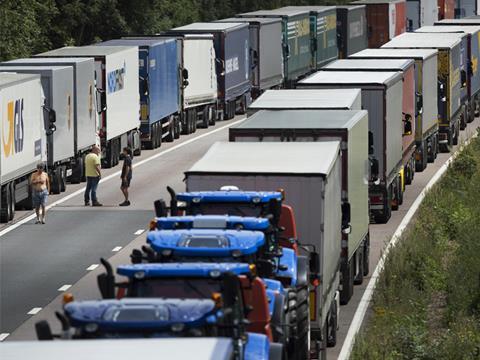 Fresh food could sit rotting at EU borders in the event of a hard Brexit, regardless of the UK planning, a Committee of MPs has heard.

There were "big concerns" over the preparations of equivalent agencies on the Continent and their planning for a potential hard Brexit, suggested Freight Transport Association deputy CEO James Hookham while giving evidence to the Commons Exiting the EU Committee today (29 November).

"Even if the UK is prepared on day one [after Brexit], if our trading partners are not, it could lead to big delays," he said. "My reading of the situation is that they are quite a long way behind in their readiness and preparation."

While the FTA was in regular contact with its Irish and Dutch counterparts over their preparations for Brexit and contingency plans in event of a failure to negotiate a free trade deal, the same could not be said about France, Hookham added.

"I can't get French customs to pick up the phone to talk about it at the moment, I have no understanding over where they are, other than the fact they are recruiting more staff."

While concerns had been raised for many months over how the UK would cope with changes to trading arrangements after Brexit, the readiness of French, Spanish, Dutch and Irish customers and authorities would also be a key "determining factor" into whether supply chains continued running smoothly, he added, while calling for more clarity over government plans.

"Within the supply chain and logistics sector, major players are now having to negotiate logistics and supply contracts. Decisions and assumptions are beginning to have to be made."

His comments were echoed by Duncan Brock, group director of the Chartered Institute of Procurement and Supply, who told MPs "questions are now being asked" about the preparations of EU agencies.

Meanwhile, Sian Thomas, communications manager of the Fresh Produce Consortium, warned that many fruit & veg producers had already shifted production to Continental Europe, and reiterated the damage any border delays could cause to fresh supply chains.

"We've seen the impact of delays at the point of entry in the past. Products start to deteriorate and customers then often refuse to take that product."
Divorce deal
It comes as media reports today suggested the UK had offered the EU a potential divorce bill worth up to €50bn (£44bn) in a bid to hasten trade talks.

Brexit secretary David Davis has also faced criticism in recent days for allegedly misleading parliament over the content of the government's series of documents outlining the potential impact of Brexit on 58 sectors. He has been summoned to face the Commons Brexit Committee under threat of contempt of parliament.

Meanwhile, a major report, published this week by the European Livestock and Meat Trades Union, warned a hard Brexit could send "shockwaves" throughout the European meat industry. The scenario could lead to the loss of up to 32,000 jobs across the Continent, reducing trade and hitting revenues by as much as €4.7bn (£4.2bn) a year, the union said.

The report also suggested that a no deal scenario could see UK exports to the EU fall by as much as 90% for beef, 56% for pigmeat and 53% for sheepmeat.