Boris Johnson's amended EU withdrawal agreement bill sailed through the Commons last Friday. So what can food and drink expect now?
The countdown to Brexit has officially begun. Having secured a majority in parliament, PM Boris Johnson had no problem getting his amended EU withdrawal agreement bill through the Commons reading last Friday.
MPs voted for the bill by 358 to 234, paving the way for its transition into law. Provided all goes smoothly at Westminster, it means the UK will leave the EU on 31 January 2020.
So what exactly does this second version of the bill mean for food and drink?
Implementation period
Perhaps the most significant change Johnson made to the bill ahead of Friday's vote was a new clause outlawing an extension to the Brexit transition period beyond 31 December.
Under Johnson's original withdrawal agreement bill, the UK and the EU could agree to a time-limited (one to two-year) extension to the implementation period any time before 1 July 2020.
However, under the amended version, there will be no extension to the implementation period after December 2020. That means the government has under a year to negotiate a comprehensive free trade agreement with the EU, or food and drink businesses will once again be faced with losing tariff-free access to EU markets and returning to trade under WTO rules.
"By ruling out (in UK law) any possible extension of the time allowed for negotiation with the EU during the transitional period provided for in the withdrawal agreement, the government is setting an extremely challenging timetable, with a potential 'no deal' exit as of 31 December 2020 if agreement cannot be reached by then," says PTF director general Andrew Kuyk.
"It is clearly a political judgement as to whether compressing negotiations in this way will make them more or less likely to succeed. It will certainly result in a very intensive workload for all concerned."
The situation is compounded, he notes, by the fact the government intends to negotiate other free trade agreements with countries such as the US, Japan, Australia and New Zealand at the same time.
"We aim to have 80% of UK trade covered by free trade agreements within the next three years, starting with the US, Australia, New Zealand and Japan," states the Tory manifesto. "These will be negotiated in parallel with our EU deal."
Significantly, the amended bill also removes parliamentary oversight of the trade negotiations. "This is all the more puzzling given the size of the new government's majority, but is presumably designed to allow maximum flexibility in real time as negotiations proceed," Kuyk adds.
"The EU, on the other hand, will have a predetermined negotiating mandate, meaning that the Commission would need to refer back to the Council if new instructions are needed. So any time saved on the UK side would not necessarily be matched on the EU side."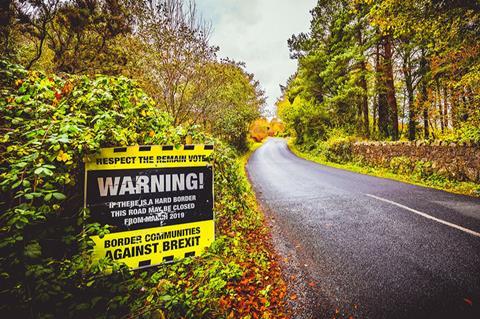 Irish border
In the event of a no-deal in December 2020, the so-called 'Northern Ireland protocol' will apply in order to prevent a hard border on the island of Ireland.
Under the protocol, which replaces the backstop provisions in the old withdrawal agreement, Northern Ireland will "remain aligned with specific EU rules in customs, goods and VAT… provided that there is democratic consent for those arrangements", the government says.
Northern Ireland will remain in the UK's customs territory, outside the EU customs union. And no tariffs will need to be paid on goods moving from GB to NI that are not at risk of moving to the EU.
It therefore provides that Northern Ireland "may be included in the UK's future trade deals with third countries, while ensuring that there is no hard border between Northern Ireland and Ireland", the government claims.
However, there are concerns these provisions could come at significant cost to food and drink businesses.
An impact assessment published by the government in October confirmed agrifoods moving from Great Britain to Northern Ireland would be subject to checks by UK authorities, resulting in additional administrative costs for businesses.
"We are worried that the deal will result in increased costs, complexity, and checks for people moving goods back and forth across the Irish Sea," says Glyn Roberts, CEO at Retail NI.
"We've seen some of the leaked Treasury slides which describe how this deal could increase the price of high street goods in NI and clearly affect the profitability of retailers. All this will have a huge impact on the just-in-time supply chains, which is obviously crucial to our retail sector in NI."
Some businesses in Northern Ireland are considering re-routing their supply chains through the ROI rather than GB, adds Roberts, though he "hasn't seen any firm plans" as yet.
"Businesses will always be looking for a plan B should the situation arise," he adds. "But obviously the British market is absolutely crucial so it's a very hard market to ignore and not to want to have as part of your customer base for trade."
While a border down the Irish Sea is concerning for food and drink businesses, it's "still a better alternative than having that hard border around the fixed counties", insists Brian Irwin, chairman of the Northern Ireland Food Association (NIFDA).
"It's a much more manageable border because there's very few points of crossing and it builds upon some already established procedures," he says.
On the whole, the NI food and drink industry has "stopped planning for a hard, no-deal Brexit", Irwin adds. "We are reassured that exports out of NI will be 'unfettered', although we're not quite sure what that means yet," he says.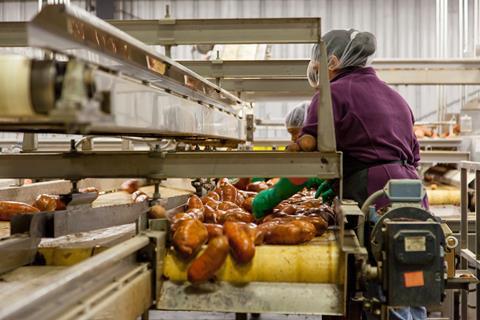 EU workers
Another big Brexit-related concern for food and drink businesses has been the fate of their EU workers.
Thankfully, EU workers already living in the UK are set to get some protection under the withdrawal agreement, which will "protect the rights of more than three million EU citizens living in the UK", says the government.
Essentially, EU citizens will continue to have the same rights to live, work and study here until the end of the implementation period (December 2020). Those already living in the UK will have until 30 June 2021 to apply for settled status, which will allow them to continue living and working here permanently.
However, with many EU workers already leaving the UK, the industry is still concerned over possible labour shortages. Not least because the government has yet to share much detail about its proposed new points-based immigration system.
"One of the disadvantages of an Australian points-based system is you can't know what the practical impact is until someone designs the system and tells you how many points you get for what," says Tim Rycroft, COO at the Food & Drink Federation.
"We're obviously very concerned about defining skills by salary level because we regard quite a lot of people who work in the food and drink industry as skilled even though they're not earning that kind of salary."
The removal of safeguards on workers' rights from the latest version of the bill has also raised concerns. "I haven't sensed any appetite among members for changing employment rights," says Rycroft.
In the Queen's Speech, the government did promise workers' rights would instead be "protected and enhanced" under an employment bill. "It's something parliament will need to take on trust at this stage," says Kuyk.