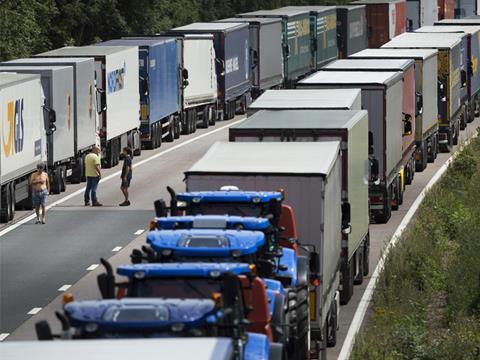 British food exporters may pause sales to the EU for at least the first two weeks of January to avoid the worst of the suspected traffic chaos at the end of the transition period.
Cabinet minister Michael Gove said last month there could be a two-day delay for freight to clear customs checks at Dover with queues of up to 7,000 lorries. Ministers have made clear checks on goods will apply whether or not there is an EU deal.
Under the government's 'Operation Brock' traffic management system, only seafood and day-old chicks will be authorised to skip the queues, leaving other perishable food exporters concerned their goods could expire while waiting on the road.
It has pushed some companies to consider suspending exports to the EU from 1 January until the traffic subsides, rather than take the risk of losing goods.
"It's highly likely we will actively opt out of shipping perishables to Europe for at least the first two weeks of January to see what the M20 looks like," said Richard Hampton, MD at organic dairy co-op Omsco. "We won't take any risks on spoilage, but it could mean our customers don't get what they need."
Omsco would redirect its milk into alternative products for other markets in the short-term, said Hampton, but it could "start to become a challenge" if the heavy traffic delays continue beyond February.
The government said in August it believed disruption was "unlikely to extend much beyond the middle of 2021".
Phil Stocker, CEO of the National Sheep Association, suggested lamb sales to the EU could also temporarily dry up. "There will be plenty of people trying to place as much as they can into Europe prior to Christmas and won't be in any rush to get back in until the end of January if not February."
He suggested, however, the loss of British lamb on European markets could make it a more attractive market for suppliers, encouraging some to take on the risk of delay.
"If too many people do it then there could be a real shortage [in Europe], the price could really boom, and those that are prepared to take the risk could benefit handsomely from it."
New Zealand producers will be among those "watching closely to see if there is a gap" left by the British shortfall, he said. "They've got the supply chains to feed New Zealand and Australian lamb into Europe even though their product is nowhere near as in demand as British lamb."
European businesses selling goods to the UK are similarly concerned. Alexander Anton, secretary general of the European Dairy Association, said EU exporters will likely send a test truck to the border to assess the situation, but "if that truck doesn't get by, you don't send others."
EU businesses plan to build inventories in the UK ahead of Christmas, he said, but a lack of available cold storage in the UK means their capacity is limited. For short-shelf life products such as yoghurt, stocks will last a maximum of about three weeks.
"We can't exclude the shortage of fresh products," he warned. "It's in nobody's interests, not in the interests of the European dairies, not in the view of the United Kingdom, but we can't exclude it."