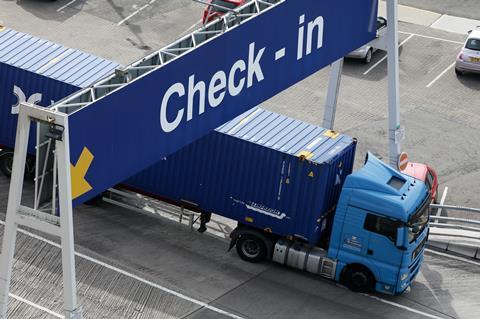 Border checks could leave supply chains in chaos from next year and businesses remain unprepared for the upcoming changes, industry leaders have warned.

The number of checks required for goods ­moving between the UK and the EU after Brexit will be unprecedented in terms of global trade, with more than 10,000 trucks crossing between Dover and Calais every day.

Lorries can often contain thousands of different products, each of which will require its own customs documentation, as well as further forms for animal products.

Experts are warning the slightest clerical error could result in shipments facing severe delays or even being returned to sender.

"We have seen cases before where incorrectly completed forms leads to the goods being turned away," said William Bain, European policy advisor at the BRC.

Small delays are not only problematic in themselves but can ripple difficulties through the supply chain, warned Aodhán Connolly, director at the Northern Ireland Retail Consortium.

"It's not the fact that they're 20 minutes late, or even that they're three hours late because they've missed a boat. A lot of retailers' food needs to go to distribution centres at a particular time," he said.

"So if you are 20 minutes delayed… you're actually missing 24 hours within that supply chain, and that means there is a risk to the choice and availability of certain items for consumers."
While small errors are likely given the huge volumes of paperwork, businesses could reduce the risk by starting preparations now. It is a step, however, that many are failing to take, said Robert Hardy, founder of the Customs Clearance Consortium.

"You don't need to know what deal we're going to have to know what paperwork you're going to deal with," he said. "Traders are just choosing not to get ready."

But while many producers face delays due to errors, others may have no paperwork at all.

Animal products such as meat and dairy require an export health certificate to enter the EU from a non-member country, but no such certificate currently exists for goods termed "meat preparation".

"As it stands, you couldn't export sausages into the EU," said Andrew Opie, director of food and sustainability at the BRC. "There simply isn't a certificate you could match your product to."

Defra was unable to clarify this week whether that was likely to change by the end of the year.

"Future trade arrangements beyond the end of the year will be agreed as part of negotiations on our future economic partnership with Europe," it said in a public statement on Tuesday.

Fortified flour is another "massive issue" according to Opie. While adding nutrients to wheat flour is mandated in the UK, it is not recommended in the EU. The product has been permitted as long as the UK is an EU member, but this is liable to change from next year.

With regulatory alignment now unlikely, there was a need for a whole new health check system between the UK and Europe to avoid significant disruption to just in time supply chains, Opie warned.