As the government weighs up stockpiling in the event of a hard Brexit, what role will industry be asked to play? And can it cope?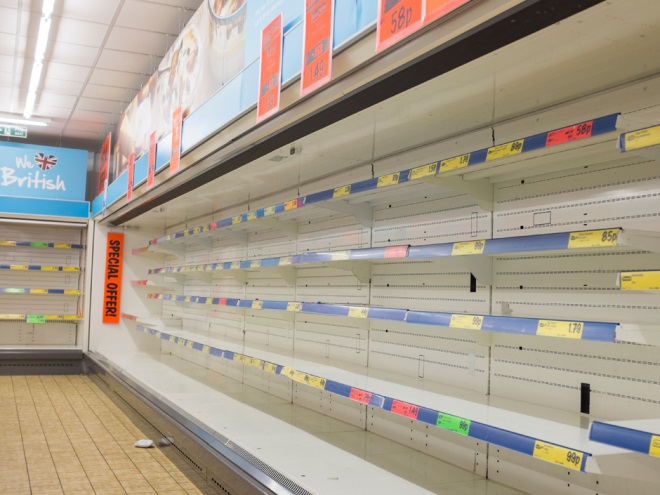 How will the UK feed itself in the event of a 'no deal' Brexit? According to Dominic Raab, the government's new Brexit secretary, that's the job of the food and drink industry to figure out.

Giving evidence before the Commons Brexit Committee on Tuesday (24 July), Raab said the government would ensure "there is adequate food supply" if the UK crashed out of the European Union without a trade agreement. Yet when questioned about whether this meant stockpiling food, he stressed "it would be wrong to describe it as the government doing the stockpiling". The implication, instead, was such a task would instead be overseen by industry.

But is this a reasonable expectation? Is it even possible to stockpile food at the scale required? And what is the food and drink sector doing already to safeguard food supplies?

Raab refused to give any more detail on what role the food and drink sector would be expected to play. The government would further outline its plans in one of 70 'technical notices' that would be published over the coming weeks, he said.
His comments follow confirmation by health secretary Matt Hancock that the NHS is already stockpiling medicines.

However, stockpiling food is an altogether more complex operation, with a wide range of challenges over choice of products as well as the economics and logistics involved, warns Provision Trade Federation director general Andrew Kuyk.
Just how self-sufficient is the UK food sector?
Total self-sufficiency: 61%
Cereals: 62%
Red meat: 75%
Dairy: 77%
Fruit & veg: 23%
Sources: NFU/AHDB/Rabobank, 2016
First of all, the food industry's 'just in time' modus operandi poses serious obstacles, Kuyk suggests. "These supply chains have become more and more finely tuned over the years.
Suppliers only make what they need to, partly due to cost pressures and partly to reduce waste, so any request to stockpile means they need to increase production."

This would have financial implications for suppliers as the price paid for their product may end up lower than the market rate. Other concerns centre on whether the government would buy the product up front or request it be held at a retailer or supplier's expense.

Kuyk, a former senior official at MAFF with intimate knowledge of that department's Cold War-era 'buffer depot' schemes, also points to a lack of expertise in government. "Those schemes also provided some of the skills and premises subsequently used to manage CAP intervention storage systems," he says. "But all of that is long gone, leaving government with none of the capability or resources which might be required."

Question marks also surround how any stockpiling scheme would be implemented.

"Without legislation you wouldn't be able to compel companies to help the government, so you would need new legislation or emergency powers, and then the question arises over when you press the button and how long it takes to get up and running, " Kuyk adds.
No storage space
The biggest stumbling block, however, is a lack of storage capacity.

"That might be the main constraint, because if you can't store it appropriately, there's no point - that would be the major barrier to doing this," says FDF director general Ian Wright.
Due to the drive for 'just in time' supply chain efficiency, "there just isn't much in the way of surplus food storage capacity in the UK", Kuyk agrees.

With the UK food sector just 61% self sufficient in volume terms, (falling to just 23% for fruit & veg) Wright also warns a failure to agree a trade deal with the EU will inevitably lead to an erosion of choice.

This means that, regardless of whether stockpiling was successful or not, consumers would ultimately be hit, he points out.
Reputational risk
There are also other reasons why food and drink companies should be careful about helping the government in any stockpiling efforts. Taking responsibility for safeguarding supplies could expose industry to unwarranted criticism if shortages do arise, warns Professor Tim Lang of the Centre for Food Policy, who co-authored a new report published this week, titled Feeding Britain: Food Security after Brexit.
"Stockpiling is not a practical response to food security concerns"

BRC CEO Helen Dickinson
"It puts the food and drink industry in the very delicate position of being made responsible for the mess the government has got us into."

His misgivings are shared by BRC CEO Helen Dickinson, who says stockpiling food "is not a practical response to retailer concerns food supply chains will be disrupted".

She adds: "As the countdown continues to 29 March 2019 it is becoming increasingly important that an agreement is reached on the backstop of the Irish border, which will facilitate frictionless trade, if we are to avoid delays and increased costs for both business and consumers."
Business at the vanguard
Having said this, there are measures food and drink companies can take - and are already taking.

Wright says Raab's assertion any stockpiling project would be industry-led "is only indicating what must be obvious to many people: that the vast bulk of response from the risks [of a hard Brexit] will have to come from business".

Key measures suppliers are taking to protect themselves includes forward buying products and ingredients. As part of this, suppliers will try to buy early to mitigate currency volatility and will look to secure supply of product or ingredients outside the period of maximum disruption, Wright suggests. "So what will happen now is - as the threat of a hard Brexit emerges - people will reflect that in their buying patterns."

But regardless of whether government and industry can collaborate over stockpiling, the only definitive way to prepare the nation will be to ensure a hard Brexit doesn't happen, says Wright.

Whether that is still an option, however, will only become clear over the coming months.