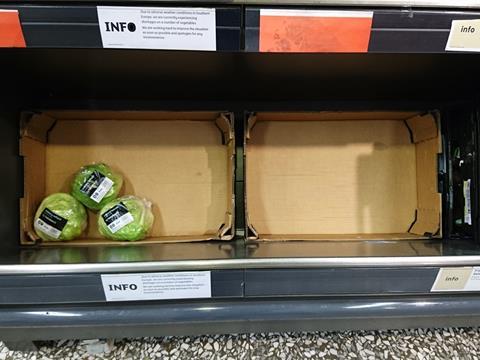 Top story
The British Retail Consortium has labelled cabinet minister Michael Gove's reassurances over shortages of fresh food under a no-deal Brexit scenario "categorically untrue".
Gove, who is in charge of planning for a no-deal exit, said the The Andrew Marr Show on Sunday that "everyone will have the food they need" and dismissed fears over shortages of fresh food.
However, the British Retail Consortium responded: "It is categorically untrue that the supply of fresh food will be unaffected under a no deal Brexit.
"The retail industry has been crystal clear in its communications with Government over the past 36 months that the availability of fresh foods will be impacted as a result of checks and delays at the border. Indeed, the Government's own assessments showed that the flow of goods through the channel crossings could be reduced by 40-60% from day one, as would the "availability and choice" of some foods."
The retail industry body said its own assessments have shown that soft fruits and vegetables, such as strawberries, tomatoes and lettuces, would likely see reduced availability as they are largely imported during the winter months.
"While retailers continue to work with their suppliers to maintain stocks of non-perishable goods and plan ahead for any disruption caused by a no deal Brexit, it is impossible to mitigate it fully as neither retailers nor consumers can stockpile fresh foods.
"The reality remains that a no deal Brexit in October would present the worst of all worlds for our high streets and those who shop there. Retailers will be preparing for Christmas, stretching already limited warehousing capacity, and the UK will be importing the majority of its fresh food from the EU, magnifying the impact of border delays."
Morning update
On the markets this morning the FTSE 100 has opened the week up 0.6% to 7,248.2pts.
Early risers include Premier Foods (PFD), up 3.7% to 34p, Tate & Lyle (TATE), up 1.7% to 731.6p and Tesco (TSCO), up 1.3% to 221.1p.
Fallers so far this morning include Marks & Spencer (MKS) ahead of its predicted FTSE 100 relegation, down 1.1% to 190.2p, McColl's (MCLS), down a further 0.6% to 47p and C&C Group (CCR), down 0.6% to €3.98.
This week in the City
Scheduled news remains scarce as we enter September, although there are a few company announcements in the diary.
Packaging giant DS Smith (SMDS) will issue its first quarter sales update on Tuesday, while property investor Supermarket Income Reit will post its full year results.
On Wednesday German online food delivery business Delivery Hero will publish its interim ernings, while private label household goods manufacturer McBride (MCB) will release its full year results on Thursday.
The Naked Wines (WINE) shareholder meeting to approve the sale of its Majestic Wine retail arm is on Friday
There will also be the quarterly review of the FTSE index after close of trading on Wednesday, with M&S set to drop out of the FTSE 100.
In economic news, the monthly PMI manufacturing figures will be released later today.
BRC-KPMG Retail Sales retail sales figures for August will be published tomorrow, while The Grocer Price Index will be released on Friday.