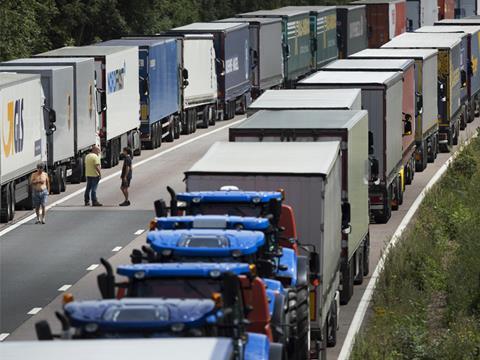 Meat and dairy exporters fear their products could perish on the side of motorways next year as a result of the government's traffic plans to cope with cross-channel disruption.
The government confirmed last month it would revive its 'Operation Brock' traffic management system from no-deal Brexit planning to allow thousands of lorries to park up on Kent's motorways if there were tailbacks at the border.
But food exporters fear their goods will be left to rot inside lorries, with only seafood and day-old chicks currently scheduled for prioritisation in the queues.
The government argued seafood could lose up to 60% of its value within a couple of days, while day-old chicks must arrive at their destination within 72 hours to comply with animal health legislation.
"It will be serious," said Phil Stocker, CEO of the National Sheep Association. "If meat lorries are parked up there for a couple of days, even though they're refrigerated, it reduces the shelf time and therefore the value."
"In a worst-case scenario you could have a situation where the lamb goes out of date and has no value at all."
Scotland is the UK's largest exporter of high-value seafood, leading one senior farming source to suggest its priority listing is a "sop to the Scots".
"We still feel the list is thin and could do with some other things on there," they said. "The fresh fish thing is driven by Scotland, but cream and other things seem to be exactly in the same bracket."
Cream and other dairy exports are a particular worry given their shelf life rarely exceeds 10 days. While longer-life dairy products like cheddar are less of a concern, "time in an HGV is still money," said Rich Clothier, MD at Wkye Farms, and any delays could "potentially add a lot of cost".
Clothier warned that the impacts of haulage delays could also eventually be seen in available capacity. "Whether that's chilled tankage for milk or whether it's containers for chilled products, if they're stuck on the side of motorways than we could run out of capacity."
Fresh meat producers claim it is vital their goods are also prioritised as they face similar risks to that of seafood and in many cases, such as lamb, are just as reliant on sales to European markets.
Defra has been approached for comment.