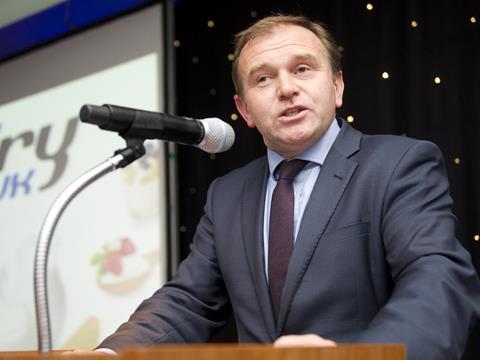 George Eustice's appointment as environment secretary has been welcomed by food industry bodies after he replaced Theresa Villiers in prime minister Boris Johnson's post-Brexit cabinet reshuffle.
Eustice, promoted from the position of farming minister, has been a stalwart at Defra since being appointed a minister of state in October 2013, and is seen as a "safe pair of hands" by industry and Whitehall insiders.
A prominent Brexiter, Eustice stood down from government last February in protest at Theresa May's Brexit stance. However, he was reappointed to the department when Boris Johnson succeeded her last July.
His appointment was hailed by FDF CEO Ian Wright, who called him an "advocate for the UK's food and drink manufacturers" who would "bring a deep understanding of the sector and our priorities to the role".
The NFU said it looked forward to continuing to work with Eustice, while the National Sheep Association said it was "pleased" to see Eustice promoted.
Elsewhere, Labour's shadow environment secretary Luke Pollard tweeted he "had a lot of time" for Eustice and "looked forward to working with him".
However, he warned the new secretary of state would also need to "put into law that Britain won't accept US food produced to lower standards in any post-Brexit deal" now that he was in post.
Pollard cited a Guardian column written by Eustice last year, which insisted the UK "can't accept backward US food standards – or chlorinated chicken", as he called for Eustice to resist surrendering to US demands.
Eustice would also face the challenge of injecting "focus and drive" back into Defra, said Pollard, after his predecessor Villiers let the department "drift away from being at the heart of government".
Many food and farming sector insiders have been critical of Villiers' perceived lack of engagement on key issues affecting the food sector. However, in a statement she stressed she tackled her role at Defra with "passion, commitment and huge amounts of hard work".
Her sacking was one of a number of high-profile scalps in the PM's reshuffle, the most prominent of which was the departure of chancellor of the exchequer Sajid Javid – who resigned after reportedly refusing to sack his advisers.
Javid has been replaced by chief secretary to the Treasury and Tory rising star Rishi Sunak at 11 Downing Street. Sunak takes over as chancellor less than a month before the next Budget on 11 March.
Elsewhere, former Defra secretary Liz Truss has retained her job as international trade secretary.
However, her successor at Defra, Andrea Leadsom, was sacked from her current post as business secretary. Other high-profile ministers to lose their jobs included attorney general Geoffrey Cox, housing secretary Esther McVey and Northern Ireland secretary Julian Smith.