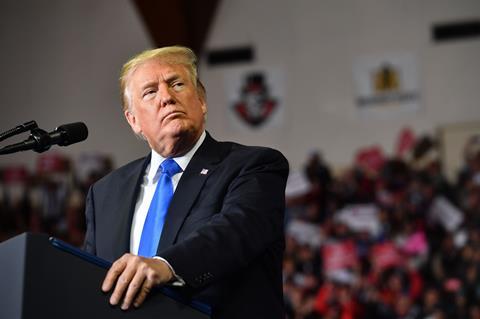 New US tariffs on European food and drink have left British exporters reeling, with some warning it could have a bigger impact on business than a no-deal Brexit.

The World Trade Organization this week gave the US the green light to impose 25% tariffs from 18 October on a swathe of European goods, including many cheeses, single malt whiskies and sweet biscuits, in response to an ongoing battle over EU subsidies to Airbus.

Single malts represent more than half the value of UK products on the US government tariff list, amounting to more than $460m (£358m), according to the Scotch Whisky Association. It warned this could severely damage the industry.

SWA chief executive Karen Betts said the tariffs would likely hit smaller producers the worst. "We expect to see a negative impact on investment and job creation in Scotland, and longer-term impacts on productivity and growth across the industry and our supply chain."

One senior source at a major drinks business said: "It feels like armageddon. You can't prepare for this and there's nothing you can do - in terms of wine and spirits your ability to do anything from a stock position is very limited. If you combine that with the ongoing fear of Brexit, it is just terrifying."

Jim Walker, joint MD of Walkers Shortbread, whose biggest export market is the US, added: "I would say this is worse than Brexit. Hopefully it's temporary.

"It's a huge worry - we will do everything to protect the employment of our people wherever we can. Any seasoned exporter is used to facing major problems on a regular basis, but this is the worst we've seen in many years."

Even if the UK leaves the EU on 31 October, there is no guarantee it would not be subject to the tariffs, which are targeted at the UK and other EU countries specifically due to their involvement with Airbus.

"The US has been very strategic in picking areas that can hit these countries very hard in terms of exports," said Alan Jenkins, director at Somerdale International, which accounts for roughly 20% of all UK speciality cheese exports to the US.

"When you look at the US Trade Representative ruling, they actually mention the UK specifically, rather than the EU," he added. " So I'm of the opinion the UK is subject to these tariffs. And even if we leave the EU, we will continue to be subject to them. Brexit will have no effect on these tariffs."

Omsco, the UK's largest dairy co-operative, which recently struck a $16m export deal with the US on organic butterfat, slammed the tariffs as "retaliation for an issue that has nothing to do with British farmers or the agricultural industry". It has written to the government asking it "to urgently lobby the US for a derogation for organic dairy".

The UK exported more than £30m worth of sweet biscuits and more than £31m worth of cheddar to the US in 2018, according to HMRC data.

Yet there had been little engagement from the UK government on the issue, claimed Jenkins.

The Department for International Trade did not respond to The Grocer's requests for comment - though trade secretary Liz Truss tweeted this week she was 'extremely disappointed with this decision and have urged the US to rethink'.

Bloomberg reported last weekend that the EU had made a desperate appeal to the US not to implement the tariffs, with its trade commissioner warning of major economic damage.