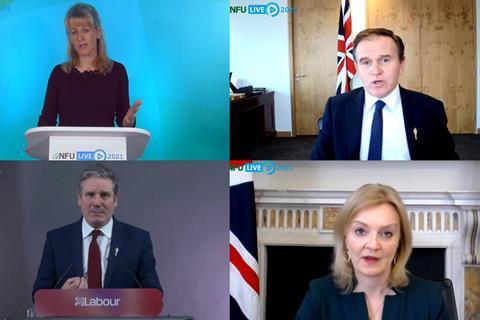 In normal times the NFU conference is a sea of strong opinions and tweed. But while there were still some strong opinions this year, it was a much more muted affair – for obvious reasons.
Instead of sitting shoulder-to-shoulder clapping at what they liked and heckling what they didn't, those attending watched on from their living rooms, offices (or tractors, as NFU president Minette Batters quipped).
Delegates who tuned in were treated to speeches from some of the UK's key political personnel: Defra secretary George Eustice, Labour leader Keir Starmer and international trade secretary Liz Truss. So, what were the main takeaways from the conference?
1. Farmers are concerned about the government's direction of travel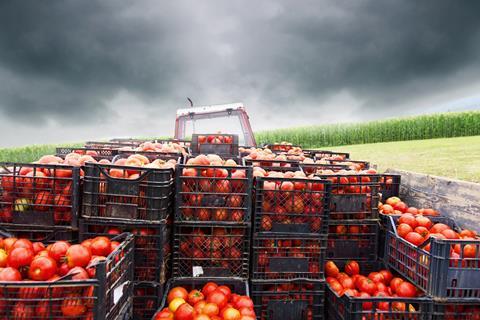 In her speech, Minette Batters highlighted the NFU's displeasure at aspects of the government's post-Brexit policy – namely its dual aims of signing free trade deals and making UK agriculture more environmentally friendly.
Batters said the government should "stop thinking" it could achieve both goals, speaking of how some trade deals would "export degradation" to other parts of the globe.
"Our ability to produce food in this country is important. Government must not forget this. Investment in farming and in rural Britain not only brings about obvious benefits to food production but can have massive benefits to the whole country too," she said.
This point was rammed home at the conclusion of her speech, where she reminded members the UK was due to conclude FTAs with major agricultural exporters, such as Australia, New Zealand and Canada.
Criticism was not just directed at the government, however, with Batters also directing her ire at grain market processors who, she said, were undermining the Red Tractor standard by "mixing grain that doesn't have to meet the same stringent requirements as our farmers have to".
The NFU president also suggested her organisation would be focusing much of its future attention on the issue of food security.
Batters spoke of "a real risk, a genuine risk" of British food production being eroded and called on the government to ensure it assessed food security in a "meaningful" way when it looked at the issue later this year as part of the three-yearly cycle set out in the Agriculture Act.
She spoke of how the country ought to learn to not take its food security for granted in future, after the Covid-19 crisis.
"We must never go back to a time when we became complacent about our food, where we assumed all food is produced to the same standards of safety and quality around the world and where we just expected food to always be there without investing in the industry and the people who produce it," she said.
2. Eustice still fails to impress…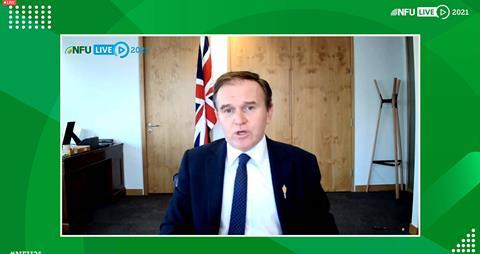 George Eustice seemed relieved to be attending this year's conference virtually after receiving a frosty response last year.
Despite possibly feeling more relaxed, he wasn't lulled into giving away much about what the government plans to do now it has 'taken back control' from Brussels.
Eustice spoke of how the UK is now free from the "arcane considerations about whether a cabbage is the same as a cauliflower" demanded by EU rules.
He was also keen to point out how the government had already cleared some of the red tape faced by the industry, for example by slashing the basic payment scheme "from 120 pages to just 50".
But for the stuff NFU members really wanted to hear about – namely how the new environment-focused subsidy systems would work and whether they stand to lose money from next year – they will certainly have been disappointed.
Eustice's only real announcement in this regard was that a pilot of the Sustainable Farming Incentive – one of the three pillars of the Environmental Land Management scheme – would launch later this year before a wider rollout in 2022.
While they were not there in person to make their displeasure apparent, the questions members were sending to Batters' iPad suggested exasperation. Many questions demanded more detail or spoke of how farmers stood to lose out as the government transitions away from its existing CAP-style policy.
Batters herself – though warmer to Eustice than she was last year – also gave the Defra secretary some short shrift.
In one instance, having listened to Eustice's lengthy response on how he was dealing with the post-Brexit issues faced by seed potato exporters, Batters pithily summarised it as a "work in progress with no end in sight". Hardly a vote of confidence.
Furthermore, those tuning in will also hardly have been reassured by a speech so flat in its content and delivery that Eustice's internet connection decided to nod off a few times during his slot.
3. …but some policies are becoming clearer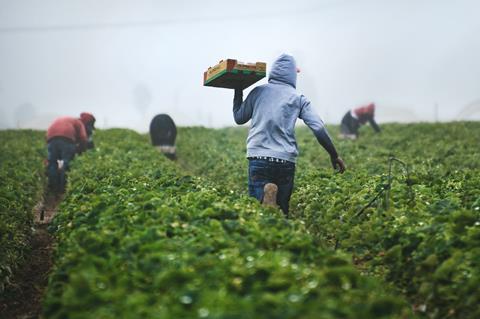 Eustice did reveal some new information on the hot topics of seasonal labour, AHDB and statutory codes for sectors beyond dairy.
He suggested the process of appointing additional contractors to run the Seasonal Agricultural Workers Scheme pilot was taking place more swiftly than growers had feared. He said he anticipated an announcement from the Home Office "shortly".
However, he used the word "if" to talk about whether the SAWS pilot would be turned into a fully fledged scheme, which could be a source of exasperation for growers.
On the topic of the future of AHDB, he gave a vote of confidence to chairman Nicholas Saphir, who he said was doing a "fantastic job" to "pull AHDB together".
Eustice also said there could be further ballots on other sectors served by the levy board, following the recent vote to scrap the horticultural levy.
On that recent vote, while Eustice said its outcome would be respected, he added his department was looking at ways AHDB could still play a role for the horticultural sector.
"There's a lot of support and interest in the work [AHDB] do in, for instance, emergency authorisations. Could there be a model where people would for instance subscribe to AHDB in order to get access to emergency authorisations?" Eustice said.
"So, we're exploring a range of different options so we can keep those elements of the work AHDB did I think were valued but also respect the result and remove the current levy."
Eustice also outlined how statutory codes could be applied to sectors beyond dairy, suggesting the government would also explore other means of regulation in a bid to improve the profitability of primary producers.
He said these could bear similarities to previous voluntary codes seen in recent years, such as the one brought in for the beef industry in the 2010s.
4. Labour is keen to win over farmers and rural voters but has a lot of work to do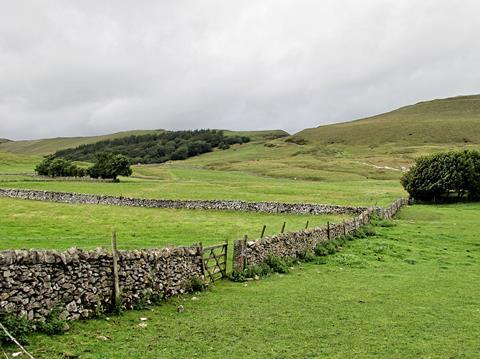 Keir Starmer's speech was in complete contrast to Eustice's, with the leader of the opposition carrying a punchy David Cameron-esque demeanour of sleeves-rolled-up energy as he swayed from his lectern – albeit in a full suit and tie.
The Labour leader appeared from a grey studio with his party's classic red logo appearing to have been significantly dimmed and dulled. Perhaps it was a conscious decision to try to not scare off the largely blue-blooded farming fraternity (or maybe it was just my screen).
Starmer made great play of his "well-worn wellies" and his visit to Batters' farm last year – to the extent that he gave off the impression of someone who doesn't venture out into the sticks all that often.
But his main point was clear. Namely that he wanted to reset Labour's relationship with British farming and the wider rural vote "because no party can claim to represent the country, if we don't represent the countryside".
Citing the two points on which his party and the NFU most align – namely climate change and Brexit – Starmer sought to close the perceived distance between Labour's priorities and those of farmers.
He was also at pains to point out both he and his party were in full listening mode, and that he had commissioned shadow Defra secretary Luke Pollard to launch a review of Labour's rural policy.
While his speech was certainly light on detail – as is perhaps to be expected for a party only just embarking on a journey to an electorate it has underserved for more than a decade – it seemed to go down well with Batters, who even shared a joke with him after he wrapped up.
If he is to continue to secure goodwill, he will have to put on those wellies a whole lot more, move beyond broad brushstroke policies and really get to grips with the details farmers are concerned about, such as chemical use on crops and the power of retailers to dictate prices.
5. The government is targeting Asia for UK food exports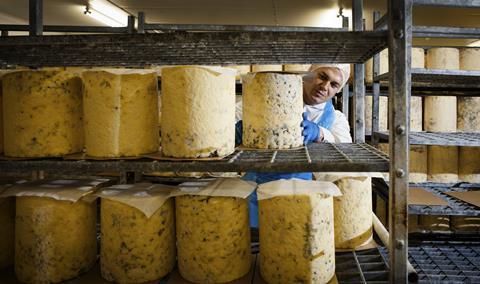 Liz Truss has been repeatedly mocked over the years for her infamous cheese rant in 2014. But, in more recent times, she has done her utmost to give off the image of someone who gets stuff done at the international trade department.
Indeed, she was recently described as being "one of the most powerful people in Cabinet" by a senior food policy figure. It's easy to see why, given how much focus the government has placed on signing free trade deals.
So when the secretary of state told exporters yesterday to "seize the golden opportunities" presented by Asian markets and the US, you know the government will be attempting to push its trade gravity over to those regions.
Truss announced a £2m 'Open Doors' campaign, which would include masterclasses and advice on exporting, and would be provided by her department in conjunction with the NFU, FDF and AHDB.
"As the prime minister has said, we want our farmers and food producers to be at the tip of our spear driving into new markets," she told the conference, without even so much as a smirk.
She said Asia ought to be particularly attractive to UK exporters given its rapidly growing economies, with 66% of the world's middle classes expected to be found on the continent by the end of this decade.
However, Truss's speech also sought to assuage NFU concerns that the government was too focused on trade and the environment and not prioritising domestic food production.
"What I want to see is a long-term sustainable future for British farming, based on high standards, competitiveness, and productivity, which satiates the growing demand for our world-class produce," she said.
Truss added that future trade deals would not compromise domestic food production, saying she "will never sign a deal that is bad for British farming".
But, as has already been pointed out in recent months, such promises are mere words as the government has not legislated to enshrine the UK's high food standards into law.
As with Eustice, Truss gave away scant new detail on the UK's post-Brexit vision. But given the government's agenda has been stalled by Covid-19 for the past 12 months and with many lockdown measures remaining in place until the early summer, clarity could still be some months away.