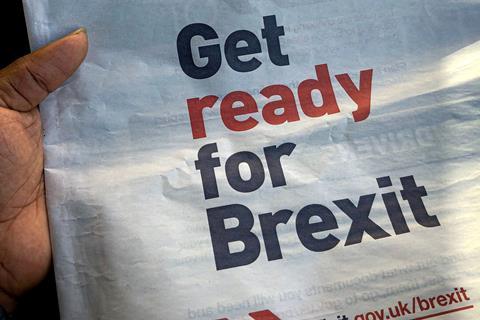 Food and drink companies have slammed the government's incompetence in preparing the industry for a possible no-deal Brexit, with dozens of companies reporting spending more than £100,000 on preparations such as stockpiling.

Some companies forked out up to £5m, according to a survey of its members by the FDF, which said it was vital a new government provided more clarity for the industry as attention now focused on trying to secure a new trade deal before the end of the 2020 transition period.

The survey found 62% of businesses were dissatisfied or extremely dissatisfied with government guidance and information ahead of Brexit, with nearly half of those extremely dissatisfied.

Meanwhile, more than 25% of the FDF's 200-plus members had spent over £100,000 on no-deal Brexit preparations, the survey found.

The report comes after The Grocer last week revealed frustration was "boiling over" at companies that had been left in limbo as three Brexit deadlines had come and gone.

The report found there had been a lack of clarity on regulatory and customs requirements, attacked the late announcement of reviewed temporary tariff schedules and hit out at uncertainty surrounding the logistics of importing goods post-Brexit.

Last month a report by the National Audit Office found the government's £140m campaign to prepare businesses for a no-deal Brexit had been a massive failure.

It suggested the Get Ready for Brexit campaign, launched in September, had a "limited impact", and warned that huge numbers of companies had failed to get the documentation they required in the event of a no-deal.
But the FDF said those that had invested huge sums now desperately needed more clarity.

"Food and drink manufacturers have already spent millions of pounds preparing for a no-deal exit three times in the last 12 months and will now be hoping that some clarity on the Brexit process will present itself once a new government is formed," said the survey.

When asked about their no-deal expenditure over the past year, 56% of members said they had spent up to £100k, while more than a quarter had spent over £100,000 on no-deal Brexit preparations.

"Now the UK has been granted its third Brexit extension, pushing the date back to 31 January 2020, food and drink manufacturers will feel a brief sense of relief," said Tim Rycroft, FDF chief operating officer

"But there remains an underlying sense of frustration and anger too at costly, wasted preparations.

"The timescale ahead is challenging. It is critical that we do not find ourselves, in January, once again facing the precipice for the fourth time. This report is testament to the deep levels of frustration felt by food and drink manufacturers as a result of months of Brexit uncertainty. It brings to life the reality of just how much money businesses have spent preparing for a no-deal exit three times in the last 12 months."