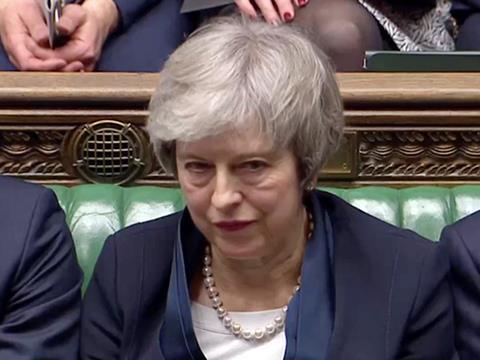 Food and drink bosses are attempting to negotiate a bank bailout for suppliers facing the threat of export chaos in the event of a no-deal Brexit, The Grocer can exclusively reveal.

The FDF is in talks with banks and the government in a bid to provide a "lifeline" for SME companies, which it said faced a period of huge disruption.

Under the plans being discussed, banks would provide government-guaranteed loans to the companies most exposed to EU export markets, for a period as yet to be decided, if the UK leaves without a deal.

"We are concerned many of our members could be subject to massive cashflow disruption," said FDF CEO Ian Wright. "We're trying to find ways to mitigate that and provide some sort of financial lifeline."

The FDF hopes to persuade ministers to adapt the Enterprise Finance Guarantee (EFG) scheme, which launched in 2009 after the banking crisis.
The scheme, overseen by the government-owned British Business Bank, but involving a raft of the UK's banks, provides a government guarantee to boost the credibility of small business loan applications.

Between its launch and June 2018, the EFG supported the provision of over 29,000 business loans to a value of over £3.2bn, it said. EFG provides lenders with a government-backed guarantee of up to 75%, and industry leaders hope it can be adapted to help those caught in the throes of Brexit.

"This is not about funding new enterprises, it is about safeguarding existing enterprises who face the real possibility of huge disruption to their business," said Wright. "There are 7,000 food and drink companies, about 2,000 of whom export and the vast majority of that is exports to the EU.

"Any company for whom exports is more than 20% of their business is clearly more vulnerable.

"We're talking to the banks and have initiated conversations with government about this."

It is understood any help would be over a finite period and be limited to firms below a certain turnover, but it is hoped as many as 1,000 companies could be helped if the negotiations are successful.
Wright said the FDF was also interested in securing alternative forms of government help for companies in the Brexit firing line, including over tax credits."We are interested in any measures that we can secure to help companies through this time of crisis," he added.

The bailout plan emerged after industry leaders called for the government to implement an urgent extension of Article 50 after the crushing defeat of Theresa May's EU withdrawal deal. After this week's vote chancellor Philip Hammond, business secretary Greg Clark and Brexit secretary Stephen Barclay held crisis phone talks with around 50 business leaders to try to calm fears, with just 10 weeks to go until the 29 March deadline for the UK to leave the EU.

Wright said the ministers were bombarded with calls for assurances that Britain would not be subjected to no-deal, amid fears of a disastrous impact on food imports, consumer prices and availability.

But he said no assurances had been forthcoming and accused the government of continuing to use the threat of No Deal as a "gaming chip".