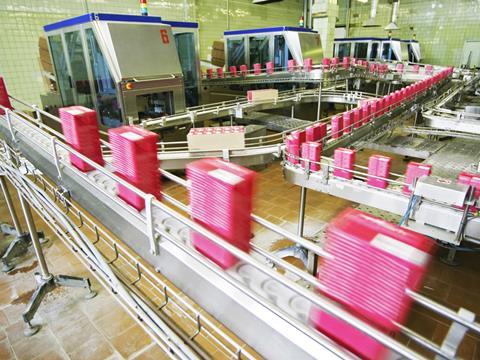 Food and drink companies are spending millions preparing for a no-deal Brexit, a new report reveals, with industry leaders warning companies have started to 'press the panic button'.

The document, prepared by the Food & Drink Federation, reveals companies have already started to rack up huge expenses from cancelled orders and stockpiling costs. The FDF said it believed the figures were 'the tip of the iceberg'.

The revelations were made in a report to the Scottish government's inquiry into the preparedness of companies for the impact of invoking Article 50.

The report reveals 'lack of certainty' and 'extreme nervousness' about the outcome of Brexit has led to companies slashing their investment and reining in deals.

'An FDF member company has estimated the staff time and resources looking at potential options invested in providing input and understanding potential outcomes at £100k to date,' states the report, in one example. 'One member has already lost business opportunities from customers that would have bought products from Scotland but decided not to risk the disruption to their supply chain' it adds. 'They estimate this lost business is around £200,000 to date.'
The FDF outlines how suppliers have started to run up huge costs in stockpiling food as they try to minimise the risk of disruption to supply chains.

The Grocer first revealed in March that food and drink companies were hatching plans to stockpile products to safeguard themselves from the threat of Brexit border chaos.

Last month we reported a raft of companies became the first to confirm they had begun stockpiling supplies and exploring alternative manufacturing. A recent survey for Scala, the logistics consultancy, found 61% were already stockpiling raw materials and/or finished goods.

The FDF report says: 'There has been much discussion both in the media and in businesses about stockpiling.

'Some members are reviewing their stock to ensure enough supply to ship before end March 2019. Much of this stock will be produced with the assumption of sale which is not guaranteed, the assumption that March 2019 will be the deadline and, for one member, the capital invested in stock they will not sell until six months' time. This member estimates that they have a £6m stockpile in an external warehouse. Even if they sell the stockpile, the cost of warehousing this stock will cost several hundred thousand pounds.'
"We are obviously shocked by these figures and it shows the need for a deal and as soon as possible," said FDF Scotland CEO David Thomson.

"But sadly it also shows that it already too late for these companies to avoid the costs.

"There will be no recovering the hundreds of thousands of pounds these companies have already spent. Companies are doing their due diligence as they see it.

"This is not us scaremongering. This is not project fear.

"This is the reality starting to bite and the fear is that these are just the ones that we know about and it's very much the tip of the iceberg. The closer we get to Brexit, more and more businesses are pressing the panic button."

This week the FDF announced its latest business confidence survey, which revealed more than a third (38%) of food and drink manufacturers surveyed were reporting an increase in costs as a result of stockpiling ahead of a possible no deal. It said with under five months to go until the UK is scheduled to leave the EU, there had been a "significant decline" in business confidence among food and drink manufacturers.