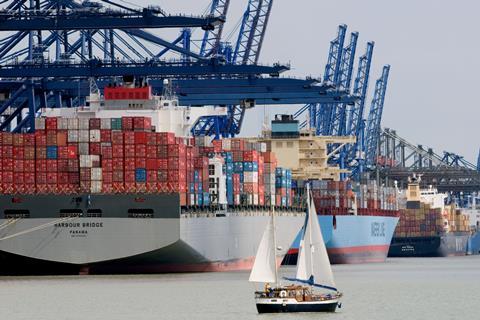 An avalanche of regulatory changes will threaten the battle against food inflation as traders face more red tape in 2024 than they did when the UK left the EU.
Over 20 major policy changes are coming next year, the institute of export & international trade warned in a new report breaking down the disruption British businesses will face next year.
This will include new border checks on EU imports from January, labelling changes that are part of a new trade agreement between Northern Ireland and Great Britain, extra documentation required for goods heading into the EU from March, as well as the switch to a new HMRC exports software system.
This barrage of bureaucratic requirements will result in higher costs for traders, potentially increasing prices for British shoppers, the IOE&IT said.
The warning comes amid news that food prices dropped in September, for the first month in almost two years, according to the British Retail Consortium.
"The news that food prices have fallen for the first time in two years will be welcomed by consumers and business alike," said Marco Forgione, director general of the Institute of Export & International Trade.
However, "as the cabinet office minister, Baroness Neville-Rolfe, recently revealed, the new customs and border processes due to come into force next year will potentially increase costs of some imports from the EU", he added.
Cabinet minister Lucy Neville-Rolfe recently admitted in a letter to Labour MP Stella Creasy that new post-Brexit border controls on animal and plant products imported from the EU alone will cost businesses £330m a year.
"It will depend greatly on how businesses adapt their business models and supply chains to integrate the new controls regime," said Baroness Neville-Rolfe. "We estimate these new costs of the model at £330m [per annum] overall, across all EU imports."
The government postponed the official October 2023 rollout of those checks to prevent additional costs from driving food and drink inflation after months of industry warnings.
The prime minister's decision to move the Border Target Operating Model (BTOM) deadline to January next year will also minimise trade disruption during the Christmas period.
Including BTOM, the IOE&IT's latest analysis identified 23 major legislative and policy changes set to affect businesses either directly or through their supply chains, delivery partners or freight forwarders – all of which will be introduced over the next few months.
Forgione urged political leaders to support businesses navigate this "seismic" period in international trade, which will be "busier and more pivotal than 2021" when the EU began applying full customs requirements and checks on UK exports.
"It's important business and government work together to minimise the impact of these changes", he said.
The analysis also showed that Britain will only be able to focus on landing more trade deals and growing its exports capabilities once businesses adjust to the forthcoming policy changes.
The global economic landscape of the past two years has taken a major toll on UK traders, with exports of key goods such as meat, cheese and whisky falling significantly in 2023 alone.
"From cutting red tape to our new digital borders, these changes are undoubtedly a cause for excitement. But with so much change, there is naturally going to be some apprehension amongst business owners," Forgione said.
"This is understandable, and there will be a bedding-in period – but the potential benefits if we can navigate this period successfully are profound.
"The digitalisation of UK trade has the potential to add £25bn to the country's GDP. But that potential cannot be realised without certainty and support.
"Businesses need to feel confident that they can not only navigate these changes, but also that they have sufficient time to prepare so stock levels, deliveries and suppliers aren't negatively impacted."