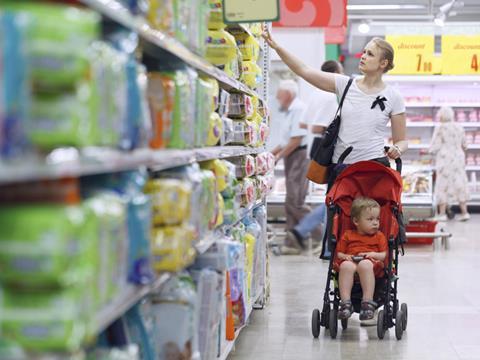 Half of British shoppers plan to change the way they buy groceries in the wake of Brexit, as the fall in sterling and widespread political uncertainty stoke fears about rising prices.

Nearly a quarter of consumers (22.2%) say they will budget more carefully now, while a further 13.7% say they will switch to cheaper products and 8.3% plan to buy more own label.

But many Brits also see opportunities in this post-Brexit era: a third believe supermarkets will be able to promote British food and drink more, prompting 23% to pledge they will buy more homegrown fare now the UK is set to leave the European Union.

Overall, 50.5% of consumers polled in the week after the referendum through Harris 24 - a fast-turnaround polling service from Harris Interactive - said they would change the way they shop for groceries in one form or another.

With the decline in sterling making headlines, the prospect of food price inflation is also top of mind for shoppers, our survey shows.Asked specifically how they expected food and drink prices to change post-Brexit, 67.2% of Brits thought prices would go up, with 25.7% fearing groceries would become much more expensive.

However, as in the referendum, attitudes to the Brexit fallout for food and drink differ considerably among different demographics.

Overall, young people are more concerned the impact from Brexit will be negative than older age groups. Nearly 40% of 18 to 24 year olds think food and drink will become much more expensive, but just 20% of those over 55. Similarly, a third of those under 24 say they will have to budget more, but just 15% of consumers aged 55+ thought so.

Views on the biggest opportunities and threats post-Brexit also vary significantly. Aside from the top three hopes and fears highlighted in our graph (left), worse conditions for food workers are cited as a concern by 10% of 18 to 24-year-olds but only by 2% of those over 45. Conversely, older groups are more concerned about any negative impact on suppliers: 14% of people aged 55+ see this as a key post-Brexit threat but just 6% of the youngest age group.

"It's interesting to see the age differences reflected in the referendum vote haven't subsided over the last week or so," said Tania Page, interim sector head for CPG and retail at Harris Interactive. "Age remains a key influencer in how people see the impact of the referendum on food and drink trends.

"Those in the younger age groups are very much more likely to believe it will impact them and the food and drink industry negatively, and the younger ages groups are more inclined to start budgeting and shopping around more."
This poll was conducted for The Grocer by Harris 24, a service from Harris Interactive that can deliver 1,000-2,000 responses in less than 24 hours in the UK.