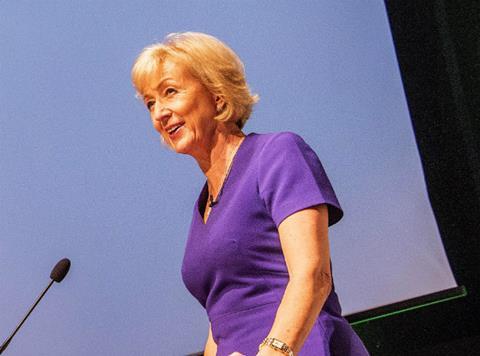 A post-Brexit purge of red tape, which could save the food and farming sector £5m a year, has been promised by environment secretary Andrea Leadsom.

Speaking at the 2017 Oxford Farming Conference today, Leadsom said British farmers would be freed from Brussels bureaucracy - which costs the sector an estimated 300,000 man hours a year - once the UK exited the EU.

In her keynote speech, Leadsom said the government would consult later this year on areas the industry would like to see reformed. She singled out the controversial three-crop rule, and regulations requiring farmers and rural businesses to pay for and display billboards to publicise EU grant support, as two policies the government could potentially scrap.

"For too long, a bureaucratic system, which tries to meet the needs of 28 different member states, has held farmers back," Leadsom said.

"But now, we have the chance to design a domestic successor to the Common Agricultural Policy that works for all of you, rather than the entire European Union," she added.

"By cutting the red tape that comes out of Brussels, we will free our farmers to grow more, sell more and export more great British food - whilst upholding our high standards for plant and animal health and welfare. My priority will be commonsense rules that work for you."

Leadsom's comments were met with "polite" applause according to one commentator on twitter, while some delegates took to social media to bemoan the lack of detail in the minister's speech, particularly on the issue of access to the single market.
"Warm words about wanting to increase British food exports will be meaningless if farmers are faced with a 50% tariff on beef and a 30% tariff on lamb to sell into their biggest export market," warned Liberal Democrat environment spokeswoman Kate Parminter.
Leadsom's speech was followed by farming minister George Eustice, who reiterated that the government would not guarantee farm subsidies in their current form after 2020 and would instead switch to a "support and reward" system.
It comes as farmers were urged to "step up" to address the challenge of agricultural productivity in a rapidly changing world by AHDB CEO Jane King. Speaking at a fringe event to the conference, King said AHDB's new strategy up to 2020 would focus on improving the sector's competitiveness in the run up to Brexit.

"I am challenging the industry now to work more closely with us," King said. "This is not only because we can achieve so much more by working together, but also because it's essential to address the challenge of weak productivity growth. We need to join up more to deliver world-class innovation, skills and knowledge exchange."