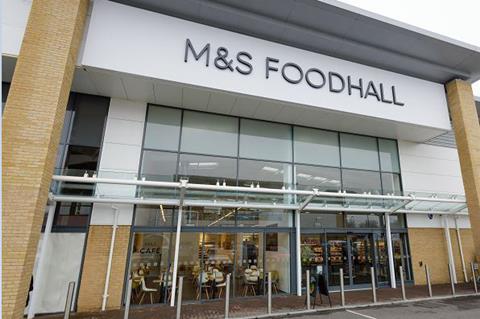 M&S has slammed EU and UK government preparedness for new border checks to be introduced from next month.
In a letter to its European Union suppliers, the retailer said neither the UK government nor EU authorities were prepared for the high levels of bureaucracy involved in border checks begin to begin on 1 October.
The retailer held a meeting with its EU suppliers on Friday amid worries the stricter border controls will deeply affect its entire supply chain.
"It is clear from the information you have shared with us, as well as our own intelligence, that neither the UK government or EU member state authorities are going to be ready," said M&S Food commercial director George Wright in a letter to suppliers following the meeting.
Wright said there was a "real danger of disruption and delay" at the EU and GB border, which could lead to "significant food waste across the sector, reductions in range and availability, and inflationary pressures".
One supplier expressed concern that a number of EU authorities did not appear to be aware of all the requirements and some had not yet clarified the proper procedures around Export Health Certificates (EHC), required for trading products of animal and plant origin.
Another concern was that, in some EU countries, the offices responsible for issuing EHCs only operated during office hours from Monday to Friday.
Wright said this "working pattern will cause significant disruption to that import schedule and exacerbate the HGV driver shortage".
In addition, some authorities did not have enough staff to complete the necessary paperwork, while also lacking compatible IT solutions, suppliers had told M&S.
Wright called for some "common sense" from both sides, arguing that a digitally-enabled Facilitated Movement Scheme would help border officers deal with the upcoming "high volume, slow, paper-based" bureaucracy around EHCs and SPS controls.
"The goal of such a scheme would be to simplify the documentation burden, for both UK and EU businesses, whilst still demonstrating standards are being met."
The letter said the impact of Brexit-related regulatory enforcement had already been felt on food supply chains into both Ireland and the rest of the EU since the start of this year. Given over 25% of all UK food imports come from the EU, the disruption of the new checks on products entering Britain from next month would be worse, it said.
It said it was "entirely unrealistic" to assume all food coming from EU states into the UK would "pass seamlessly through all EU and UK ports with 100% compliance".
"If we don't see a more common sense approach to compliance, this is going to hurt everyone involved," Wright wrote.
The retailer urged suppliers to engage with their local governments to ensure authorities across the EU are ready to provide the necessary documents in the event that border checks go ahead as planned.