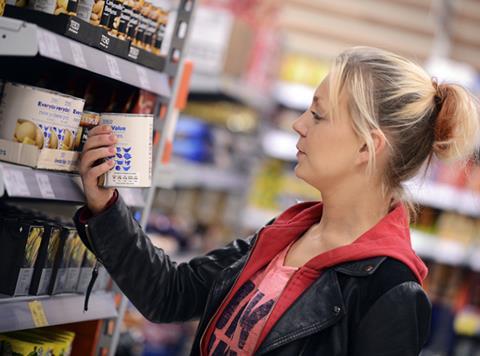 Supermarkets have asked suppliers to begin contingency planning in case Britain crashes out of the EU with no deal, prompting some to consider stockpiling goods such as tea and coffee (The Times).The German discount retailer Aldi emailed suppliers last month to say that it wanted to work with them "to help understand the potential implications" and to "mitigate any negative impacts".
Several supermarkets have given their backing to the British Retail Consortium after the trade association, which represents 70% of the industry, hit out at the idea of stockpiling (Sky News).
Marks and Spencer is to open an academy that aims to turn staff from every function in the business into data scientists able to make the retailer more digitally savvy (Financial Times). Employees will be encouraged to enrol on an 18-month in-work data science skills programme, during which they will learn about machine learning and programming languages, such as R and Python.
The German discounters have the most loyal customers in the British grocery industry, raising questions about the scale of the battle Tesco will face if it launches a budget chain (The Telegraph). Aldi and Lidl came first and second respectively in a study measuring the loyalty of shoppers by TCC Global, while Tesco trailed in seventh.
After grappling with a shortage of the gas that adds bubbles to lager and the head on a pint of beer, European breweries are facing a shortage of a key ingredient whose supply has fallen victim to Europe's scorching weather (Financial Times). The price of European malting barley, which is used to ferment the brew as well as provide flavour and colour to beer, has surged by two-thirds since the middle of May to a five-year high of 230 euro per tonne.
Lidl is planning to lead the development of more than 3,000 homes and a primary school in the discount supermarket's latest tactic to secure planning permission for a flurry of new stores around London (The Guardian).
Weeks of warm dry weather have taken their toll on fruit and vegetable growers. Parts of England have had no rain for more than 50 days, and the Agricultural and Horticultural Development Board has said it is the driest runup to harvest in 80 years (The Guardian).
Farmers are to meet with Whitehall officials this week for an emergency drought summit amid fears that the heatwave could have a serious impact on the UK's food supply (The Guardian).
British farmers and growers are facing the "soul destroying" prospect of leaving more crops to rot in the fields unless a post-Brexit visa scheme for seasonal workers is announced soon (Sky News).
Brexit provides the perfect ingredients for a national food crisis, says Jay Rayner in The Observer.
Strong sales of infant nutrition products in China after a record $16.7 billion acquisition have boosted the fortunes of Reckitt Benckiser (The Times).The number of trademarks registered for spirits and liqueurs in the UK leapt by 41% last year, according to new figures that reflect the soaring demand for artisanal products and consumers' continued thirst for gin (The Guardian).
Gin and craft beer are this summer's must-have tipples, which is good news for Diageo, the drinks giant that owns Gordon's, Tanqueray, Guinness and its trendy offshoot Hop House 13 Lager (Mail on Sunday). Demand for these thirst-quenchers, especially in the UK, helped Diageo boost profits 3.7 per cent to £3.7billion, with a 5 per cent rise in the dividend to 65.3p.
Waldo, a UK-based contact lens subscription service, has won $5m (£3.8m) in funding from investors as it spies a bigger slice of the US market (The Telegraph).Domino's Pizza is under pressure from franchisees who are dragging their heels over new openings because of growing hostility towards the boss, David Wild (Sunday Times).
The future of House of Fraser has been thrown into further doubt after a Chinese investor delayed a potential lifeline, leaving the department store chain facing a cash crunch (The Telegraph).