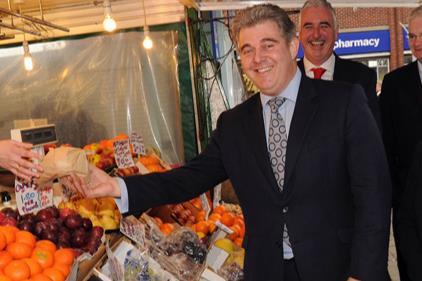 Northern Ireland border checks will be phased in from October under new government plans that have inflamed mounting tensions with the EU.
The UK and the EU agreed last year to a series of grace periods for agri-foods entering Northern Ireland, an agreement the UK has now opted unilaterally to adjust.
In a written statement on Wednesday, NI Secretary Brandon Lewis said the government was taking several "temporary" steps to avoid "disruptive cliff edges" by extending the current grace periods until "at least 1 October 2021".
The move has stoked tensions with Brussels. EU Commission vice president Maros Sefcovic called it "a clear departure from the constructive approach," and the "second time that the UK government is set to breach international law." Irish Tanaiste Leo Varadkar said it was "not the way a respectable, honourable country should behave".
In the UK's guidance sent to traders and seen by The Grocer, the government confirmed it intended to introduce certification requirements in four phases from October.
Phase 1 would see the introduction of export health certificates for fresh meat products, phase 2 will introduce EHCs for dairy products, as well as certificates for plants, seeds, and wine, phase 3 would introduce phytosanitary certificates for fruit and & vegetables as well as EHCs for pet food, while phase 4 will cover all remaining certification such as those on ambient and composite products.
The UK also plans to roll out a new Digital Assistance Scheme alongside the phased approach to "digitise the certification and verification processes and is backed by a major injection of Government funding."
The extension of the grace periods was welcomed by supermarkets "in both time and scope, even if it is unilaterally," said Aodhán Connolly, director of the Northern Ireland Retail Consortium. He added, however, that "there is still much to be delivered" such as an "auditable and certified supply chain to deliver a trusted trader scheme, and a veterinary agreement to remove frictions."
Seamus Leheny, NI policy manager for Logistics UK, agreed the extension was "vital to protect supply chains."
There are concerns however that the extension could unfairly prioritise supermarkets over other areas of the food chain. The scheme will apply to "supermarkets and their suppliers" and while this has covered most wholesalers and suppliers during the grace periods so far, it is unclear whether their supply chains into food service and hospitality are also included.
"Wholesale into restaurants remains a bit a grey area because it's not been tested yet," said Shane Brennan, CEO at the Cold Chain Federation. "So at best its confusing, at worst its deeply unfair."