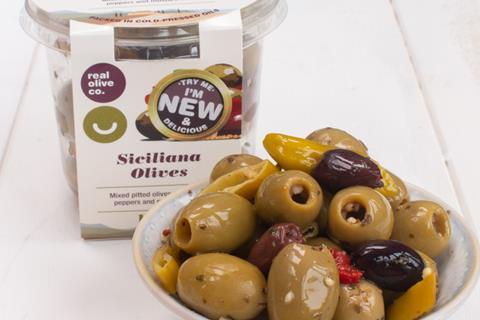 Bristol-based Mediterranean food supplier the Real Olive Co has invested "significant sums" to build up six months-worth of olive stockpiles and avoid potential no-deal Brexit supply disruption.
Owner Karin Andersson told The Grocer the supplier had been forced to sign up a raft of new olive growers across southern Europe to ensure the business could maintain supplies and build up the stockpiles, with a requirement to pay 50% of the cost upfront.
Despite the cost of building up stocks, the supplier now intended to continue replenishing its stockpile on a regular basis, she said.
"It has been a costly move and disruptive, but we see stockpiling as an insurance policy," she said. "We simply can't afford not to have that supply."
While olives would not be subject to import tariffs under the government's proposed no-deal tariff schedule, barriers such as border delays could have significant effects on the Real Olive Co's supply chain, Andersson suggested.
The olives are transported to the UK in barrels containing brine and stored at a new facility recently opened by the company in Bristol. They are then desalinated and prepared for a number of chilled retail and wholesale lines, in a variety of different blends.
"Our customers expect the best quality of product and we can't afford to make any compromises if supplies can't get through," Andersson said. However, Brexit uncertainty had also helped make the business stronger, she said, as it had encouraged it to become more efficient.
The Real Olive Co has listings in Ocado and Waitrose (where volume sales rose by 96% during the past 12 months). It is due to go on sale nationally with a new organic line in one of the big four supermarkets from June.
Total retail sales grew 57% last year on the back of increased distribution, while it has also started exporting its products to markets including Saudi Arabia and Ireland, Andersson added.
The supplier's preparations come as parliament remains deadlocked over the UK's departure from the EU, with MPs rejecting all four Brexit options last night and the prospect of a no-deal Brexit on 12 April now becoming "more likely", according to the EU's chief negotiator Michel Barnier.
Elsewhere, supermarket prices for items such as Spam, canned fish and baked beans are all on the rise, according to analysis by The Grocer last week, with one in 10 Brits admitting they were now stockpiling in case of a no-deal Brexit outcome.