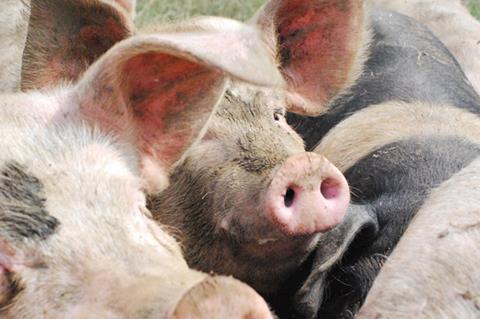 A combination of border bureaucracy, Covid restrictions and soaring feed prices is threatening to bring the UK pig supply chain to a grinding halt, the National Pig Association has warned.
Post-Brexit border requirements for the export of fresh pork to Europe were creating a "bureaucracy overload" that was already having a big impact on the sector, NPA CEO Zoe Davies told The Grocer.
Reports of Dutch border officials confiscating a British lorry driver's ham sandwich this week were "just the tip of the iceberg", she added.
Examples of excessive paperwork faced by processors included the need for each export health certificate to have 12 stamps for the English, Dutch and French versions, in duplicate – meaning a 15-tonne load would need a vet to stamp paperwork 72 times.
Among a slew of other examples of disruption, processors reported EU border inspectors citing the UK's third country status as they checked labels on each box in a consignment of pork products, as a full whole pallet had to be offloaded and broken apart.
Delays at the border were forcing processors to cancel some shipments to the EU – which accounted for 44% of total UK pork exports last year. The cull sow trade is particularly badly hit, while other pig exports are also under threat.
Cull sows are regularly sold to processors in Germany and other European countries for use in the manufacture of products such as sausages and bratwurst.
But with an abundance of pork having flooded the EU market due to a decline in exports to China (following its ban on German imports last year after an African Swine Fever outbreak in the country) the increase in costs and disruption meant the animals were now "unattractive" to EU importers and the market was no longer viable for British pork exporters, Davies added.
"There haven't been any exports in over a week and abattoirs haven't been taking them, which means these animals have remained on farm. We've basically got a load of unproductive pets."
The situation was further exacerbated by soaring feed prices, while pig prices were falling due to the abundance of product available, Davies said. AHDB's SPP price is down almost 10% year on year for 11 January at 146.73p/kg, while EU prices are down almost 30% over the same period.
"The concern is that the situation is only going to get worse as export volumes to the EU increase over the coming weeks, putting more pressure on a system that is already buckling," Davies warned.
"If this trade grinds to a standstill, on top of the Covid issues, we are going to see some serious problems across the pig sector," Davies added, as she called on the government to place the same emphasis it placed on maintaining food imports on exports.
A Defra spokesman said the government was "working very closely with traders to ensure they access the extensive advice available to support their transition to these new arrangements".
It comes on top of an already challenging situation for the pig sector, with Covid outbreaks and the accompanying requirement for staff to self-isolate at a number of processing plants leading to a fall in throughput.
This led to an estimated backlog of at least 40,000 pigs on farms before Christmas, and while plants were "still moving", Davies warned more disruption was expected as cases of the new Covid variant continued to rise.
Similar issues are now also plaguing the wider meat and poultry processing sectors, with British Poultry Council CEO Richard Griffiths warning average absence levels of about 15% in plants meant production was now on a "knife edge".
The British Meat Processors Association, meanwhile, has reiterated its call for meat sector factory workers to be given early priority for the Covid vaccine.
"Given the specialised nature of the meat processing industry, if absences go above a certain level, it becomes impossible for a plant to continue operations," said BMPA CEO Nick Allen last week. "If this starts happening plants would be forced to close entirely and a sizeable chunk of food supply would disappear from supermarket shelves."
Concerns over staff absences have also been voiced across the wider food sector, with union bosses calling for frontline retail staff to be vaccinated last week, and many major supermarkets imposing new curbs on shopper footfall and mask wearing requirements in stores this week.