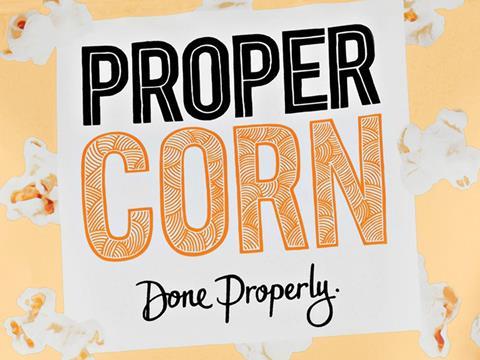 Propercorn is set to switch its packaging supplier to UK from the Continent in a bid to sidestep some potential post-Brexit disruption at British ports.
A contract with Amcor, via the packaging giant's Evesham site, would take effect from "about April" said Propercorn CEO Mike Hedges.
The London snack brand's plan to move from its current supplier in Italy had first arisen during plans to "mitigate risk" after 29 March. It would make packaging "slightly more expensive" for Propercorn, Hedges added, but "it isn't a cost-saving exercise. It's just common sense."
His main fear for UK grocery post-Brexit was "a huge shortage of lots of products" he said. "So much comes from Europe that I don't believe ports will be able to cope. Every manufacturer is saying the same thing. It'll be difficult for everybody."
Propercorn – which will continue to source its corn from the US – had set out "a comprehensive plan for all eventualities and [was] fortunate to have very robust systems in place to support this plan" said Hedges. It had stockpiled raw materials and finished goods, and was "working with all our supply partners to ensure they have a similarly robust plan in place".
UK grocery needed "efficient and rapid movement of products for it to function" he added. "Without that, things unravel extremely quickly, and the businesses without a plan in place will suffer irreparably."
Hedges' comments come after supermarket bosses warned MPs in January that the UK was just weeks away from chaos at ports, empty shelves and soaring food prices should there be no deal.