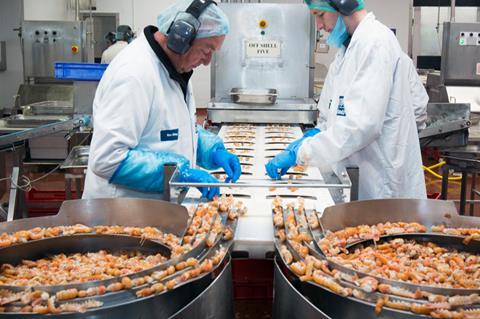 The seafood industry has become the latest food sector to face delays and increased costs as new customs rules wreak havoc on trade between Northern Ireland and Great Britain.
Rules that required British businesses to notify customs in advance of moving goods across the Irish Sea had "really disadvantaged" companies reliant on fresh-caught fish being able to move seamlessly between Great Britain and Northern Ireland, according to scampi brand Whitby Seafoods, which has warned border delays were already starting to bite.
"Customs have a requirement that they will have full visibility of the load we're bringing across by 10am the day it's being brought over [to Northern Ireland]," explained sales & marketing director Laura Whittle.
"Our scampi tails are still in the water then. We bring them across at 11pm, so they're not even caught [by 10am]. It's fresh food, so there's a very fast turnaround. We don't want that product out of the water a long time before it's processed and frozen because it could deteriorate."
Whittle said there were fears that if a load were to be rejected at the border, the company could lose "hundreds of thousands of pounds".
She added that all of Whitby's scampi was processed at Kilkeel, County Down, before being frozen, because two-thirds of the langoustine Whitby derives scampi from was landed in Northern Ireland. Once processed, the product is then transported back to its North Yorkshire base for distribution.
Scampi has been a rare example in recent times of a UK-caught seafood product that is mostly consumed domestically.
Since the coronavirus pandemic hit the UK in 2020, sales have rocketed – up by 34.7% in volume and more than £74m (+30%) in value [Kantar 52 w/e 27 November 2020] – thanks to a boost in listings and increased interest in supermarket frozen aisles.
The news comes after Seafood Scotland last week warned the industry faced a "perfect storm" of Brexit disruption as it grappled with issues at the border.
"Weakened by Covid-19, and the closure of the French border before Christmas, the end of the Brexit transition period has unleashed layer upon layer of administrative problems, resulting in queues, border refusals and utter confusion," said Donna Fordyce, CEO of Seafood Scotland.
"The problem is no longer hypothetical. It is happening right now. We are working with industry, government, and other bodies to try to mop up the mess to allow trade to flow again. We are doing all we can to help companies get the paperwork done. It will take time to fix – which we know many seafood companies can't afford right now."