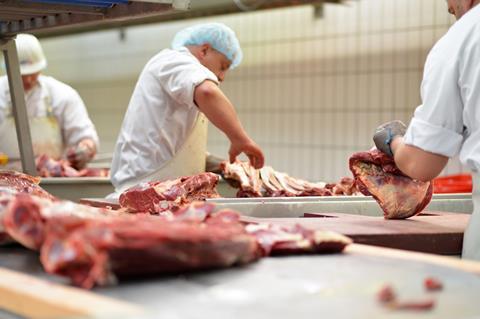 The UK meat industry faces between £90m to £120m in extra costs amid "systematic problems" with EU export infrastructure, a new report by the British Meat Processors Association has claimed.
Despite assurances from Defra secretary George Eustice in January that the problems faced by exporters were merely "teething issues", BMPA's Brexit Impact report suggested issues faced by exporters were far more significant. The report represents the the latest in a line of warnings in recent weeks that the current trade set-up with the EU was riddled with flaws.
Extra costs were being caused by customs declarations, agents, freight forwarders and additional veterinary inspections, the report said. There were also hidden costs from higher freight insurance, extra administrative staff and larger haulage charges due to the length of time exports were taking.
In some cases, red tape had added up to three days to export times, which had the effect of reducing the shelf-life and value of meat, it added.
The combined effect of these issues had been the cancellation of orders from the EU, with many meat companies now anticipating a permanent 20% loss of their export trade.
"The export hurdles we face are now in plain sight and are not going away," said BMPA CEO Nick Allen. "We need government to urgently re-engage with both the industry and the EU to work out detailed and lasting solutions.
"The BMPA and its members stand ready to consult with government and map out those solutions. British companies who are dealing with the new issues on the ground are best placed to offer constructive solutions, but these solutions need support and investment from government to build a new system that is fit for purpose."
A Defra spokeswoman claimed the "majority of businesses" were "adapting well" to the new export requirements. She added, "We've always been clear that there would be new processes for traders, and we continue to support them in their transition to these new arrangements."
"A unique combination of factors, including Covid lockdowns across Europe, and businesses adjusting to our new trading relationship, made it inevitable that exports to the EU would be lower at the start of this year than last."
BMPA called on the UK government to find solutions to three areas in particular: inspection and certification processes, electronic documentation and greater regulatory alignment on veterinary standards with the EU.
Inspection and certification could be made more flexible and sped up if the government employed veterinarians and other "auxiliaries" who had been trained to perform different levels of checks, it said. BMPA pointed to the systems of countries like Germany and Denmark as "efficient and cost-effective models" the UK could replicate.
Currently, BMPA added, the largely privatised veterinary industry offered "scarce services", which had forced a bidding war for their services between meat companies.
The organisation said an electronic documentation system would ease the delays, mistakes and confusion caused by the existing paper-based system.
BMPA said the government should also pursue "a closer veterinary equivalency agreement with the EU" – something the bloc has in place with New Zealand – or seek a "common veterinary area" akin to the arrangement the EU has with Switzerland.
The report claimed Switzerland's deal was not "compulsory regulatory alignment", a fact illustrated by Switzerland continuing to be able to import hormone-treated beef – a major divergence from EU rules.
Meanwhile, data in the report showed export volumes had run at 50% of pre-Brexit volumes during the first six weeks of 2021 – a figure in direct contrast to a claim that goods had continued "to flow effectively" by Cabinet Office minister Michael Gove in January.
Even if the government acted to improve the export system immediately, the report said a continued drop in trade would be likely as fixes would be "complex and lengthy", forcing some companies to cut back on production and others to cease trading.
BMPA predicted that some of this drop-off was likely to be permanent owing to the "additional and inescapable costs of exporting as a third country" that would make British businesses less competitive in the European market.
The industry body added that this trade could not be replaced by exporting to other markets further afield, as had been suggested by international trade secretary Liz Truss when she spoke to the NFU Conference in February.
The report comes after calls from the seafood industry earlier this week for a complete overhaul of export health certificates. The Scottish Salmon Producers Organisation said the forms were causing delays of up to four hours and were set to cost its members around £2.5m a year.