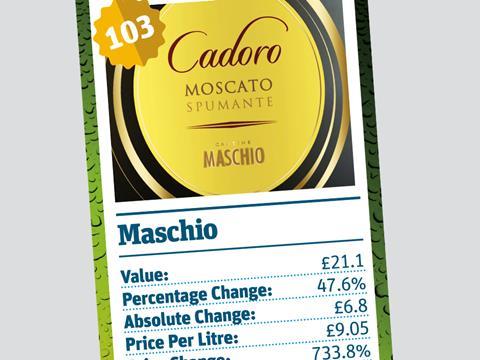 The pack has been shuffled. Five of the top 100 brands in last year's report have fallen out of our ranking, replaced by high growth newcomers. But the UK's biggest booze companies have no shortage of fast-growing contenders up their sleeves. So which brands could break into the top 100 in the coming year? Here's our pick of the wild cards to watch…
101 (143)

Cono Sur

Sales: £21.6m Growth: +97.9%

Cono Sur recently unveiled an advert for Bicicleta that features Queen's classic song Bicycle Race. The campaign is enhanced by its sponsorship of the Tour De France through its stages in the UK, Belgium and the Netherlands. The CyT brand has added an impressive £10.7m to its sales plus an armful of awards, and claims to be the UK's number one pinot noir.



103 (127)

Maschio

Sales: £21.1m Growth: +47.6%

Sparkling wine is booming and Maschio is no exception. Sales of its range, which includes Prosecco and Moscato, are up by an impressive £6.8m on volumes up 37.5%. Not bad, considering the brand upped its average price by 7.3% rather than employing deep-cut promotional tactics like many of its peers. Yet it's still cheaper than the likes of Valdo (75) at £9.05/litre.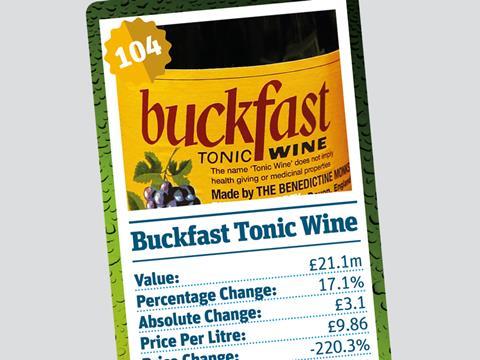 104 (109)

Buckfast Tonic Wine

SALES: £21.1m GROWTH: +17.1%

If Buckfast carries on at this rate it could well be in the top 100 this time next year. But it's a big 'if'. Its £3.1m growth is primarily down to the introduction of 25cl cans in May 2014, a move the brand said would make Bucky more accessible and combat binge drinking (previously it was only available in 75cl bottles). Average price has fallen 2.2% to £9.86/litre.



105 (131)

Green Mark

SALES: £20.4m GROWTH: +6.6%

A year ago, William Grant cut the alcohol content of Green Mark from 40% abv to 38% to allow it to keep prices low and help the mults compete with the discounters and their cut-price spirits. The move seems to be paying off. Average price has dropped 2.6% to £16.87/litre, undercutting all the vodkas in the top 100. The brand has turned in an extra £6.6m.



119 (129)

Leffe

SALES: £16.8m GROWTH: +19.7%

Want proof that drinkers will pay more for quality beer with genuine provenance? Then look no further. Belgian abbey ale Leffe has turned in an extra £2.8m in the past year despite fetching a much higher premium than its AB InBev stablemates in the top 100: £3.59 a litre versus Stella's £2.17. Perhaps it's because 'Belgian' lager Stella is actually brewed in Wales…



123 (146)

Aberlour

Sales: £15.9m Growth: +57.4%

Aberlour brand owner Chivas Brothers describes the single malt as a "hidden gem that tastes exceptional". Aberlour's 10 Year Old whisky accounted for most of the growth, raking in an additional £5m, but other variants also performed well. Its growth is attributed to a boom in premium whisky sales, but an average price reduction of 1.4% won't have hurt either.



125 (140)

Tanqueray

SALES: £15.5m GROWTH: +36.0%

Tanqueray's growth is worth a cool £4.1m to Diageo. Driven by increased visibility, deals and the trend for premium spirits, the core gin is up almost a third while the super-premium No 10 has more than doubled to £1m. Off-trade sales director Guy Dodwell says drinkers are trading up from mid-tier gin: "We've seen premiumisation across many categories; gin is no exception."



128 (148)

Staropramen

Sales: £15.1m Growth: +6.1%

Carlsberg gained the rights to distribute the Prague lager in the UK in 2012, but the following year its owner, StarBev, was acquired by Molson Coors - and the massive growth of the brand has finally proved too much to resist. The Carling owner announced last month it was taking over control of Staropramen from December this year.



130 (149)

Sharp's

Sales: £14.9m Growth: +130.8%

Best known for its Doom Bar amber ale, Cornish brewer Sharp's has sailed up the charts in the past 12 months, with growth worth an impressive £8.4m. Beers including its Wolf Rock IPA and Atlantic pale ale have picked up new listings over the period, adding another £700k, and the brewer claims Doom Bar was the top-selling PBA over Christmas.



141 (145)

Birra Moretti

Sales: £12.4m Growth: +20.3%

With an average price of £2.85/litre, putting it at the pricier end of the lager category, Birra Moretti has benefited from the demand for premium imported lagers. To help cement the beer's association with Italian cuisine, Heineken last year started the Moretti Gran Tour, a series of events around the UK involving eateries such as Pizza Pilgrims.
Check back on Monday for the full rankings of Britain's 100 Biggest Alcohol Brands!