This article is part of Britain's Biggest Alcohol Brands 2021. See the main report here, featuring insight into each brand's performance, and a full list of the top 100 brands here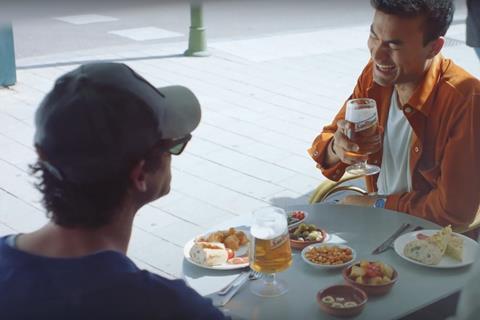 10 (14) San Miguel
Sales: £291.5m Growth: +51.3%
San Miguel's £98.9m gain is the biggest of any beer brand in grocery and the second-largest in this report.
Its brewer, Carlsberg, credits the brand's "diverse portfolio" – which "ensures there is a format to suit every shopper".
In the past year, the brand "saw an increase across the different sizes, including San Miguel's 10x440ml format" the brewer adds.
The Spanish lager sold an extra 38.1 million litres across UK grocery – and its zero-alcohol version accounted for 1.6 million of that gain. It's worth £3.4m after a 53.4% value rise. That's because Covid-19 "led many consumers to embark on a moderate lifestyle" says Carlsberg, which gave San Miguel a new look in April 2021 "to further elevate the consumer experience".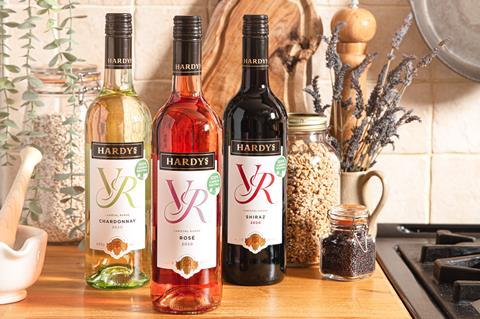 9 (8) Hardys
Sales: £300.4m Growth: +6.8%
Hardys is the only top 30 wine brand not to have grown by double digits.
That's not to say it had a bad year. After all, it added £19.1m in the face of stiff competition from the likes of Yellow Tail (13) and Barefoot (11).
But the pandemic put its 2020 plans on the back foot, says Tom Smith, marketing director at owner Accolade Europe. "We didn't end up activating the big campaign."
The planned activity "was around 'certainty' and, obviously in the context of the world we were operating in, we had to make a decision on if it was the right campaign, so we didn't amplify it at that large scale" he explains.
On a positive note, Hardys and its Accolade stablemates officially became carbon neutral last autumn.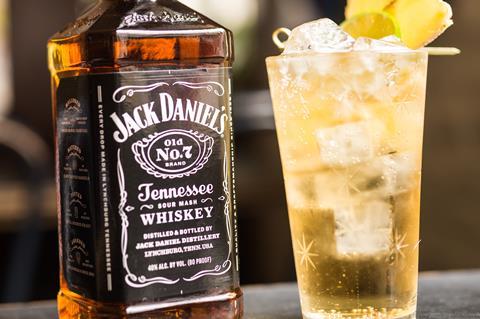 8 (9) Jack Daniel's
Sales: £330.6m Growth: +24.6%
Jack Daniel's has firmly cemented its place as the UK's favourite whiskey.
The US brand has gained an extra £65.2m – more than all its rivals in the top 100 combined. The likes of The Famous Grouse (14), Bell's (36) and Jim Beam (72) amassed £64.5m between them.
With volume sales up by 21.6%, JD's strong performance in grocery is attributable in part to successful innovation.
In March 2020, it rolled out Tennessee Apple to cash in on the trend for flavoured spirits and lure younger drinkers.
"It made sense for us to explore a new way to appeal to a younger audience in an authentic, true-to-Jack way," says Caroline Lesur, head of Jack Daniel's UK.
Made with a blend of McIntosh, Red Delicious and Granny Smith apples, the 35% abv Tennessee Apple has so far added £13.6m.
That makes it the third biggest spirits NPD of 2020 by value, Lesur says, partly due to its positioning as "a great alternative to flavoured gin".
JD has since poured the tipple into a can, creating the Jack Apple & Tonic pre-mixed cocktail. It's now sitting alongside such JD RTDs as Cola (up £6.7m) and Tennessee Honey (up £416.4k).
JD has been busy on the marketing front, too. In October, it launched 'Make it Count' – its first-ever global push, designed to reach around 100 markets worldwide.
Running across TV, digital, social and OOH, it included the ad 'First Timers', which saw the likes of two diners ordering "one of everything" from a menu, and a woman throwing her phone into a lake to avoid an incoming call from her boss.
The campaign encouraged consumers to "live boldly" according to JD – which, like many others in this report, has managed to capitalise on shoppers' preference for established names during the pandemic.
"With uncertain times, consumers turned to well-known and trusted brands, and Jack Daniel's benefited from this trend," confirms Lesur.
"Combined with consumer demand, a strong support plan saw the brand delivering engaging activations in stores, unlocking visibility outside the traditional spirits aisle."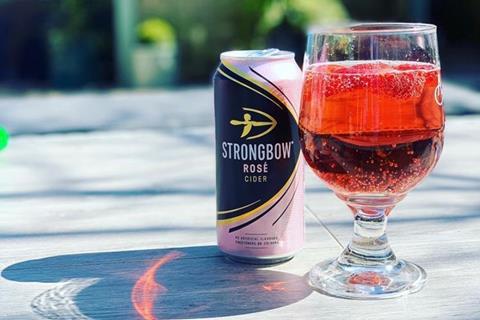 7 (7) Strongbow
Sales: £378.8m Growth: +15.5%
Britain's number one cider has benefited from consistent investment and innovation in recent years. Owner Heineken has stayed true to its mission to make Strongbow "even better, and future-proof it for generations to come".
In 2019, the brewer relaunched the brand's entire range with a recipe free of artificial sweeteners, colours and flavourings. This focus on natural credentials set up Strongbow to comfortably take on craft competitors in grocery during the pandemic.
The brand's up £50.8m – and its Dark Fruit variant remains one of cider's biggest success stories of recent years. It's now worth £142.2m.
And newer launch Rosé, backed in 2020 by Strongbow's biggest-ever push, has seen a 292% uptick in sales to £24.1m.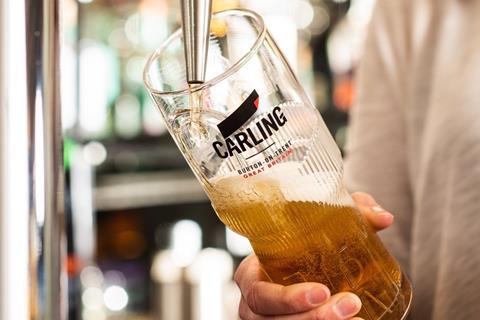 6 (6) Carling
Sales: £403.4m Growth: +14.3%
Brewing giant Molson Coors significantly scaled back its UK operations in 2020, rationalising its grocery range as the pandemic hit. It focused on core lines such as Carling – which delivered £50.6m of growth as a result.
An extra 22.9 million litres have gone through tills. That's 8.5 million more than closest (and bigger) rival Foster's (5). Price helped. At an average of £1.75 a litre, Carling is markedly cheaper than Foster's, which comes in at £1.92.
The brand also mounted a 'Support Your Local' push, launched last summer.
Not surprisingly, Carling's core lager benefited most from the at-home drinking boom, with a 14.6% uplift in value sales. But posher Carling Premier, relaunched in 2017, dipped by 2%.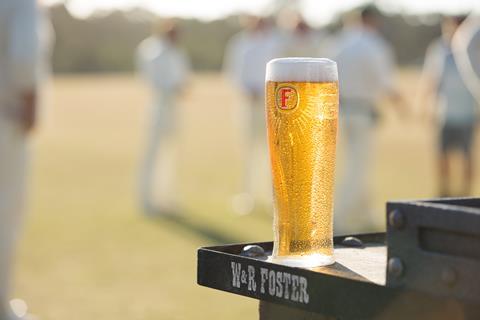 5 (5) Foster's
Sales: £428.0m Growth: +8.0%
The self-styled amber nectar is still Britain's third-biggest beer brand. That's thanks to a respectable 8% value growth.
But it pales in comparison to that achieved by closest rivals Stella Artois (1), Budweiser (3) and Carling (6). They all registered double-digit gains.
Foster's fortunes are illustrative of a year in which Brits largely preferred to fill their fridges with premium, world and craft beers, rather than standard – and less expensive – lager.
See the gains of, say, Peroni (16), Birra Moretti (21) and Brewdog (26) for examples.
Premiumisation is a trend that Foster's has struggled to leverage. All growth came from its core variant, which shifted an extra 14.4 million litres. Other, pricier lines barely made a mark.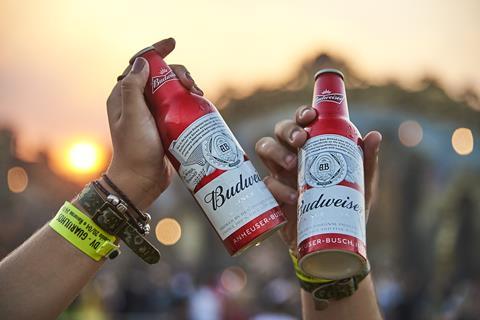 4 (4) Budweiser
Sales: £522.4m Growth: +21.3%
A focus on sport helped Budweiser deliver a £91.7m gain over the past year – the biggest of any beer brand.
Many of its marketing ploys were based on its position as the official beer of both the England men's football team and the English Premier League.
With pubs closed, footie fans were watching at home – significantly increasing demand for bigger packs, says Jessie Landers, senior brand manager at Budweiser.
Much of the beer's growth this year was due to rising demand for its bumper 20-bottle pack, which accounted for 30% of incremental sales.
A reboot of the famous 'Whassup' TV ad from 1999 will also have helped to boost volumes, which soared by 34.9 million litres to a total of 225.2 million in grocery.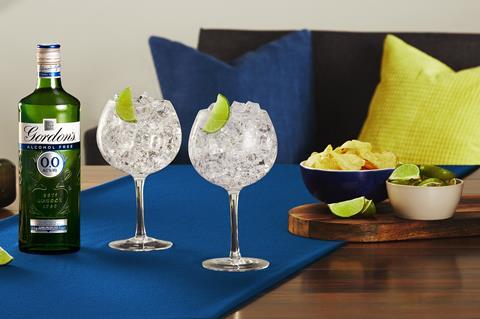 3 (3) Gordon's
Sales: £538.3 Growth: +23.9%
Diageo's leading gin brand has pulled in an extra £103.9m – the single greatest increase of any name in this report. Volume sales are up by 17.9%. That's the equivalent of an extra 5.3 million litres.
Gordon's gains – and those of rival Bombay (34) and stablemate Tanqueray (48) – suggest pre-pandemic predictions of the gin boom's demise were premature.
The brand's success is nothing new. But it's all change within its range. Take Gordon's Pink. Prior to covid, it was one of the UK's fastest-growing alcoholic drinks and, arguably, the best-performing booze launch of the past decade. Now it's in decline, falling £6.2m to £128.7m.
But Gordon's newer flavours have picked up Pink's slack and more – suggesting Brits aren't through with sweet-flavoured spirits.
The brand's Mediterranean Orange, White Peach and Sicilian Lemon flavours have added £19.4m, £12.1m and £34.8m respectively.
That's a total of £66.3m – a gain that dwarfs Pink's loss by more than 10 times.
That win was only compounded by Gordon's first foray into the burgeoning non-alcoholic spirits scene with its 0.0% variant, which burst on to the market just in time for Christmas. A legion of sceptics on social media didn't stop the virtuous tipple racking up £3m in about five months.
The drink contains "the same finest distilled botanicals as Gordon's London Dry Gin" with "the bold, juniper-led character that has helped to make Gordon's renowned the world over" according to Diageo.
The supplier is now hoping to replicate the success of 0.0% with its posher Tanqueray brand, which debuted a non-alcoholic line this February.
Diageo has also shaken up Gordon's low & no alcohol RTD offer. Its 0.5% abv bottled cocktails, launched in 2018, failed to generate much interest. Their value has slipped below £1m. At the time of writing they were unavailable from the mults' websites.
So, Diageo has rolled out zero-alcohol versions of its core gin & tonic cans. Added in April 2021, the NPD is "a convenient way for people to enjoy a delicious alcohol-free option – especially during upcoming summer occasions" claims the supplier.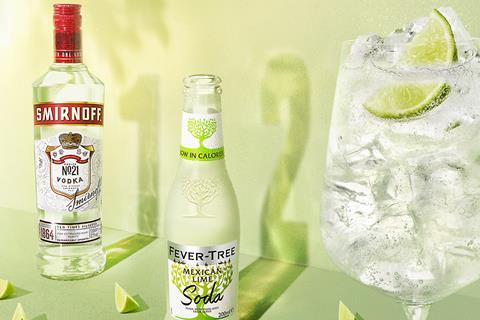 2 (2) Smirnoff
Sales: £571.8m Growth: +20.6%
Diageo has been tight-lipped about the performance of its brands in this year's top 100. And Smirnoff is no exception.
But there's still plenty to be said about Britain's second-biggest booze brand. It's grown £97.9m – the third-biggest absolute gain in this report.
That's on the back of a 19.9% increase in volumes – the nation's number one vodka sold 34.3 million litres across grocery over the past year.
It's no surprise that the bulk of Smirnoff's growth has come from its core spirit, No.21. It's worth an extra £90.1m, while average price per litre is up by just 3p to £20.
Sales were driven in part by an ad that drew on spy novel themes – a continuation of its 'Infamous Since 1864' activity.
Elsewhere in the brand's portfolio, fortunes are mixed. Vanilla vodka has grown by a mere £103.7k, while Lime and Raspberry are in value decline.
The same goes for Smirnoff Infusions, the lower-abv duo launched in summer 2019. They've shed £395.8k to be worth £1.1m in grocery.
It's a different story in RTDs, where the long-standing Smirnoff Ice has added £8.9m thanks to the boom in at-home drinking during the pandemic.
It was joined in Brits' fridges by a hard seltzer lineup in June 2020. Smirnoff's contribution to the boozy water trend, in Raspberry & Rhubarb and Orange & Grapefruit variants, is already worth £1.3m.
The brand has kept its NPD pipeline moving this year with last month's launch of Raspberry Crush vodka – backed by a £2.9m push.
The new drink landed just a couple of weeks after Smirnoff partnered with Fever-Tree on the £2m 'Spritz Up' campaign.
Running until August, it showcases the trendy mixer maker's posh sodas, which "pair perfectly with triple distilled Smirnoff No.21".
The aim, says the vodka brand, is to "inspire consumers to switch up their serve" in three easy steps.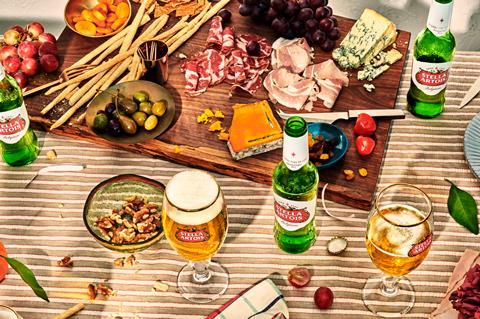 1 (1) Stella Artois
Sales: £729.2m Growth: +13.1%
Shoppers were "furious" at Stella Artois, tabloids reported in February. The Belgian lager brand had "angered boozy Brits" by reducing its abv to 4.6% from 4.8%.
Proof of this widespread outrage: a few huffy comments on Tesco's website. "Tastes rubbish. Such a shame," read one. It didn't matter to the tabs that the comments were many weeks old – or that the change in abv had been announced four months previously.
It was the result of owner Budweiser Brewing Group (BBG) "looking at ways to optimise our beer portfolio in line with emerging needs and trends" it explained at the time.
The reformulated Stella offered "the same full flavour and clean crisp taste, confirmed through rigorous testing by consumers" it added.
Despite the outraged headlines, the brand has been busy making money. It's now worth an extra £84.4m, maintaining its title of grocery's biggest bevvy. Thirty million more litres have gone through tills in the past year.
Obviously, brand recognition and the boom in at-home drinking helped. But there are were other factors at play, too.
First, there was Brits' love of world lagers, which the Belgian Stella neatly taps – even if it's made for the UK at BBG's mega-breweries in Gwent and Lancashire.
Stella's positioning as the ideal accompaniment to food also helped drive sales. More than a third of the beer's consumers say they choose to pair it with a meal, says senior brand manager Samuel Cernak.
And two opposing trends also pushed up the brand's value: brews stronger than 4.5% and virtuous drinking.
The former craze helped Stella's core lager net an £83.2m gain, while the latter saw the burgeoning Stella Artois Alcohol Free make £1.9m in its first year.
It was a late entry into a low & no alcohol beer market dominated by Heineken 0.0, but the April 2020 launch "has delivered pleasing results to date" says Cernak.
"A strong repeat rate, with almost one in four shoppers choosing to buy more than once, indicates consumers are enjoying the liquid."
The omens for Alcohol Free's further growth are good. Not only is BBG enjoying success across its wider low & no portfolio, but Alcohol-Free also got a headline spot alongside Stella's core brew in marketing over Easter and Christmas.
It further benefited from its own campaign during Dry January, which Cernak says reached 58% of adults.
But alongside those many encouraging figures have come some disappointing ones, too. Take the 41.1% slump for its 4% variant, the value of which is down to £1.2m.
Then there's Stella Cidre, launched in 2011 and once credited with driving cider's revival. Only two variants – Apple and Raspberry – remain in grocery, with a collective value of less than £2m.
But the sub-brand's performance is almost certainly of less concern to Stella than the loss of an entire channel. That's what it had to contend with when pubs and bars were shuttered in the first lockdown.
The brand responded quickly, tapping locked-down Brits' desire to recreate on-trade experiences at home. It launched a TV campaign to plug its keg for use with the PerfectDraft beer dispensing machine – which led to the sale of more than 15,000 PerfectDraft Stella Starter Bundles.
Then it kicked off 'The Life Artois' campaign – "an invitation to savour moments together with loved ones". And, as pubs reopened in the summer, the brand "used street art rather than physical barriers to help people maintain social distancing" at venues.
But it wasn't long before another lockdown in November. That's when Stella unveiled its 'Mystery in the Life Artois' gaming set for £52.
Sold exclusively via Amazon, the limited-edition item comprised a role-playing game with Amazon Alexa integration, a vinyl record, four chalices and four bottles of beer.
"This allowed consumers to enjoy the brand in a new format, facilitating time spent with loved ones, whisking drinkers into a world of murder and mystery, elevating the in-home occasion", says Cernak.
When the on-trade finally reopened (again), the 'Stella Tips' push supported workers by donating £1 for every Stella bought in a participating venue. It funnelled a total of £500k to 12,000 people across 1,915 pubs.
More cash looks set to come their way. In May 2021, Stella became the first beer brand to invest in non-fungible tokens, using the trendy crypto coins to generate funds for the UK hospitality industry.
Britain's Biggest Alcohol Brands 2021: the big booze mix-up
1

2

Currently reading

The 10 biggest alcohol brands in Britain 2021

3