You can see our brand-by-brand breakdown on our special website.
Britain's biggest grocery brands are playing a dangerous game. With the discounters advancing and prices being cut across the board, many are starting to look like pawns in the battle between grocery's grandmasters.
Deflation reigns. The average price of 42 of the 100 biggest brands has fallen in the past year; 53 have suffered a decline in value sales, up from 34 a year ago and just 26 in 2013. What's more, the combined value of the top 100 has fallen £146.4m (-0.7%) to £20.5bn, as prices have been eroded by brand match schemes and growing competition with upper tier and specialist own-label lines that have become brands in their own right.
Other factors are affecting the fortunes of the top 100 just as much. The opprobrium surrounding the sugar levels in many grocery products has hit some players hard. Then there are those that have suffered as a result of changes in the way people are choosing to prepare and consume their groceries, and the outlets from which they are buying them.
They say that in chess you'll always learn more from losing than you ever can by winning. If that's also the case in grocery, the past year has been a vital learning experience for many. So which brands have shown how the game should be played? Who has the best defence? And who is well and truly cornered?
The Rankings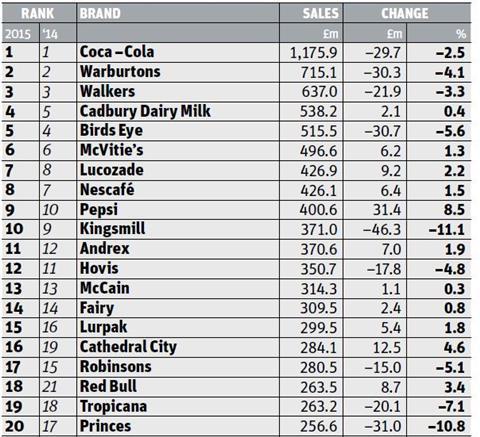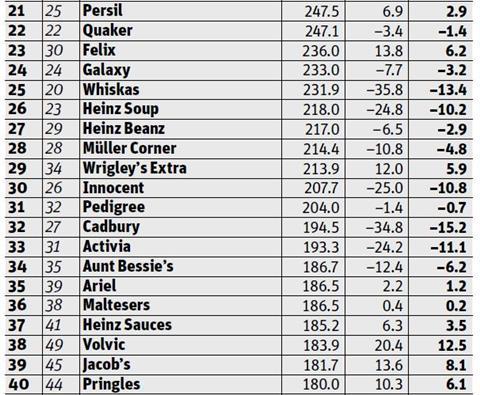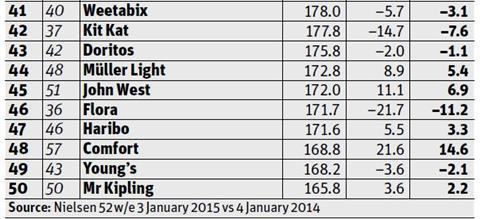 The most powerful piece on the board this past year has arguably been Pepsi (9), having racked up an extra £31.4m (8.5%) in sales on volumes up 10.6%. Even more impressive in the current climate is that Pepsi's growth is across its entire portfolio, regardless of sugar content. Pepsi Max has grown by 10.6% in value, pushing its share of total brand sales from 49.3% a year ago to 50.2%; full sugar Pepsi is up 5.8%; Diet Pepsi has grown 6.5%.
If viral marketing aimed at Max's target drinker has helped, price has been crucial. "Today's shopper is looking at a combination of price and convenience when making purchase decisions," says Ian Forshew, at-home commercial director at Pepsi's bottler Britvic. Indeed the average of Pepsi has sunk as Coke's (1) has risen. Coke has sold for an average of 9.5% more per unit than Pepsi, whose price-marked 600ml bottles for impulse offer more bang for the buck.
Examples abound of brands that have played the pricing game to shore up volumes. Hovis (no12) is the only major bread brand in volume growth, up 3%, thanks in no small part to a 7.6% fall in average price per unit. Average prices for Warburtons (no2) and Kingsmill (no10) have fallen less sharply, by 3.5% and 5.6% respectively; volumes have tumbled for both.
Moving forwards
Plenty (97)
Sales: £87.8m +10.4%▲12
Sensations (98)
Sales: £86.9m +0.5%▲5
"Driving value into a category that's found itself in the midst of a price war firmly remains our biggest ongoing challenge," says a spokesman for Hovis. "Retailers have been fighting hard to establish and signal great value to consumers and using the most popular brands to do this. Hovis, as one of the largest grocery brands, has seen price activity in some retailers as part of this competitive environment."
McVitie's (no6) and Jacob's (no39) are other examples of brands that have lowered average price in a bid to grow volumes. But thanks to hefty marketing investment, NPD and distribution gains, lower average prices (a reflection of the introduction of price-marked packs in some channels - smaller packs for impulse and promotions) hasn't been at the expense of overall value. McVitie's is up 1.3% on volumes up 3.4%; Jacob's is up 8.1% on volumes up 9.1%.
"Deflation is one of the issues we're all battling as the grocers take on the discounters, and the challenge is to grow volumes in this deflationary environment," says UB MD Jon Eggleton, adding that growth in the convenience channel has been key. "Our strategy is to have the right price and product in the right channel. Chocolate Digestives would be in around 60% of convenience so there's headway in distribution, but it's important to get the right price point too."
Coke agrees. Since 2013 it's rolled out 250ml cans to hit a lower price than the standard 330ml, the 500ml bottle has been joined by a 375ml version, and the 2-litre has been scrapped in favour of 1.25l and 1.75l formats. "The main driver is that the shopper is shopping more often in more types of store," says CCE general manager Leendert den Hollander. "So we're implementing the right pack sizes for the right channels."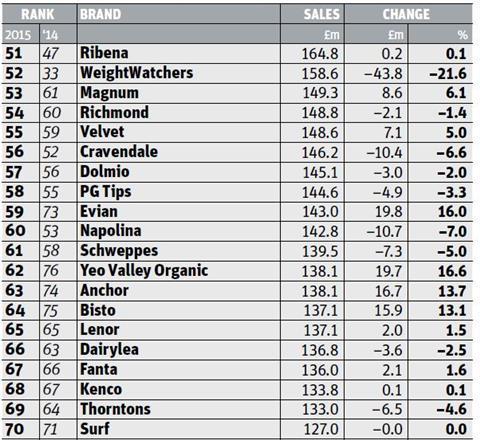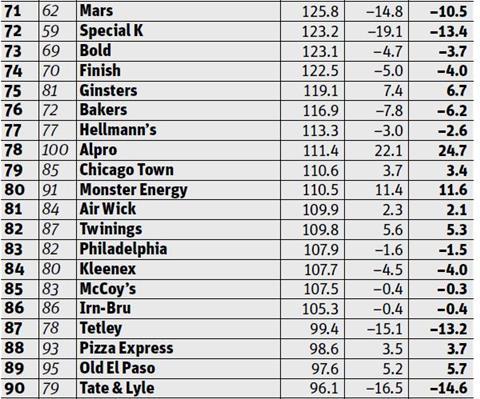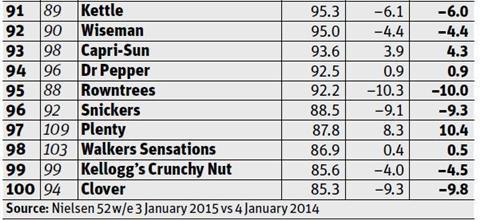 Of course, smaller packs have the advantage of offering higher margins, hence offering cover for the bottom line. In Coke's case the rollout of smaller packs has been accompanied by a 0.4% hike in average price per unit. This won't have gone unnoticed by shoppers and will have played a part in the brand's loss of share to Pepsi. "A dinky can won't grow your sales," fumed one reader on thegrocer.co.uk in 2013 when Coke launched its 250ml can. "A realistic price will!"
It hasn't escaped retailers' attention either. Earlier this month we revealed how Tesco had pulled 25 CCE lines from its shelves after a spat over demands for higher prices, despite costs falling for commodities such as fuel, PET and sugar. Still, it's significant most of the lines pulled were Schweppes (61), not Coke. Britain's biggest retailer wasn't prepared to sacrifice the country's only £1bn-plus grocery brand over a point of principle, it seems. Coke is king.
Others are more dispensable. In January, Asda delisted several key Hovis lines, adding to the brand's woes after its biggest NPD of 2014, flavoured Taste Sensation loaves, lasted less than six months in most retailers. Weetabix (41) On-The-Go Biscuits, only launched in 2013, have been pulled from the shelves of Asda, Tesco and Sainsbury's, contributing to a 52% value decline for the range. In April, 26 of the 37 Tropicana (19) SKUs in Waitrose were culled as the retailer rolled out a host of new own-label products. The brand is down 7.1% to £263.2m; volumes are down 5.5%.
Going backwards
Hula Hoops (108)
Sales: £81.2m -9.9%▼11
Silver Spoon (118)
Sales: £70.3m -47.1%▼50
Such brands have also been impacted by wider trends in the market. Weetabix's core cereal has lost £4.9m (offset by impressive growth in breakfast drinks), thanks partly to the fact less and less of us are taking the time to sit down for breakfast of a morning; Special K has had the second greatest tumble down the ranking (after WeightWatchers), from 59 to 72, for the same reason. The brand has lost £19.1m (13.4%).
A decline in deal activity has undoubtedly weighed down the performances of Tropicana and Innocent (30), down 10.8% on volumes down 13.5%, as has the backlash against juices and smoothies in the current 'war on sugar'. Both are now looking to tap the trend for lower sugar, less fruit, and more veg, with NPD containing ingredients such as beetroot, pumpkin and kale.
The impact on juices and smoothies is nothing compared to the impact on Silver Spoon (no118), however. A year ago, it was Britain's 68th biggest grocery brand but it has fallen out of the ranking with a staggering loss of £62.6m (47.1%) thanks partly to the sugar debate, although being delisted by Asda in 2013 is probably a bigger factor.
Of those still on the list, Kingsmill has lost the most, (£46.3m or 11.1%) as white sliced continues to fall from favour. Next is WeightWatchers (no52), with a drop of £43.8m (21.6%), driven by the declining popularity of processed 'diet' foods, says head of licensing Matthew Davies. But he has a plan: "We've invested heavily in shopper insight and NPD so we can answer consumer needs," he promises.
Similarly, the launch of lower-calorie Coke Life was inspired by demand for drinks containing less sugar. Not only has CCE broadened the Coke range, it's also broadened its distribution. Increasingly, that means selling through the discounters (Coke entered Aldi in July, 2012), says den Hollander: "Our fundamental principle is that we will be wherever shoppers go."
It's a risky game to play. United Biscuits terminated a contract to supply Aldi with own-label digestives in 2013 through fears it was cannibalising McVitie's. And it's still steering clear, says Eggleton: "We think we can achieve our brand objectives without Aldi. There are huge opportunities elsewhere."
Still, Coke's learned some tricks from UB. Following in the footsteps of McVitie's and Jacob's, the brand, which den Hollander says regained some share over the second half thanks to the Share a Coke campaign and a strong Christmas, has amassed all variants under a single brand umbrella.
So Britain's biggest brand has made its move. The question is: can it now turn defence into attack?