51 (47) Ribena
Sales: £164.8m (+0.1%)
As the sugar backlash began to bite, Suntory's Ribena managed to defy a slump in squash market volumes with a mixture of NPD and a ramping-up of marketing. It launched Ribena Mango & Lime flavour into its squash portfolio and Orange & Guava into its RTD range. Volumes are up 2.5%.
52 (33) WeightWatchers
Sales: £158.6m (–21.6%)
WeightWatchers' loss has ballooned to a hefty £43.8m, the second biggest absolute decline in this year's ranking.
"Consumer needs continue to change with sentiments moving away from traditional 'diet' foods to a healthier, more holistic approach," says Matthew Davis, head of licensing at WeightWatchers.
The brand has been shedding the pounds in their millions across the board, with its yoghurts as well as chilled and frozen ready meals, produced under licence by Yoplait, Greencore and Heinz, sustaining particularly heavy losses.
Not that it's sitting back and doing nothing. Davis says the launch of new biscuits, pure fruit pouches, a wholemeal bakery range and cereal bars has delivered growth. At the end of 2014 the range got a redesign as part of its new Here to Help campaign.
Since then, Yoplait has run TV ads for its WeightWatchers chilled desserts, and Heinz has begun working with the Authentic Food Co, which has a three-year arrangement to manufacture the WeightWatchers from Heinz ready meals, to further develop the range. NPD for 2015 will include Choc Pot desserts at just 50 calories a serve.
53 (60) Magnum
Sales: £149.3m (+6.1%)
Magnum got the big guns out for its silver anniversary, taking over London's Regent Street to hand out 25,000 freshly dipped ice creams – part of a £13m push – and launching luxury variant Magnum Marc de Champagne, which lured in 558,000 new consumers, says Unilever.
54 (54) Richmond
Sales: £148.8m (–1.4%)
After an 8% uplift in value last year fuelled by the extension into meatballs, Richmond is down this year on flat volumes. Brand owner Kerry Group forked out £6m on an ad campaign featuring the Richmond Peace Keeper, but innovation was limited to a pack refresh last spring.
55 (60) Velvet
Sales: £148.6m (+5.0%)
Growth of £7.1m isn't to be sniffed at, given the discounters and Amazon's growth in loo roll at the expense of the supers. It's even more impressive considering Velvet's 2.6% average price hike. The brand convinced shoppers to trade up with a money-back pledge and TV ads from November.
56 (52) Cravendale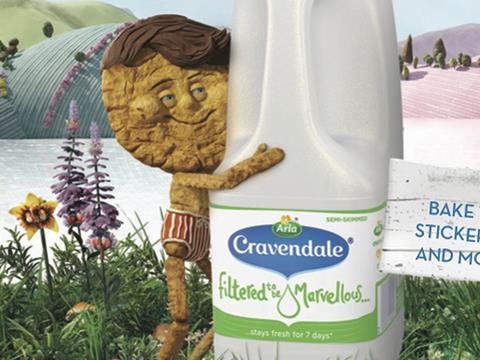 Sales: £146.2m (–6.6%)
With most retailers slashing four pints of own-label milk to below £1, branded milk has suffered. Cravendale's volume sales have fallen 6% and the average price per unit is down 0.7%. At least new mascot Barry the Biscuit Boy, who replaced Cats with Thumbs on TV, is still smiling.
57 (56) Dolmio
Sales: £145.1m (–2.0%)
Mars launched pouched recipe bases last April to add to Dolmio's extensive range of sauces and meal kits. It also kept up its TV presence with long-running ad campaign When'sa your Dolmio Day? The brand's value decline is the result of price deflation; volumes are up 2%.
58 (55) PG Tips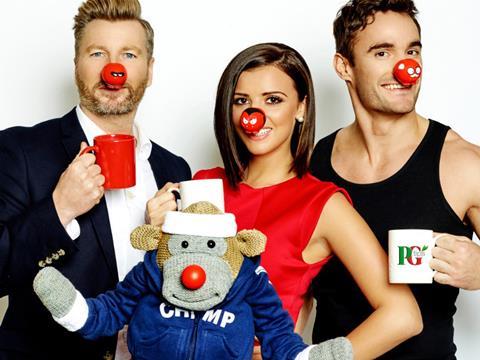 Sales: £144.6m (–3.3%)
Britain's biggest tea brand has seen sales cool by £4.9m in the past year as standard black tea continues to struggle. It has responded with the launch of a selection of green teas, as well as new fruit and herbal flavours, backed by a £5m TV campaign featuring the brand's Monkey mascot.
59 (73) Evian
Sales: £143.0m (+16.0%)
The greatest volume gain of the year, up 17.8% to 19.9 million units. The backlash against sugary drinks helped, as did Evian's very own Mr Men character Mr Glug who's been touring Tescos. Drinkers have also been able to buy limited-edition T-shirts created by fashion designers Agi & Sam.
60 (53) Napolina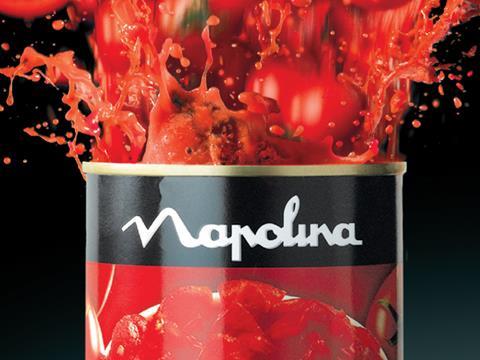 Sales: £142.8m (–7.0%)
Napolina is in a range of markets. Most are in decline, helping to explain its £10.7m loss. However, Napolina says brand awareness is at a high of 77% thanks to TV ads and sponsorship of ITV's Gino's Italian Escape. Having quit pasta bake sauces, it's now focusing on the stir-through format.