Inflation has been a major driver of growth for Britain's biggest grocery brand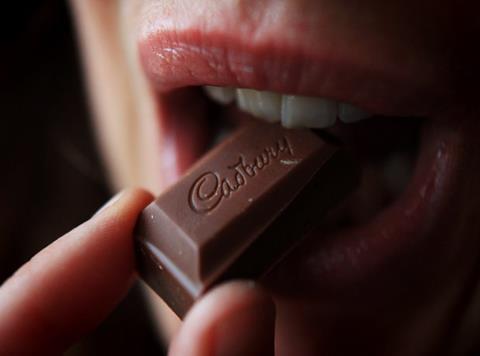 Last year's ranking: 1
Sales: £1,507.0m (+1.2%)
Inflation has been a major driver of growth for Britain's biggest grocery brand. Supermarkets have sold almost 30 million fewer Cadbury products in the past year, but average price per unit has climbed by 3.5%.
"It's well reported that food & drink manufacturers have been experiencing increasing input costs which are making food products more expensive to make," says marketing activation director Francesco Vitrano. "We have, and continue to carry these increased costs within our business as much as possible. Making changes to size or price is always a last resort."
Mondelez is right to tread carefully. Adjustments to the pack size and/or price of products including Fingers, Creme Eggs and Freddo have been met with dismay by consumers on social media, garnering widespread attention in the national press. Chocolate accounts for more than 75% of the brand's sales, and the average price of Cadbury chocolate is 4% higher than it was a year ago.
However, it's not all down to blunt price increases or pack size reductions. Prices are also up because of changing patterns in consumption, namely the fall in impulse sales that's driven a decline in countlines and a rise in at home consumption, favouring sharing bags and larger slabs.
Mondelez has been more than happy to oblige. The past year has seen the launch of Cadbury Fudge Minis, Curly Wurly Squirlies and Picnic Bites. Dinky Deckers, the sharing version of Double Decker launched in 2016, saw sales surge by 40% to £6.5m, while Cadbury Mini Eggs turned in the strongest performance of all, up £10.7m (23.7%) on volumes up 19.1%. "Consumers also experienced Mini Eggs as they never had before; in summer limited edition packs, Mini Eggs on Holiday," adds Vitrano. "The packs featured only yellow Mini Eggs, the nation's favourite according to customer feedback. It reached £2.6m in just 12 weeks."
Since buying back the Cadbury biscuits brand from Burton's Biscuit Co in 2016, Mondelez has launched a number of new lines, including Cadbury Roundie, which Vitrano says achieved sales of £7.4m in its first four months on shelf. It hasn't all been plain sailing, however: Cadbury Fingers have suffered an 8.2% decline on volumes down 10.5%, costing the overall brand £3.1m in lost sales.
Still, the power of Cadbury is undisputed. "Cadbury is a brand loved by many," says Charlotte Hambling, head of marketing at Froneri, which manufactures Cadbury ice creams under licence and has seen sales grow 16.6% on volumes up 13.3%, driven by distribution gains, NPD and growing use of meal deals. "It has a proud and trusted heritage which gives it a great cut-through on the shelf."
A spokesman for Premier Foods, which manufactures Cadbury cakes under licence, concurs, despite having seen value slip by 2% on volumes up just 0.3%. "In a fast-paced and competitive category, it is vital to provide a strong offering to the market," he says.
Which goes to show: it's not just the size of the brand that matters. It's what you do it with it that really counts.