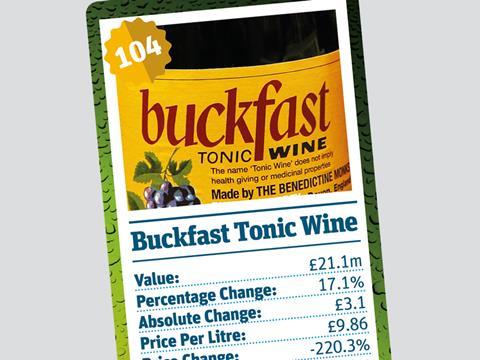 Despite the escalating local council clampdown on high-strength booze, Buckfast Tonic Wine - a brand synonymous with binge drinking - is on the verge of breaking into our ranking of Britain's 100 Biggest Alcohol Brands.

Sales of the tonic, which has an abv of 15%, soared by 17.1% to £21.1m on volumes up 19.7%, according to The Grocer's 2015 ranking, in association with Nielsen.

As a result Buckfast is ranked 104th in the list. Sales manager Stewart Wilson attributed some of its growth to the new 25cl can launched last year. "When we first launched the can, production couldn't keep up with demand."

But distributor J Chandler & Co has also sought to reposition the tonic - commonly known as Buckie - as a cocktail base and culinary ingredient, hiring Michelin starred TV chef Martin Blunos to help banish its association with binge drinking.

Made in Buckfast Abbey in Devon Chandler & Co believes there are opportunities for distribution gains too. "It's a strong brand in Scotland, where it's a must-stock item in 90% to 95% of the off-trade," said Wilson. "In terms of England, it's stocked in Londis, Nisa and independents."

Other high-strength drinks brands have experienced mixed fortunes.

Tennent's Super has also fallen out of the top 100 with sales crashing 10.2%, while Skol Super has enjoyed 6.2% growth and K Cider is up 3.6%, despite voluntary regional bans on 500ml cans of high-strength beer and cider.