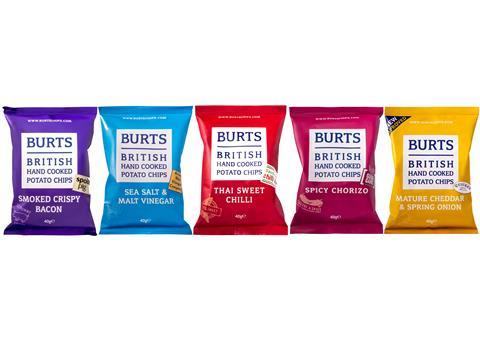 Burts Snacks annual sales jumped by more than 50% in 2018, boosted by the acquisition of premium popcorn producer Savoury & Sweet.
But it swung to a pre-tax loss of £608k, from a £1m profit the year before. It was forced to absorb higher raw material costs due to "one of the worst potato harvests", as well as adverse currency exchange rates and rising oil and corn prices following the imposition of a 25% duty on US corn imports by the EU.
The pre-tax loss figure includes a £591k loss generated by Savoury & Sweet of £591k as well as a charge of £506k representing goodwill arising on consolidation.
At a group level, EBITDA increased to £2.6m in 2018 from £2.5m the prior year.
Revenues for the year ended 31 December 2018 rose 51% to £44.4m from £29.5m, reflecting 20% growth in Burts' core business, as well as a full year's trading of Savoury & Sweet.
Burts snapped up the own-label popcorn maker in December 2017 for an undisclosed amount. In July, the independent crisps manufacturer changed its name from Burts Potato Chips to highlight its "commitment to becoming the UK's leading producer of premium snacking products".
Looking ahead, the company said it was "extremely optimistic" about the prospects for the business in 2019 and beyond, as it signed a number of new contracts with key customers.
When announcing its name change, Burts said it was targeting sales of £100m by 2022 and aimed to become the UK's biggest player within premium snacking.