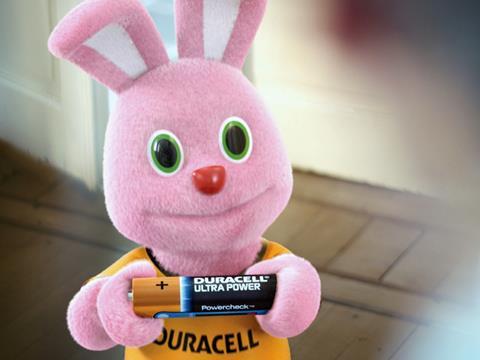 Duracell's drumming bunny mascot has been forced to take a break – temporarily – by advertising watchdogs.
The Advertising Standards Authority has ruled that a TV ad showing the rabbit character playing the drums alongside 12 gorillas said to be running on zinc batteries cannot be shown again in its current form.
In the ad, a voice-over stated "You all know Duracell last longer than leading zinc batteries, but exactly how much longer?", as the gorillas were shown running out of power one-by-one while the Duracell bunny played on. The voiceover added: "Not even 12 leading zinc batteries can outlast one new Duracell Ultra Power with Duralock", and finished with the quote "Duracell. Lasts longer, much longer".
The ASA concluded the ad wrongly implied that Duracell Ultra Power could outlast 12 zinc batteries consecutively used and stated it breached rules on misleading advertising and substantiation.
Manufacturer Procter & Gamble UK argued that the claim was supported by two test reports that they had provided to the advertising watchdog.
However, the ASA concluded: "We considered the test data provided was not sufficient to demonstrate that the advertised product lasted longer than 12 leading zinc batteries consecutively used, in general usage, based on tests on a representative device. We therefore concluded that the ads were misleading."
The ruling comes two weeks after the announcement that Warren Buffett's Berkshire Hathaway is to acquire Duracell. P&G plans to execute a split transaction, in which it will recapitalise Duracell and exchange it for Berkshire Hathaway's shares of Procter & Gamble stock.