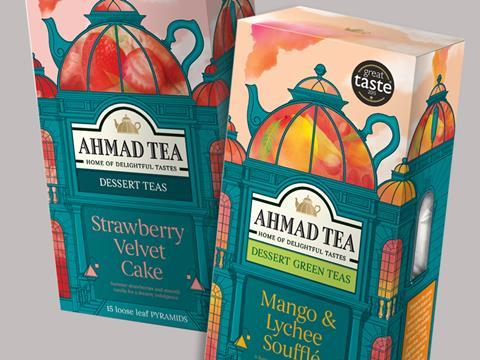 Tesco-listed brand Ahmad Tea is aiming to create a new experience in the category with the launch of Dessert Teas.

The range, designed to be drunk either with or without milk, comprises six pudding-inspired flavours, three black and three green. The black teas are Strawberry Velvet Cake, Moroccan Orange Slice and Pear & Cinnamon Strudel, while the greens are Mango & Lychee Soufflé, Citrus & Mint Sorbet and Strawberry Basil Coulis.

Launching mid-February, the teas come in a pack of 15 loose leaf pyramids (rsp: £3.50). They will initially be available only through Ahmad's website, but the brand is seeking supermarket listings.

"Although the UK has historically been the hub of the global tea trade, the consumer market is behind, compared with the rest of the world, when it comes offering quality speciality teas at accessible prices," said general manager Ali Afshar. "We have brought out Dessert Teas to begin to change this and provide UK consumers with something unparalleled in terms of taste and flavour. While the tea and packaging create a sense of occasion, our intention with Dessert Teas is that they are enjoyed at any time."

The tea category is in decline, with sales last year down 3.5% to £579.8m [Nielsen 52 w/e 12 September 2015]. However, premium brands have seen strong growth. Pukka, which sells at a price per kg seven times the category average, has grown sales 32.8% to £11.2m. Tea Pigs, which sells for 13 times the category average, has upped its sales 29% to £5.7m.