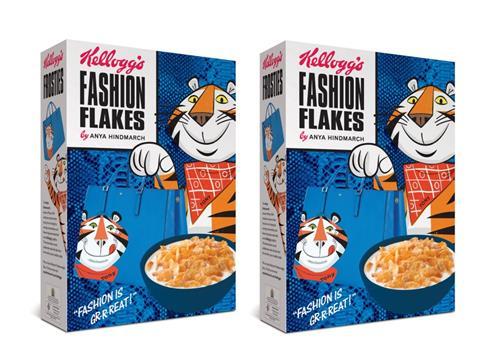 Kellogg's has teamed up with British fashion designer Anya Hindmarch, who has designed a pack of Frosties featuring her famous handbags.
The boxes depict Frosties mascot Tony the Tiger posing with one of the bags. They will initially be available only at Hindmarch's luxury stores – including her flagship in London's Bond Street – priced £3. From November, they will be stocked at all branches of Waitrose.
The move comes after Hindmarch unveiled bags featuring Tony and his corn flakes counterpart, Cornelius the Cockerel, earlier this year.
Hindmarch said she wanted to "find beauty in the banal".
"Impeccable materials and craftsmanship applied to fmcg, treating the everyday ordinary in an extraordinary way," she added. "Craftsmanship and humour are very much part of our brand DNA, working with Kellogg's on Fashion Flakes is an extension of this."
A Kellogg's spokesperson said: "It's not every day you see a box of cereal in a window display on Bond Street. Anya Hindmarch's interpretation of some of our best-loved brands into luxury accessories is inspired and we are delighted to work with her on these limited-edition cereals to add a touch of high fashion to the nation's breakfast tables."